Thursday, November 11, 2021 NO SCHOOL - Veterans Day Do something to honor our Veterans and Active Military on this day of service. Remember, they sacrifice so we have more freedoms.


Dear Isaac Families and Staff, Due to a lack of quorum, tonight's (Oct 28, 2021) Regular Governing Board Meeting and Study Session have been cancelled. Thank you,

Mitigation Plan Update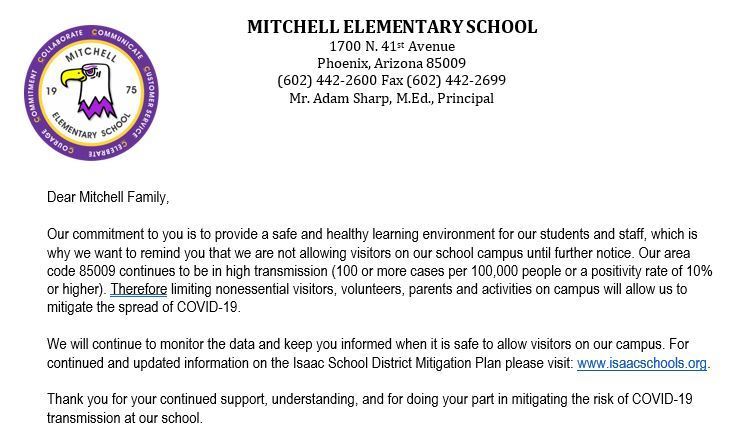 October Calendar of the classes for our Mitchell Elementary School Parent Coordinator Ms. Maria Reyes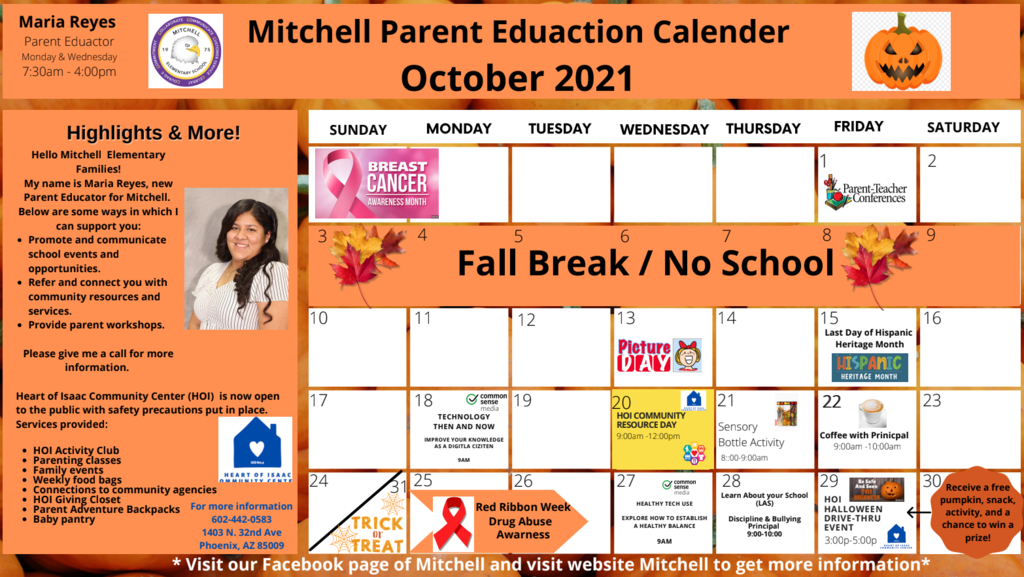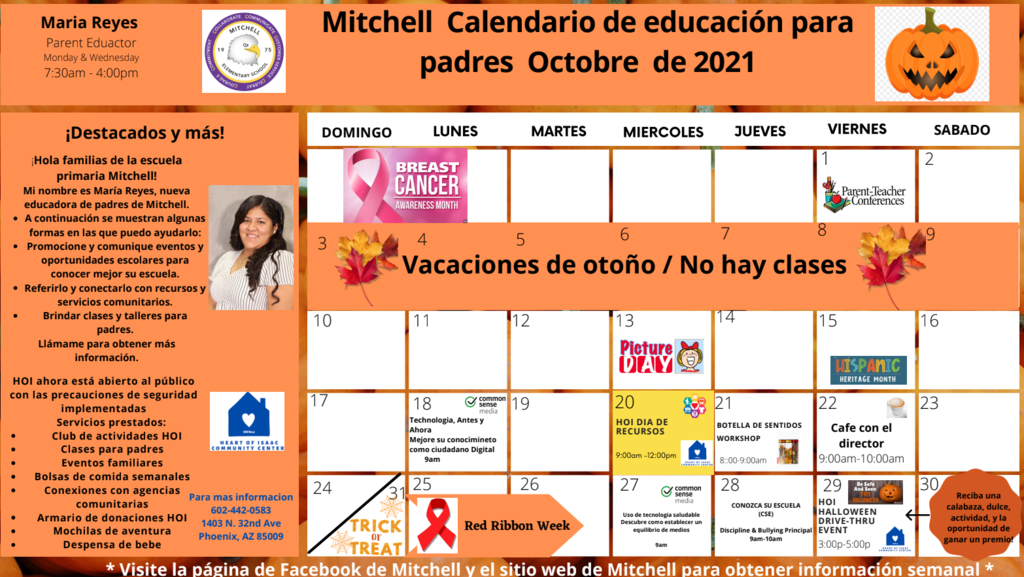 Buy a Boo Gram for your child, teacher, or special friend. Only .50¢ Student can purchase them from our Elective teachers. Parents can purchase them in the office. HAPPY FALL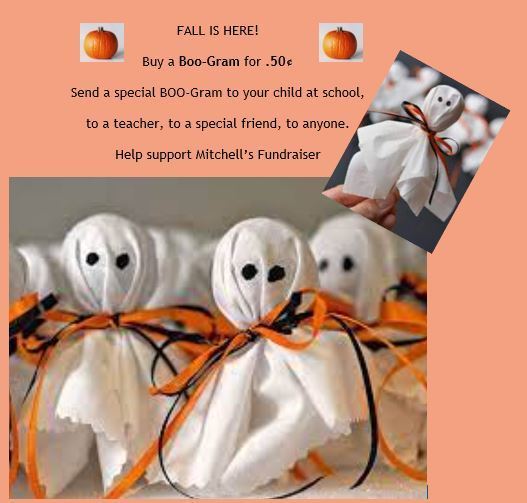 Mitchell's Ballet Folklorico club!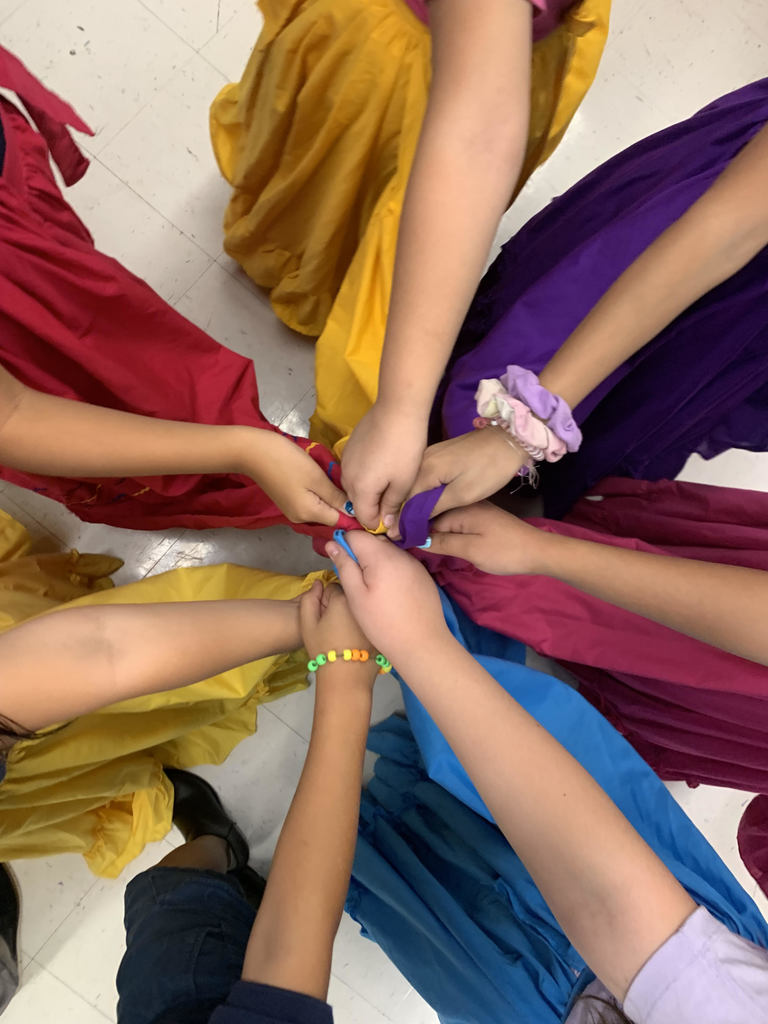 Enjoy Fall Break! Find a project or experiment to do!! Learn something new!

Great Job to all our Quarter 1 Honor Roll Scholars!!!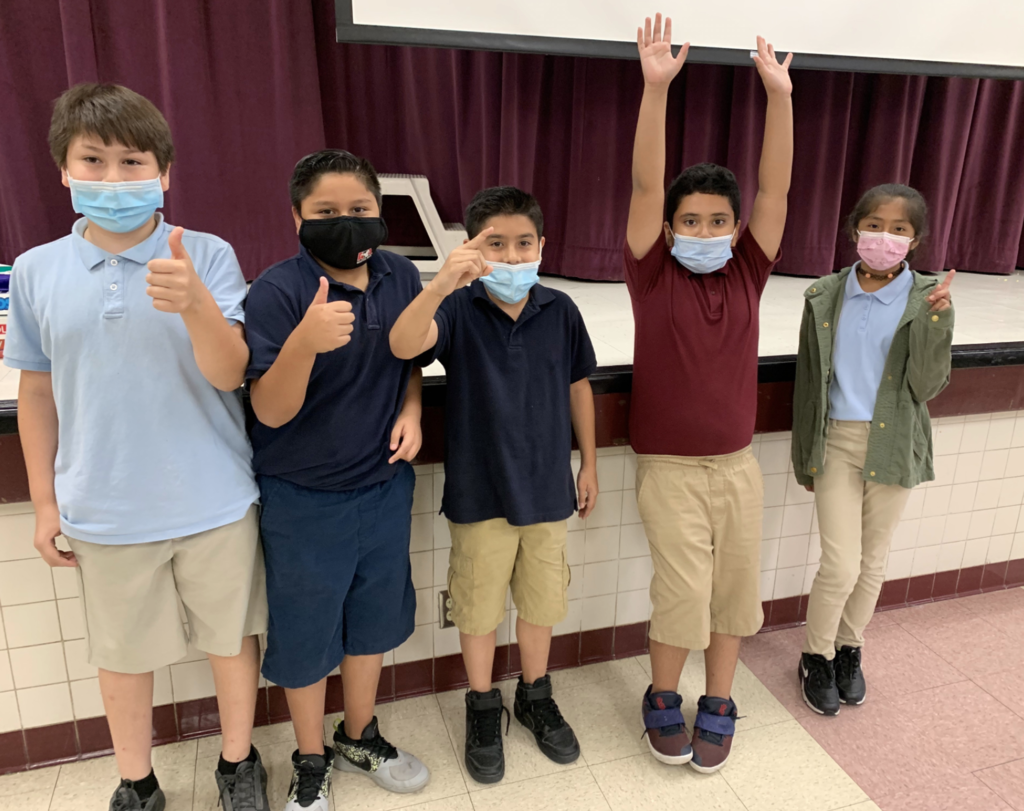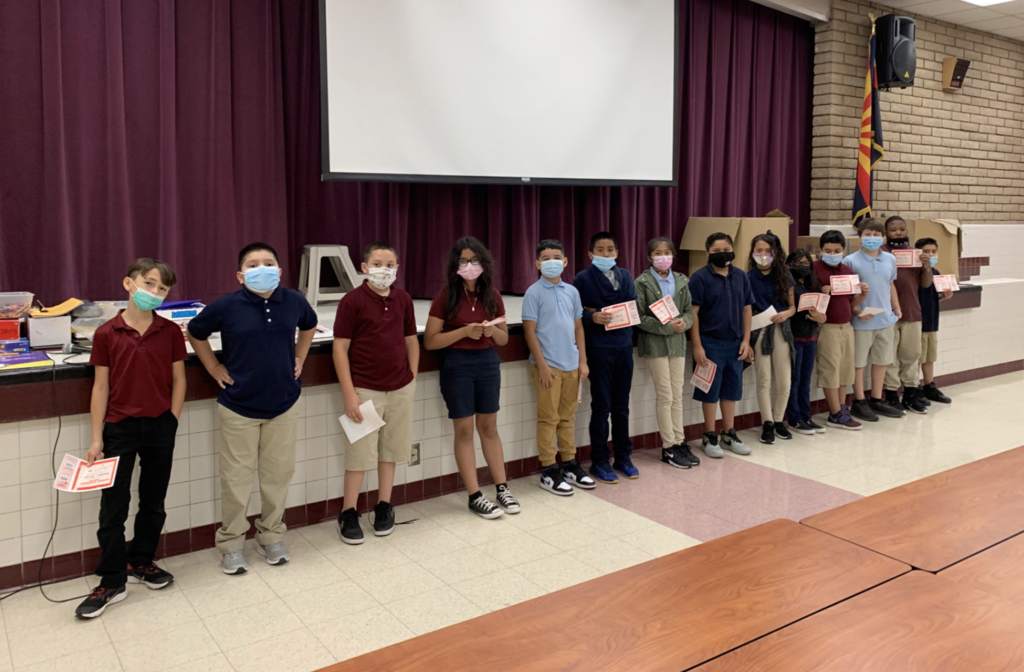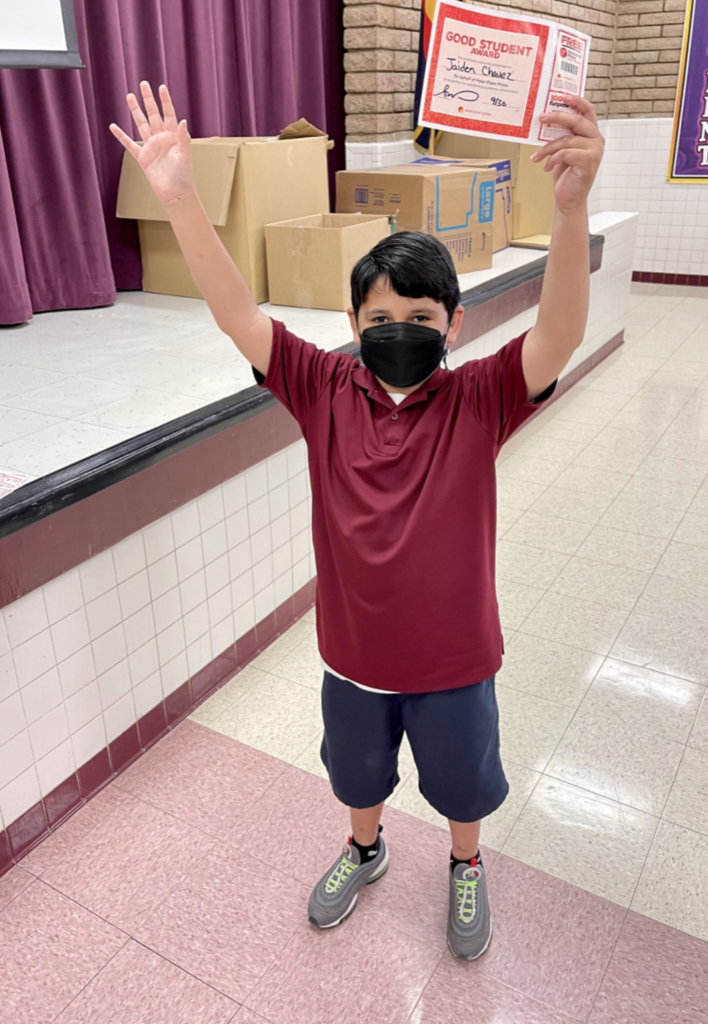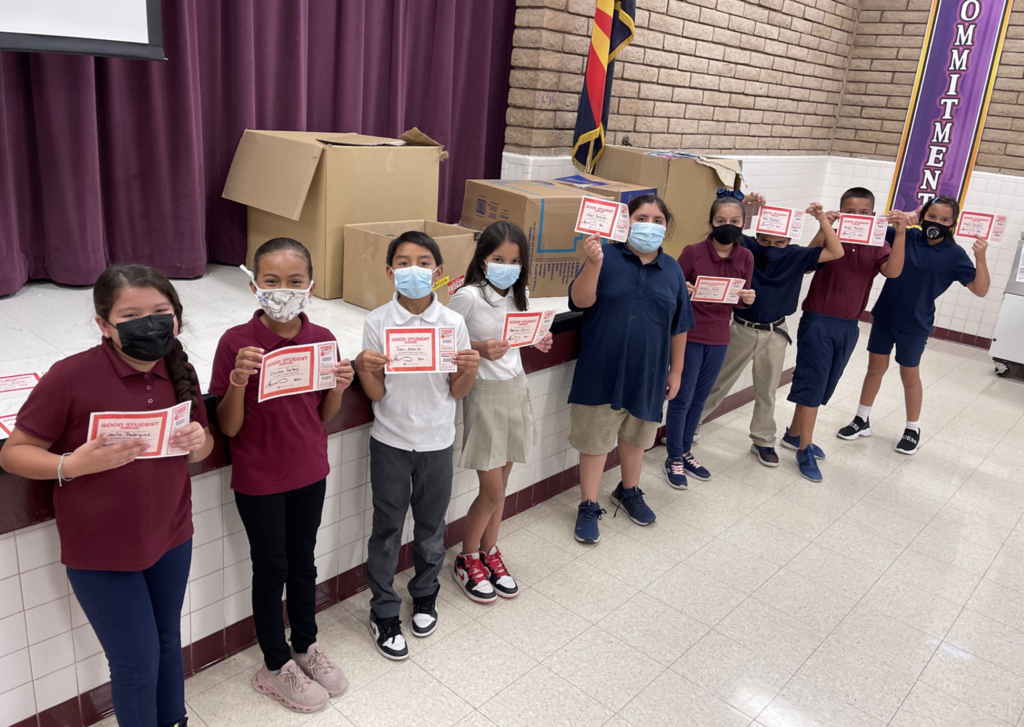 Important Message from ISD: It was just announced today that judge Katherine Cooper issued an injunction blocking the state's ban on the face-mask mandate from taking effect in two days. Isaac Elementary School District will continue to require staff, students and visitors to wear masks on all school campuses, following our health mitigation plan . The plan takes a multi-tiered approach to minimize health risks related to COVID-19. Mask wearing, handwashing, social distancing and staying home when experiencing COVID like symptoms are the recommendations provided by the CDC and county health leaders and followed in our plan. While navigating the pandemic, it is important that we make changes and adjust to the conditions and needs of our community quickly. Please continue to look for information regarding updates to our health and safety procedures. We ask that you work collaboratively with staff and students to promote effective health mitigation practices, so that we may continue to deliver on the promise to provide a quality education in the safest environment possible.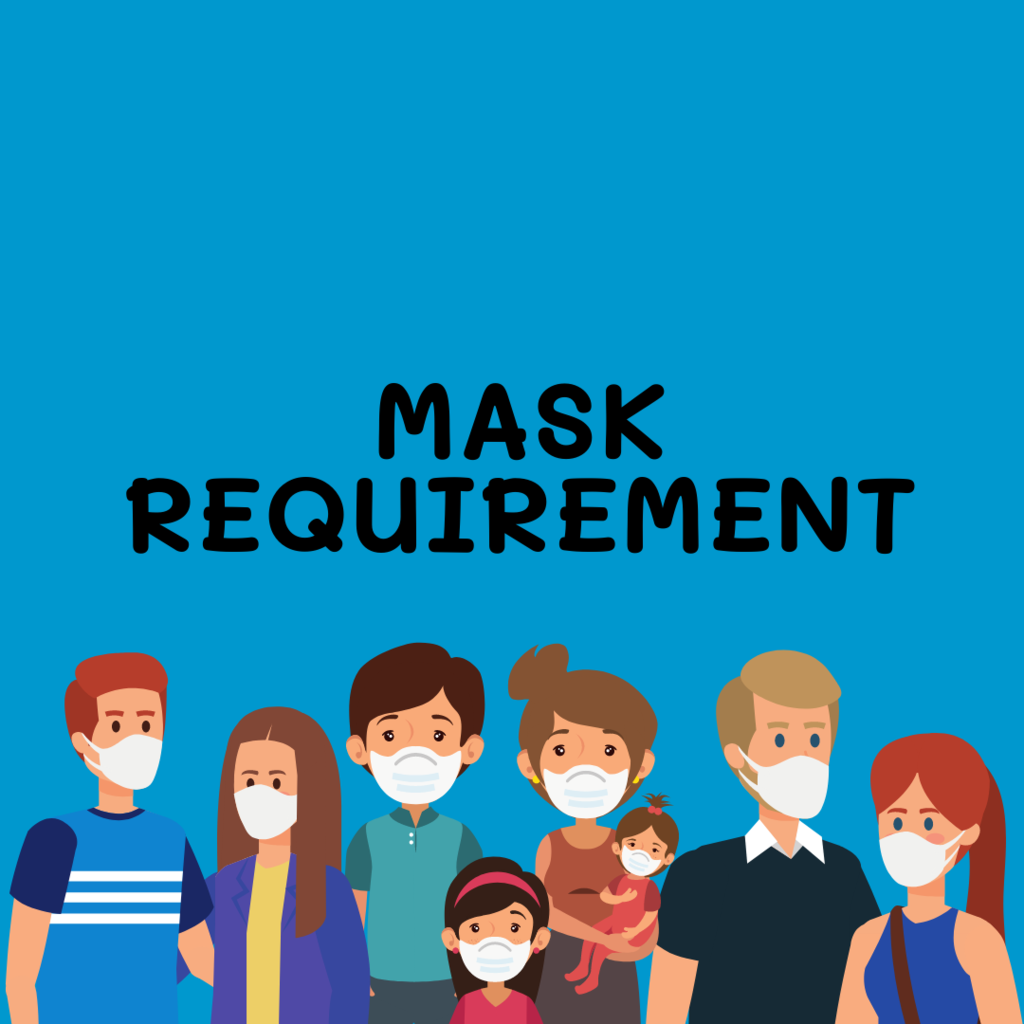 Thursday, September 23rd 3:00p-6:00p (while supplies last) Health Insurance is not required. If you are insured, please bring your insurance card. Flu shots for anyone 3 years & older Walk-ins welcome Covid vaccines will also be available for 12 yrs +
https://www.facebook.com/HOIPHX/posts/577182893717647
---- Buenas tardes, ¡Este jueves, vacunas contra la gripe GRATIS para la comunidad! El Corazón de Isaac se ha asociado con Walgreens para proporcionar vacunas contra la gripe a cualquier persona de 3 años o más. ¡Bienvenidos sin cita! Jueves 23 de septiembre 3:00p-6:00p (hasta agotar existencias)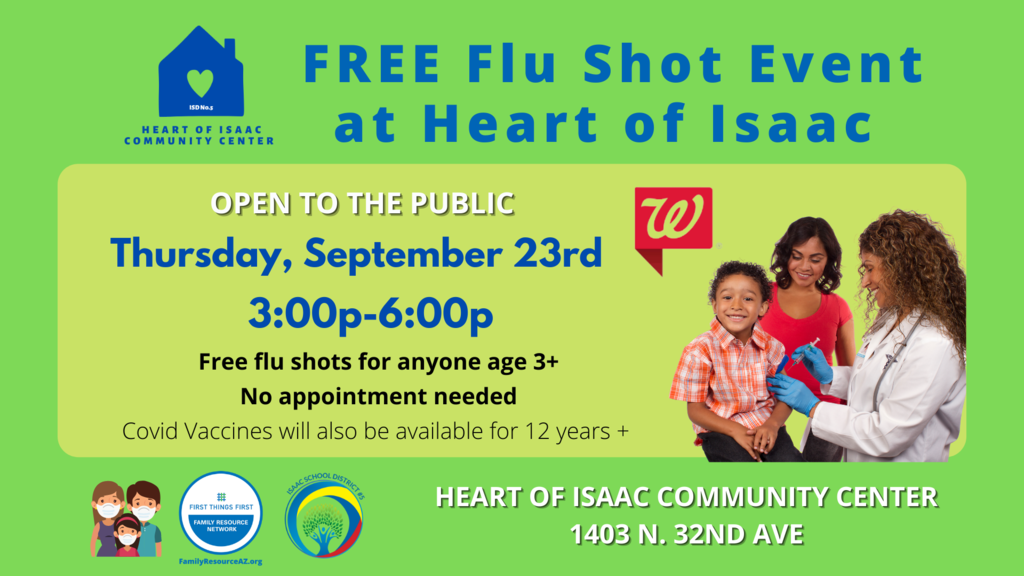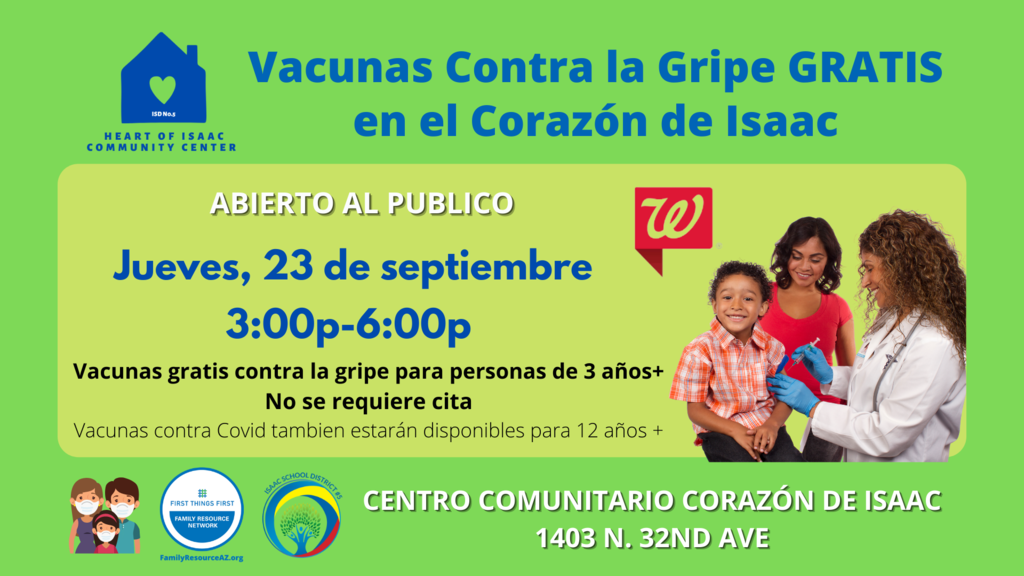 Isaac Families & Community Join us for a COVID-19 Testing & Vaccination Event Monday, September 20th, 7:15AM - 1:15 PM at Isaac Middle School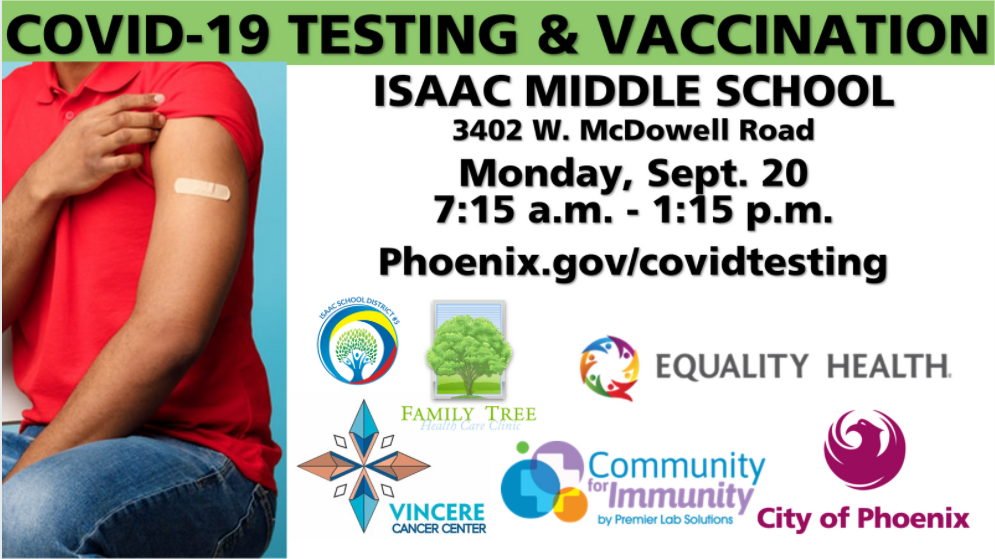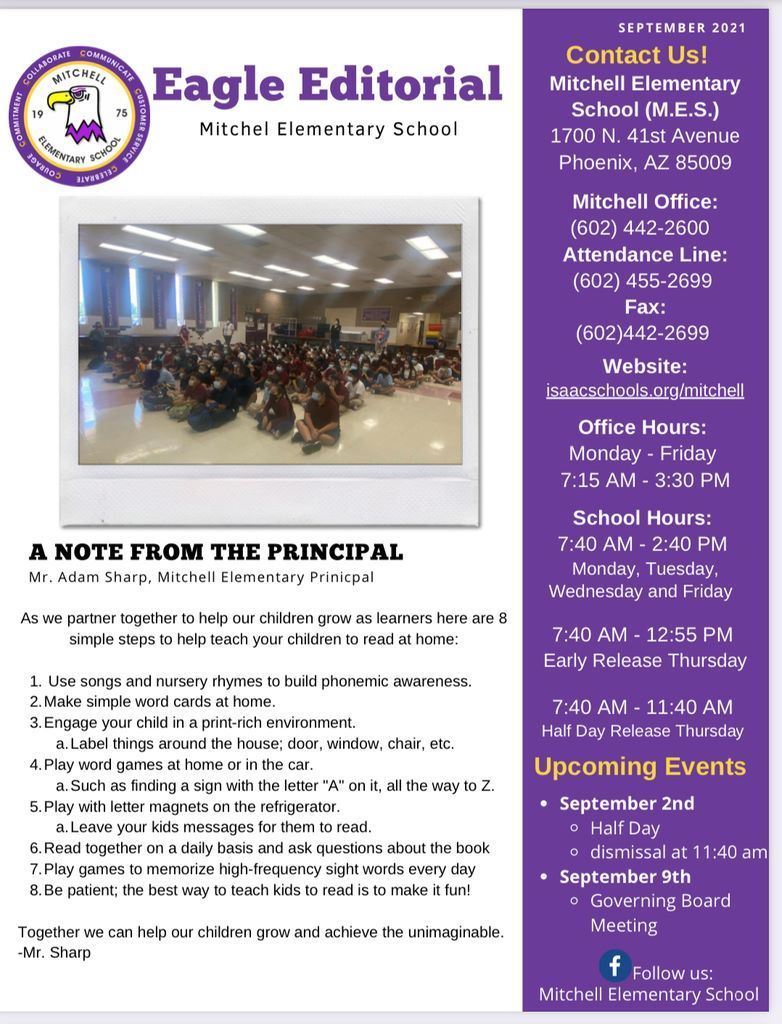 Fresh Fruit & Vegetable Program 🍎🍇at Isaac School District Learn more at
https://www.isaacschools.org/FFVP
___________ Programa de frutas y verduras 🍎 🍇frescas en el distrito escolar de Isaac Obtenga más información en
https://www.isaacschools.org/FFVP
#IsaacSchools #education #freshfruit #freshvegetables #FFVP #healthyeating #sutdents #freshfruitandvegetablefriday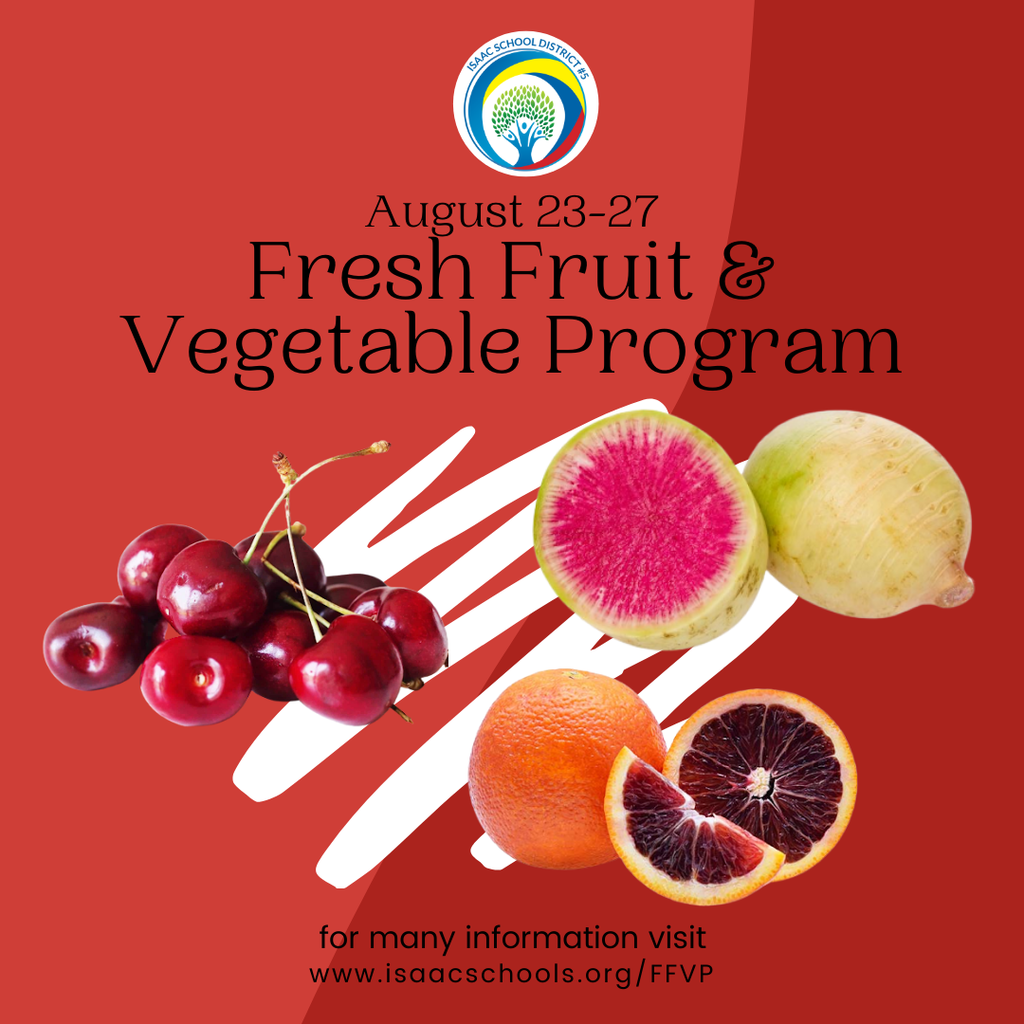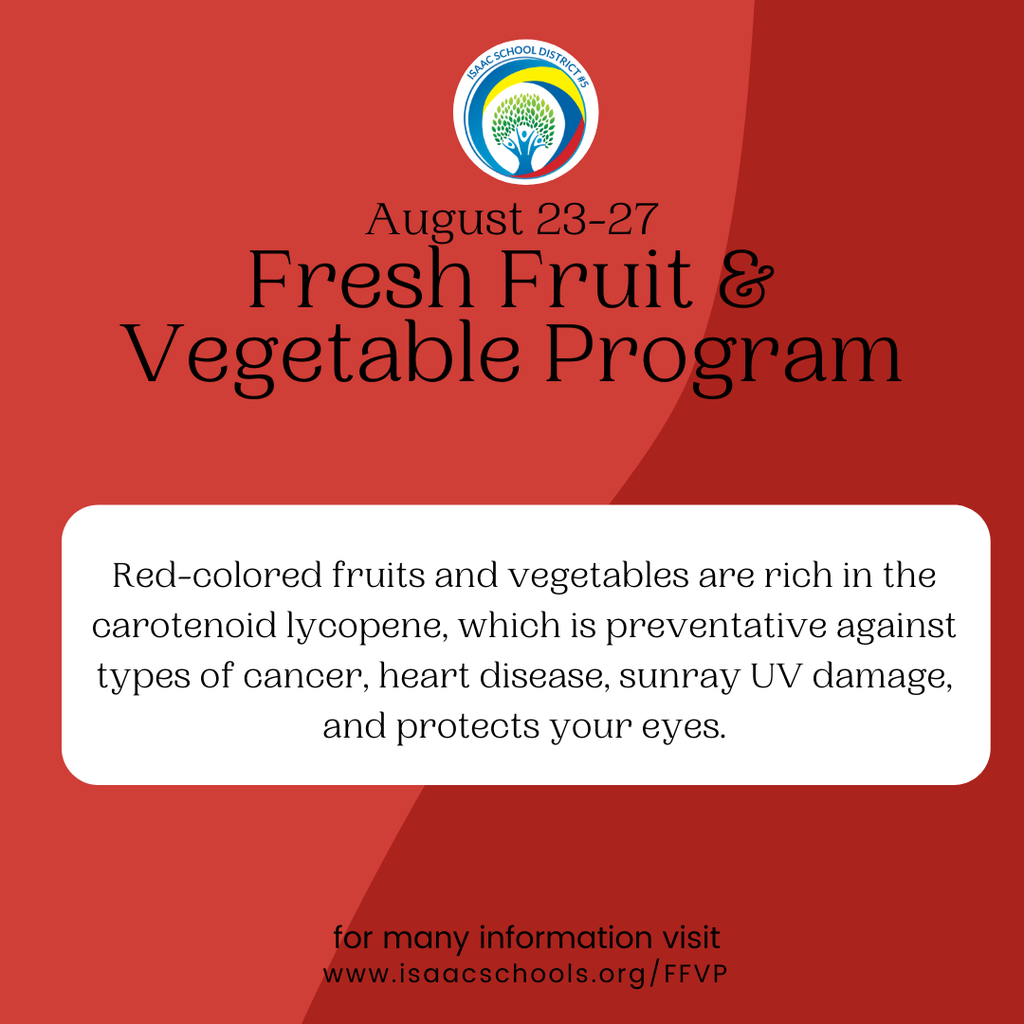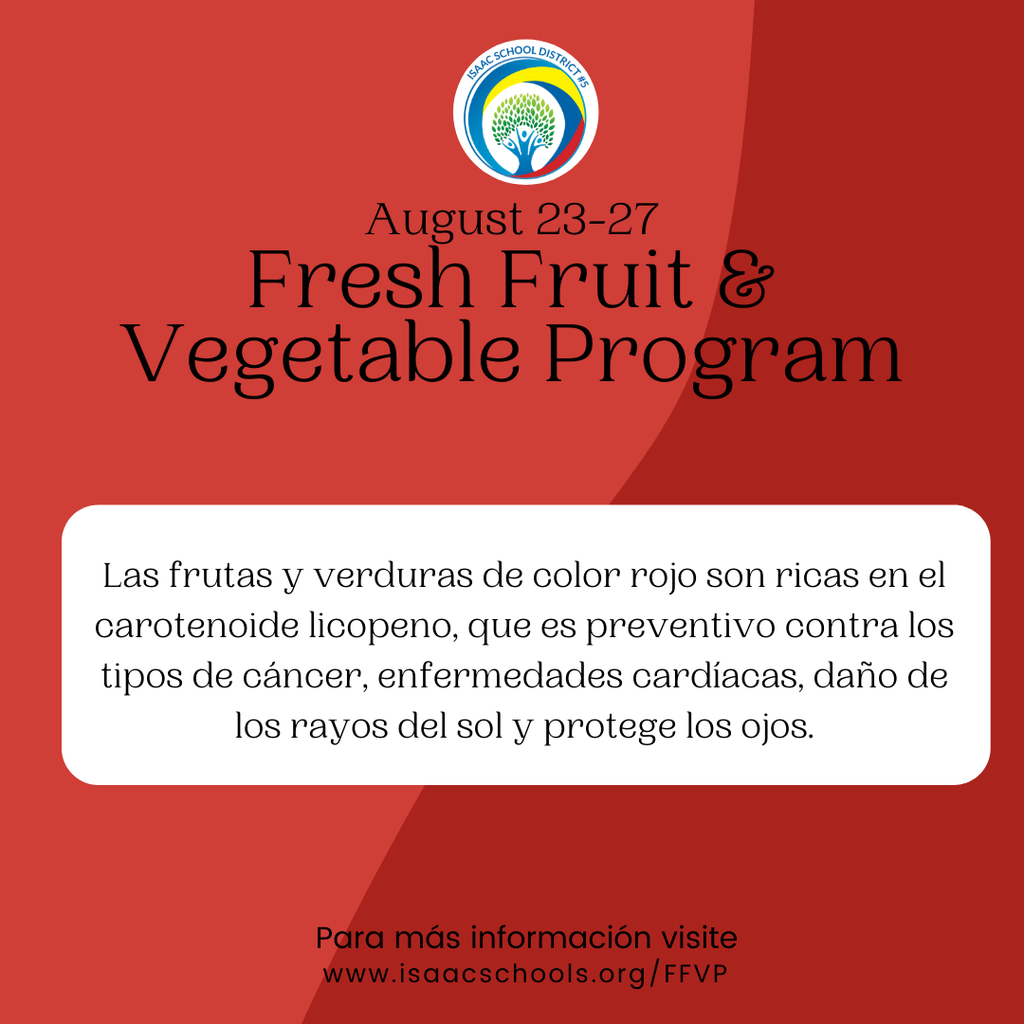 Isaac Families & Community please make plans to attend this Back-to-School Immunization Event. Wednesday, August 18th 4-7PM at Isaac Middle School.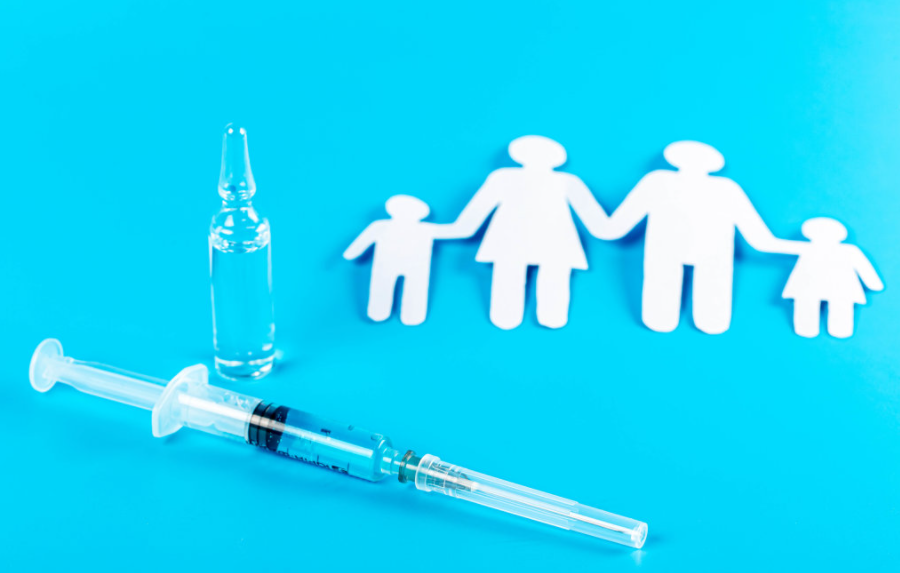 Hello Isaac Families, On August 14, 2021 from 9am to 5pm, Metro Tech High School will be having COVID-19 vaccines available to anyone 12 years and older. Please visit our website for more information.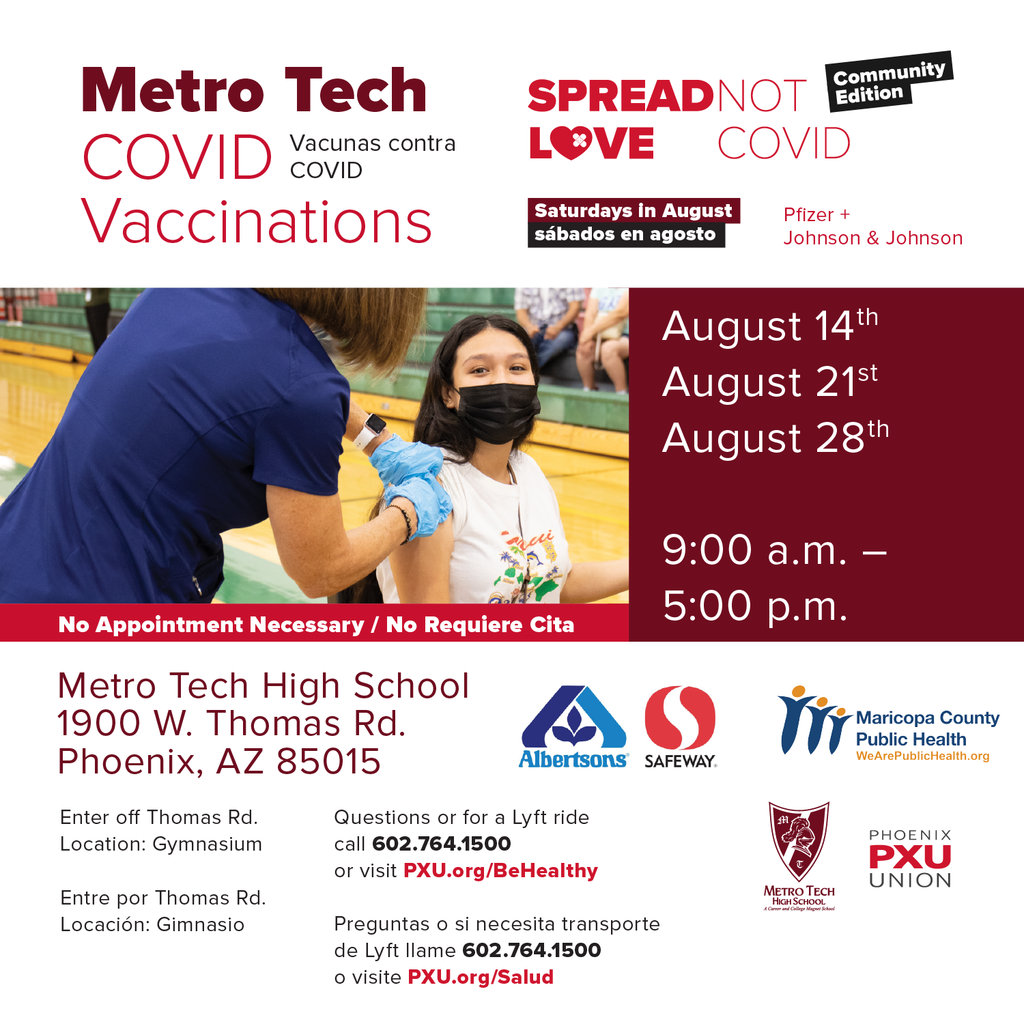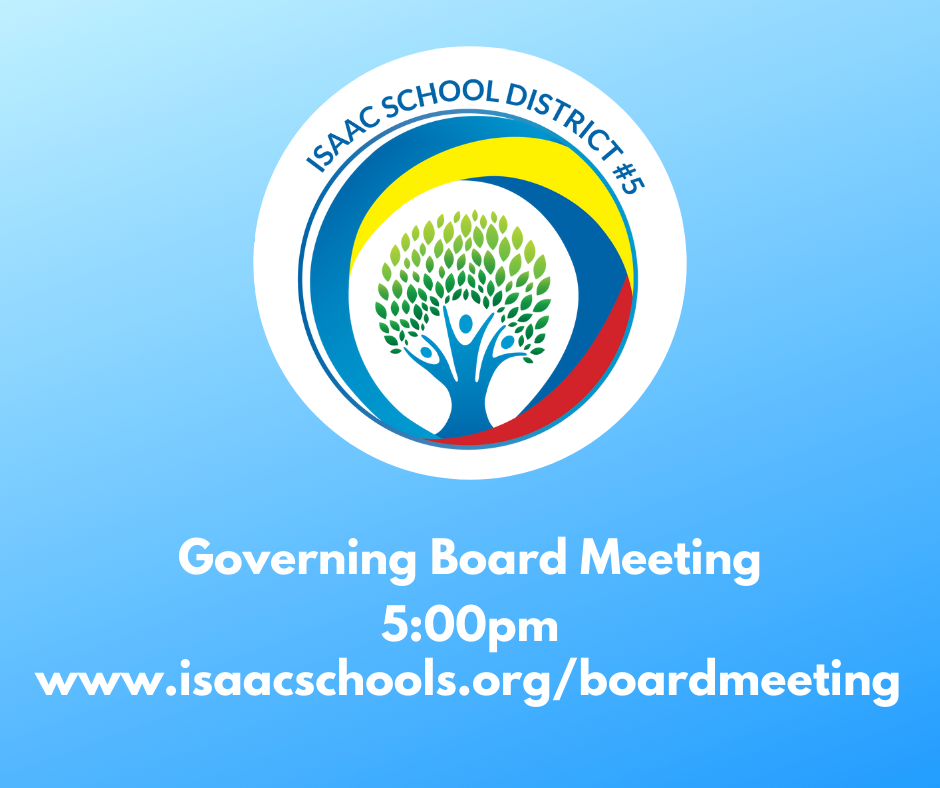 Welcome

Welcome to the Team!

NEW | Isaac Online Prep Academy NUEVO |Isaac Online Prep Academy - Escuela completamente en línea Click link to see our brochure!
https://5il.co/utoa