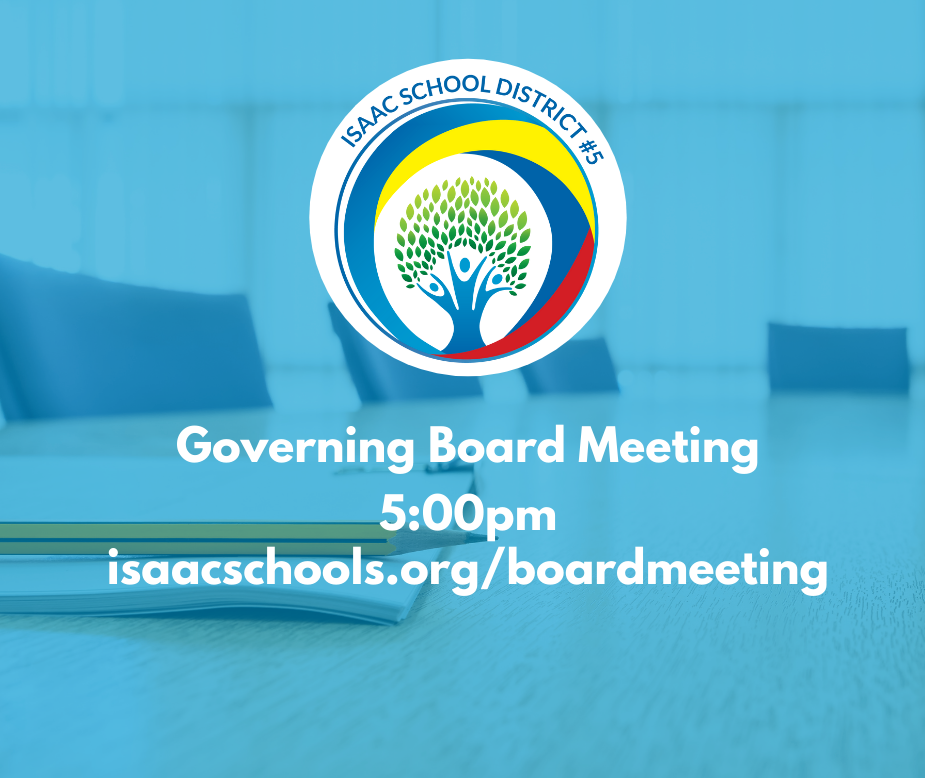 Isaac Families, In Isaac Schools, our first priority is the safety and well-being of our students and staff. Please read the following letter regarding a safety update:
https://5il.co/13adp
We encourage our community to be vigilant in reporting any suspicious activity and to always keep school safety in mind.

Exciting news!! The Bret Tarver Isaac Preschool has had their first mini harvest from our new garden. Romaine lettuce, two serrano peppers, a jalepeno pepper, two cherry tomatoes, and two radishes. We hope there will be a BIG harvest right after winter break!!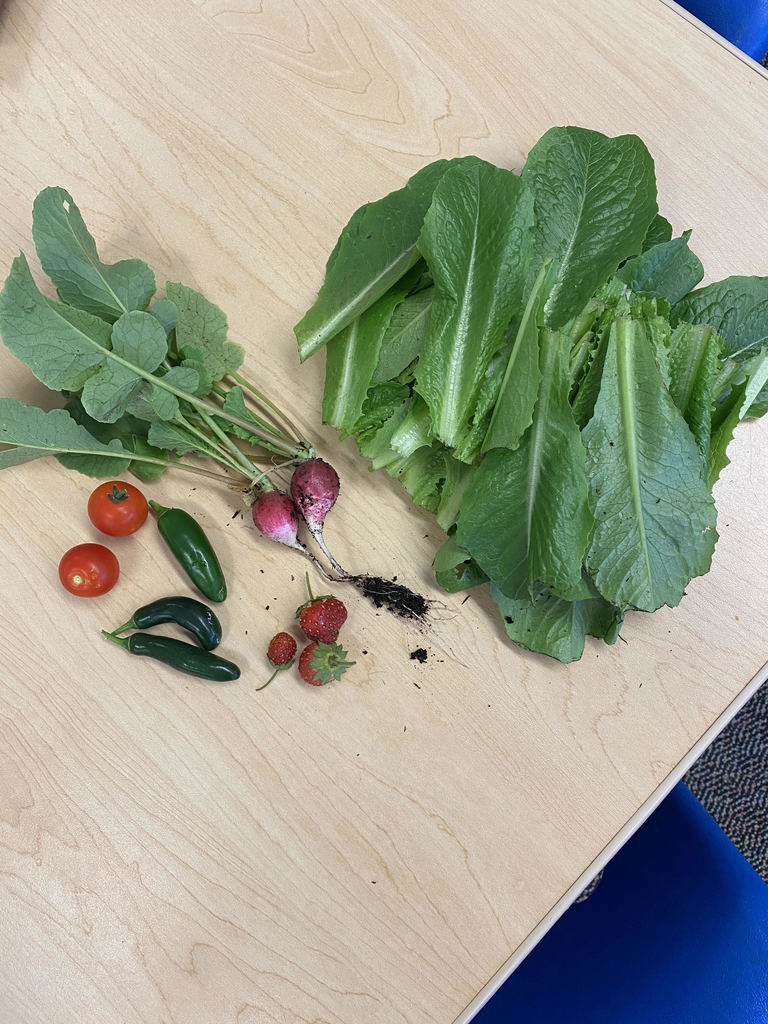 Isaac Parents/Guardians, We understand the importance of planning ahead, that is why we are proposing school calendars for the upcoming two years: 2022-2023 & 2023-2024. We value your voice and ask you to participate by clicking on the link below and sharing your thoughts.
www.isaacschools.org/thoughtexchange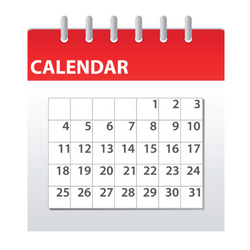 The Bret Tarver Isaac Preschool will be closed on November 24-26, 2021 due to Thanksgiving Recess. We will be open and resume school on November 29, 2021. Thank you!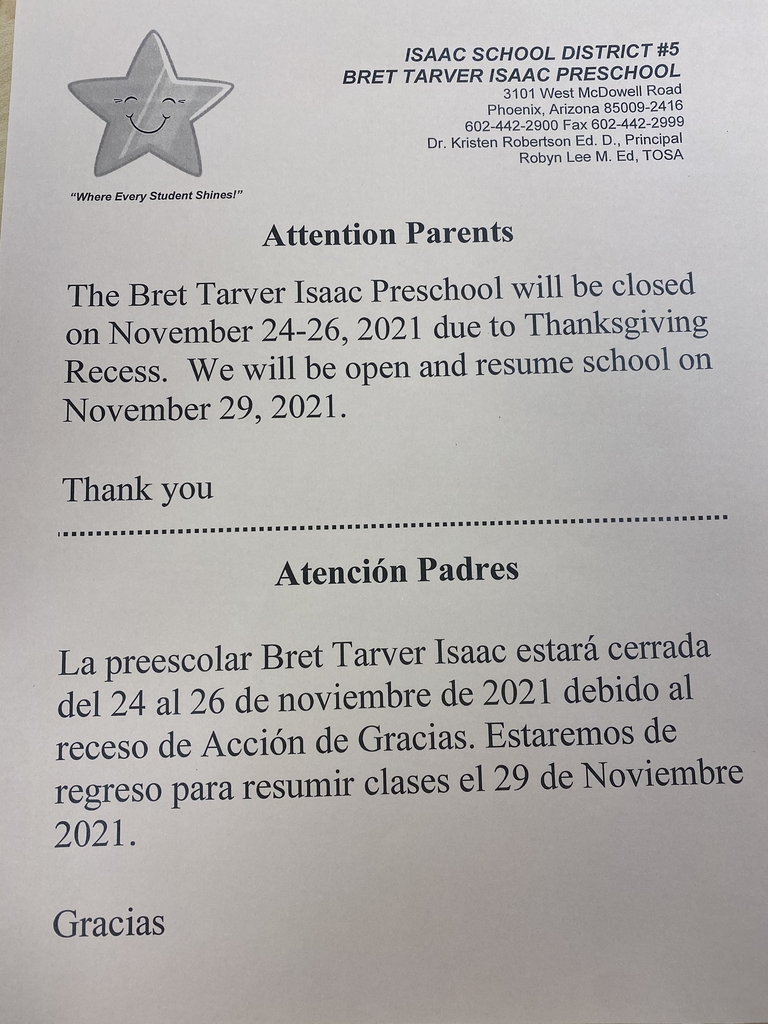 This week Bret Tarver's student services staff hosted our annual Turkey Trot. At the preschool, this means an obstacle course to test and challenge gross motor skills. Each class got to strut, stomp, jump, climb, and throw their way through all of the challenges, and then dance to get the sillies out after. It was a blast!!!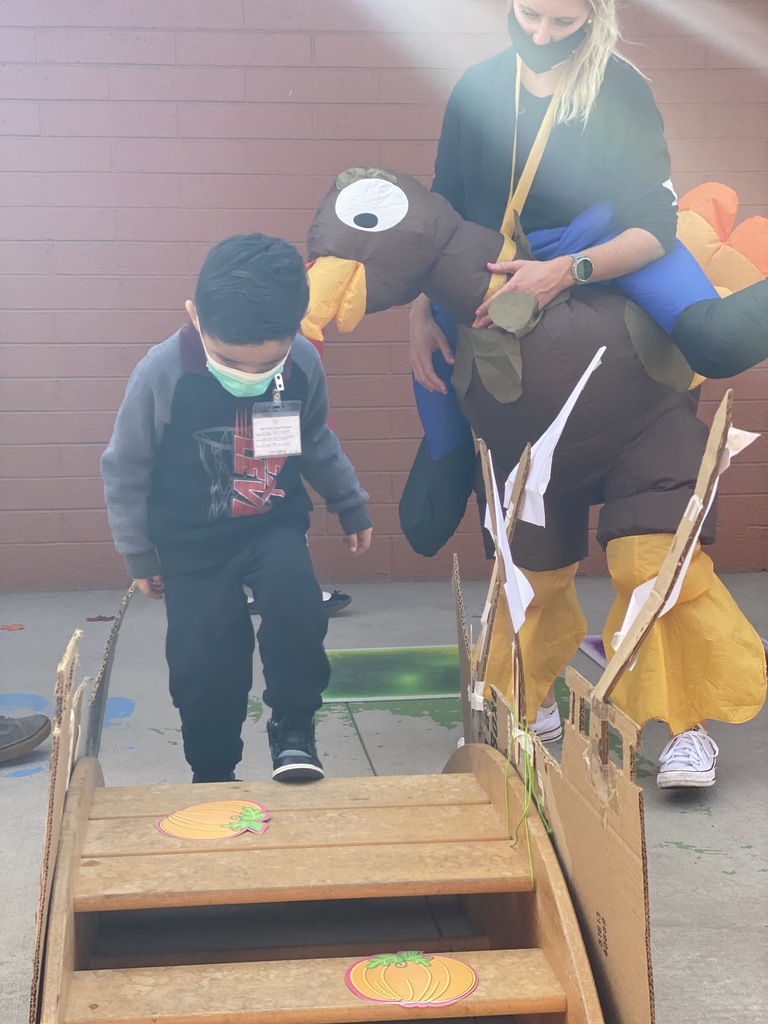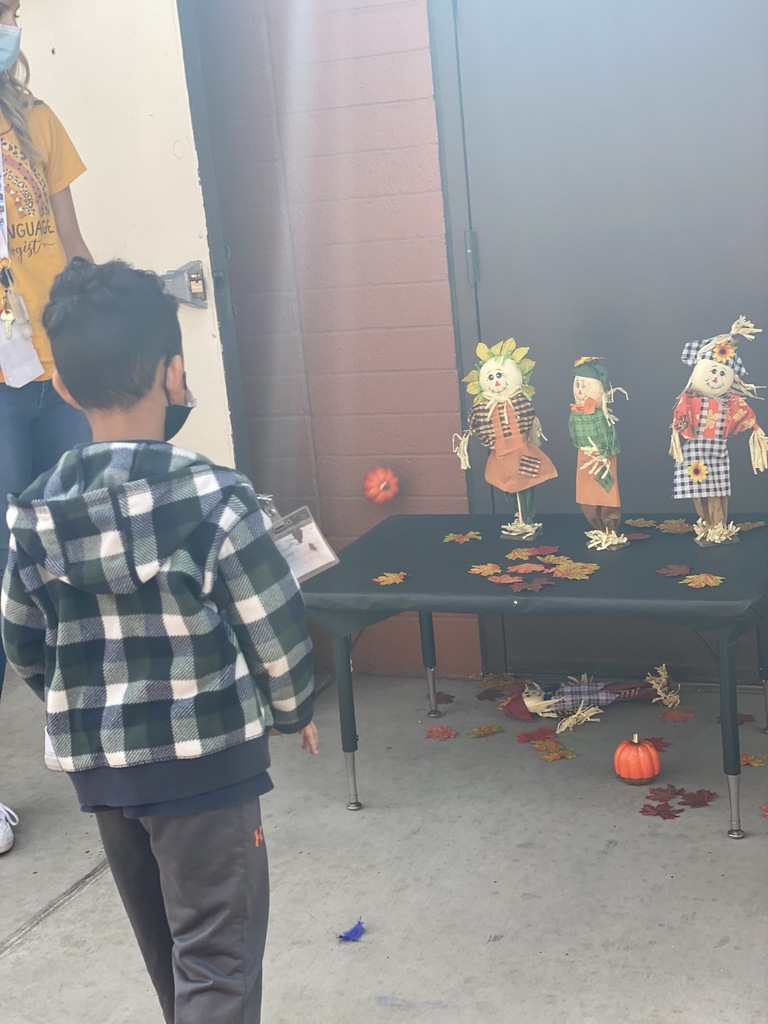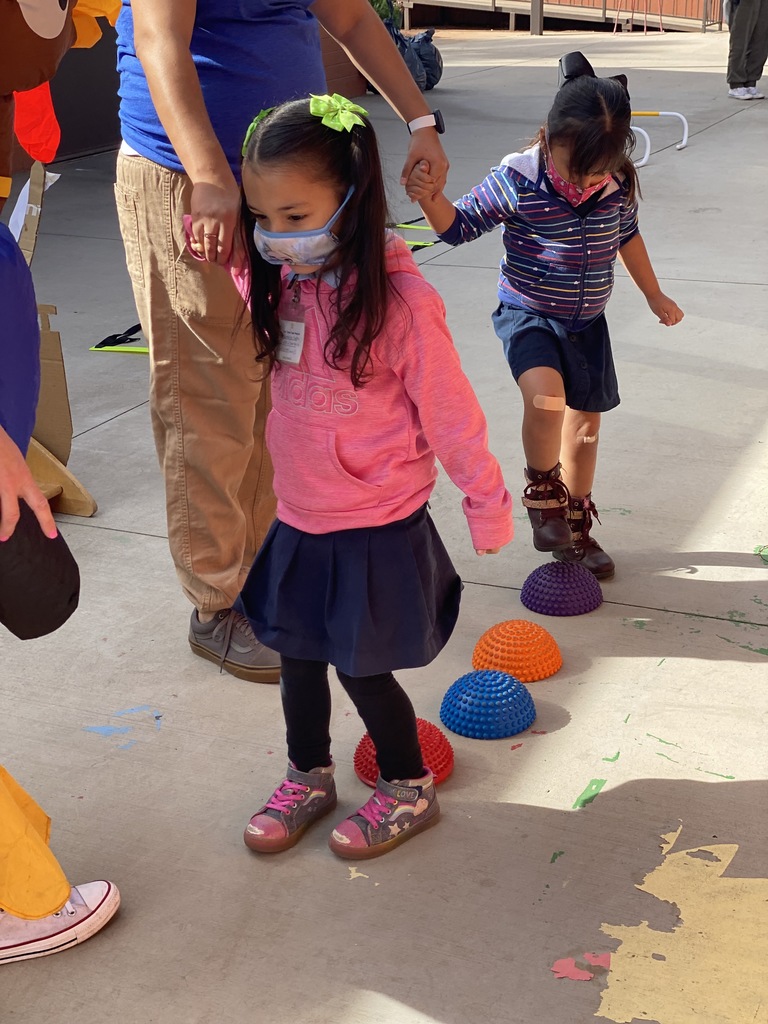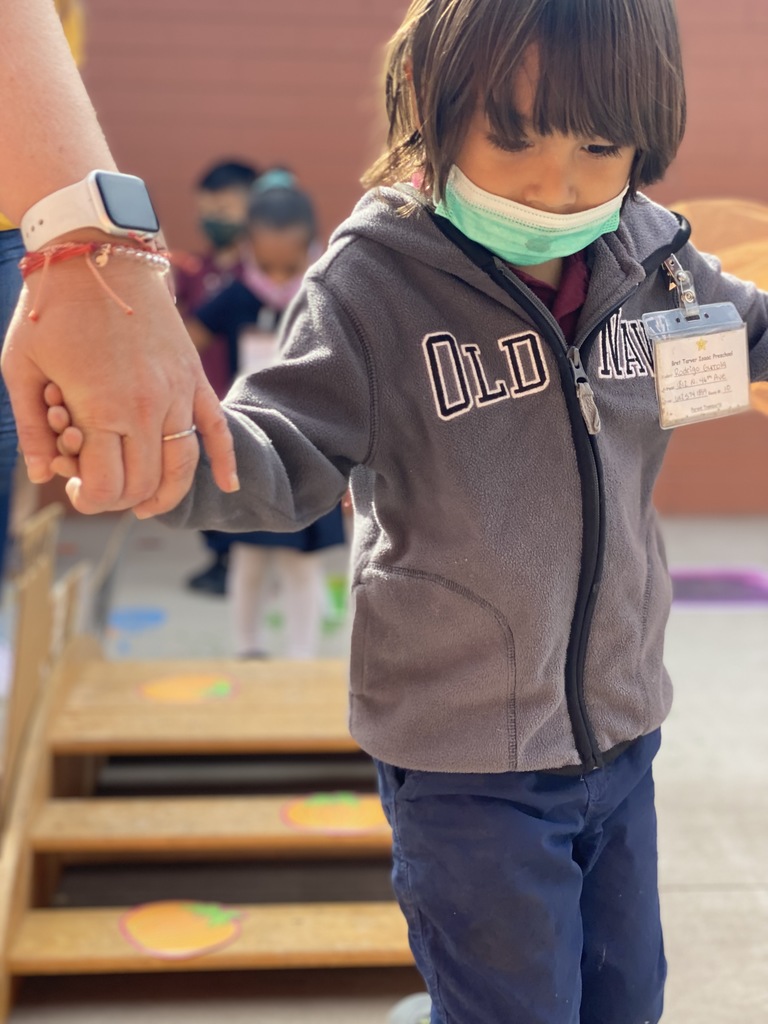 Isaac Community, We invite you to join us at our upcoming Free vaccine event at Morris K. Udall this Saturday, November 13, 2021 from 8AM-12PM. Pfizer vaccines are available for children ages 5 and up. #ItsOurShotIsaac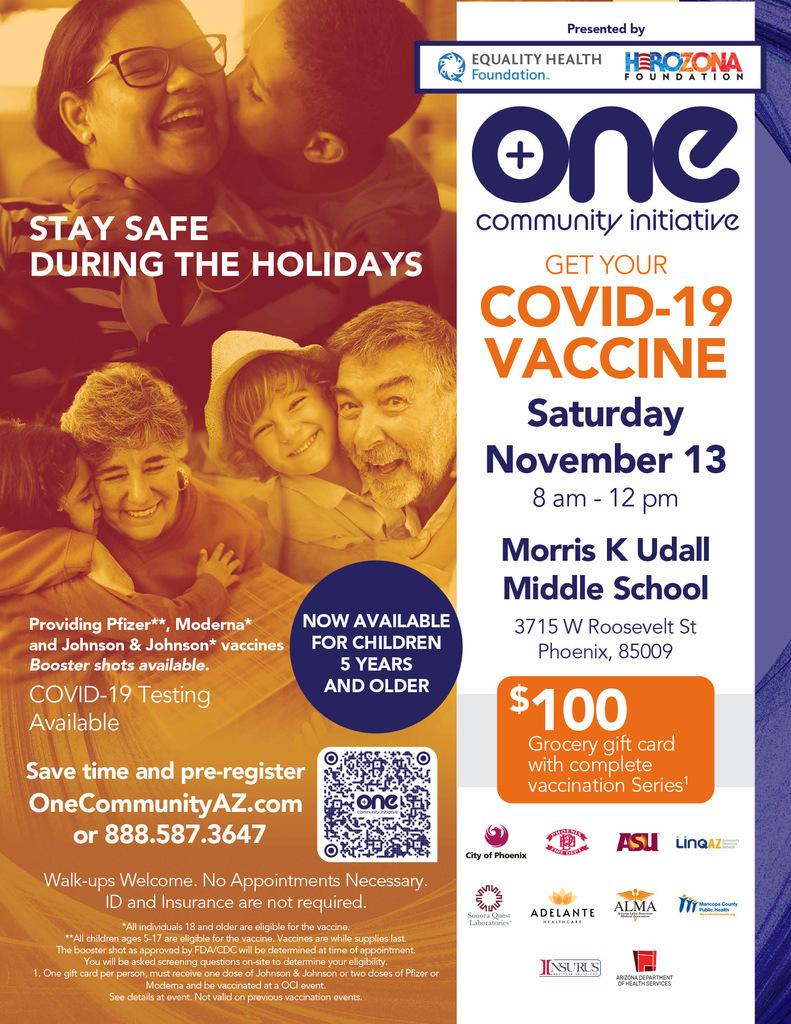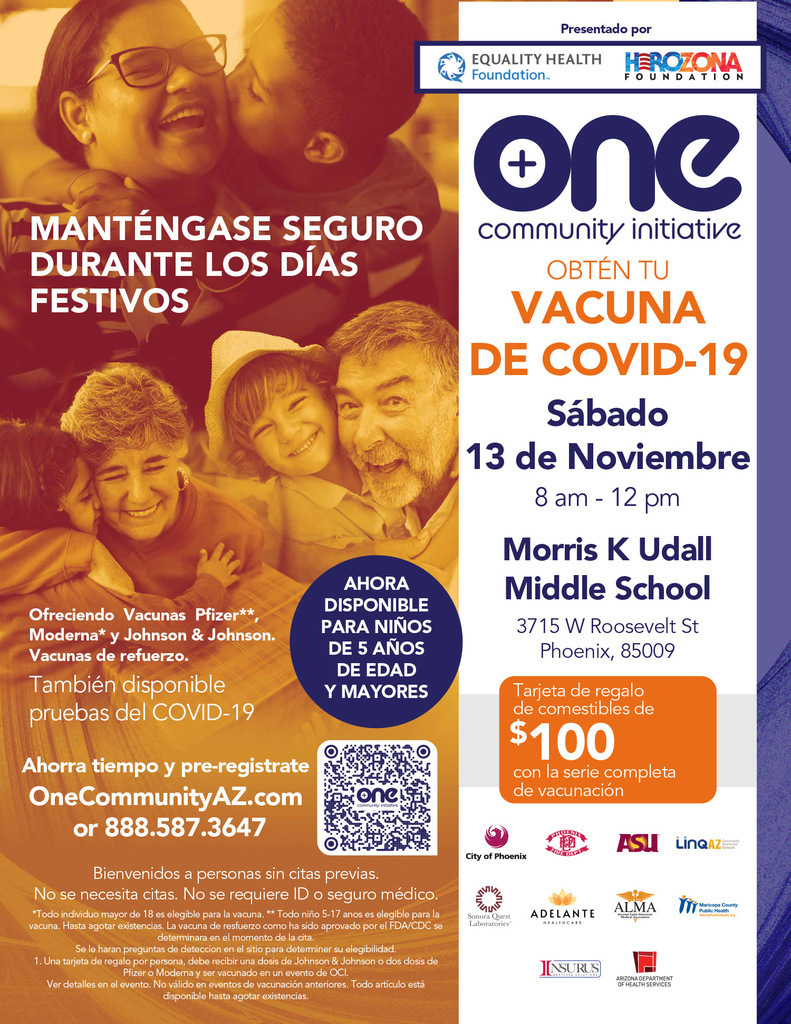 Bret Tarver Isaac Preschool had a change in leadership this week. Below is a letter from our new assistant director, Emma Ortiz. If you see her on campus, please make her feel welcome! Dear Families, It is with great enthusiasm that I write this note to introduce myself as the new Assistant Director of Bret Tarver Preschool. I will be working with both Esperanza Elementary and the Preschool. I look forward to collaborating with Dr. Robertson, the Principal, and the Bret Tarver Preschool staff to continue the great work already established. Prior to joining Bret Tarver Preschool and Esperanza Elementary, I was the PBIS Specialist for Moya Elementary and Zito Elementary. I have 20+ years of teaching experience from Kindergarten to 9th grade. I have two Master degrees and 5+ years of leadership roles as a Teacher on Special Assignment (TOSA) which include coordinating afterschool programs and coordinating summer school. I am here to support our students, parents and staff. On a personal note, my husband, Javier and I enjoy spending time with our two human babies and 5 fur-babies and a frog. We enjoy camping and family movie night. I am committed to working alongside the Preschool staff - as we continue to provide the best learning environment for your child. I look forward to meeting all students and families! Queridas familias, Es con gran entusiasmo que escribo esta nota para presentarme como la nueva subdirectora del preescolar Bret Tarver. Trabajaré tanto con la primaria Esperanza como con el preescolar. Espero colaborar con la Dr. Robertson, la directora y el personal del preescolar Bret Tarver para continuar con el gran trabajo ya establecido. Antes de unirme a Bret Tarver Preschool y Esperanza Elementary, fui Especialista PBIS para Moya Elementary y Zito Elementary. Tengo más de 20 años de experiencia en la enseñanza desde el jardín de infantes hasta el noveno grado. Tengo dos maestrías y más de 5 años de funciones de liderazgo como maestra en asignaciones especiales (TOSA), que incluyen la coordinación de programas extracurriculares y la coordinación de la escuela de verano. Estoy aquí para apoyar a nuestros estudiantes, padres y personal. En una nota personal, mi esposo, Javier y yo disfrutamos pasar tiempo con nuestros dos bebés humanos y 5 bebés peludos y una rana. Disfrutamos de acampar y de una noche de películas en familia. Estoy comprometido a trabajar junto con el personal del preescolar, mientras continuamos brindando el mejor entorno de aprendizaje para sus hijos. ¡Espero conocer a todos los estudiantes y familias!

Attached is the calendar of events from our Parent Coordinator for the month of November. We cannot wait to see you at all of these events!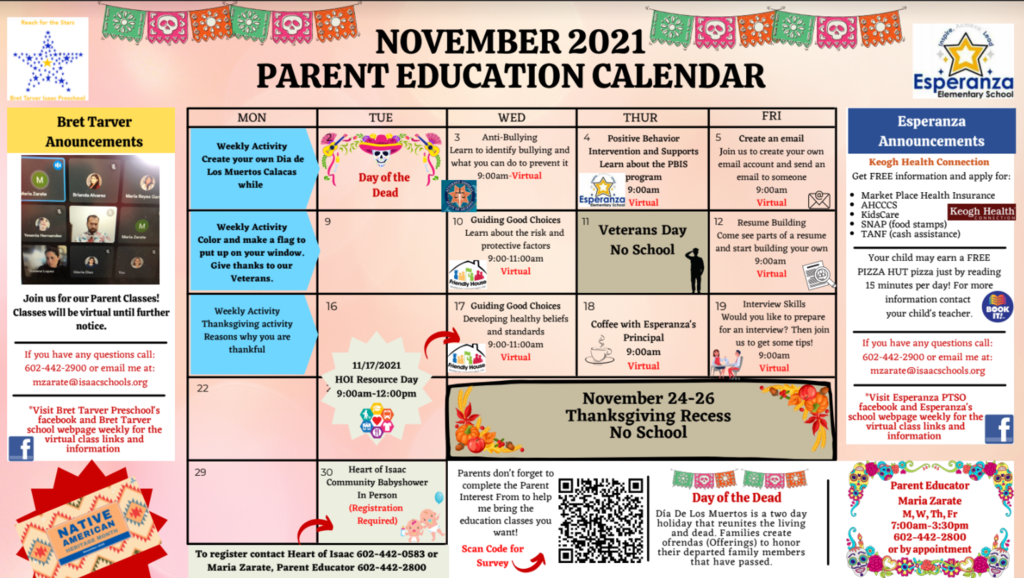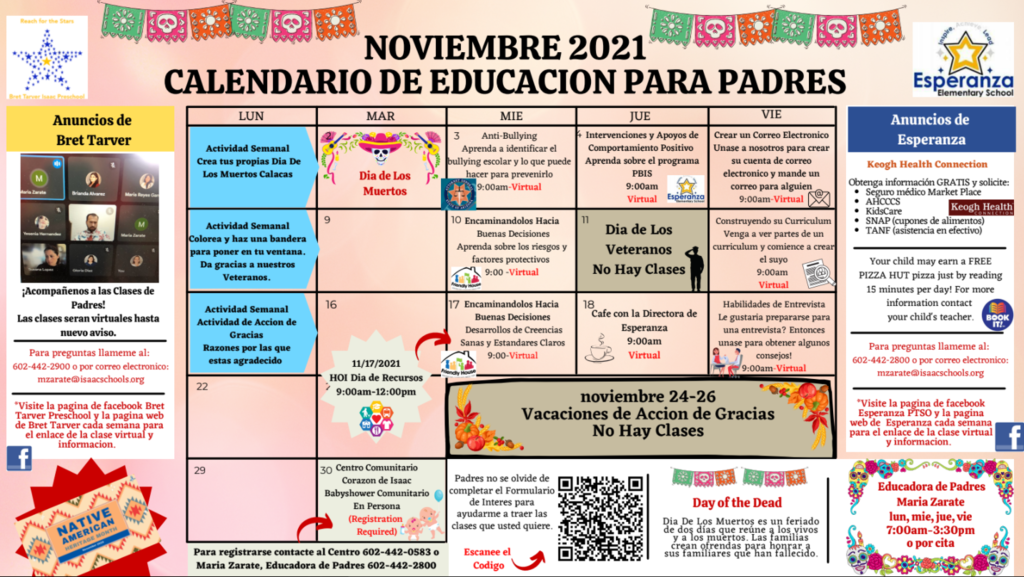 Dear Isaac Families and Staff, Due to a lack of quorum, tonight's (Oct 28, 2021) Regular Governing Board Meeting and Study Session have been cancelled. Thank you,

Join us this Thursday 10/28/2021 for our Parent Class where we will talk about how to Properly Dispose of Medication. The class will be virtual and begin at 9:00 am. For any questions you can contact your Parent Educator, Maria Zarate, 602-442-2800. Únase a nosotros este jueves 10/28/2021 para nuestra Clase para Padres donde hablaremos cómo Deshacerse Adecuadamente de Los Medicamentos. La clase será virtual y empezará a las 9:00 am. Para cualquier pregunta contacte a su Educadora de Padres, Maria Zarate, 602-442-2800. This class will be in Spanish.

Construction seems to be a theme here at Bret Tarver! Bigger and better things to come! Teacher Heather and Teacher Natalie have been hard at work to create a brand new beautiful garden for all of the Bret Tarver students to enjoy! Hopefully there will be some Facebook giveaways of some of our harvests to come soon!! We cannot wait to spend some time in the sunshine with the students, learning how to plant, and care for a garden!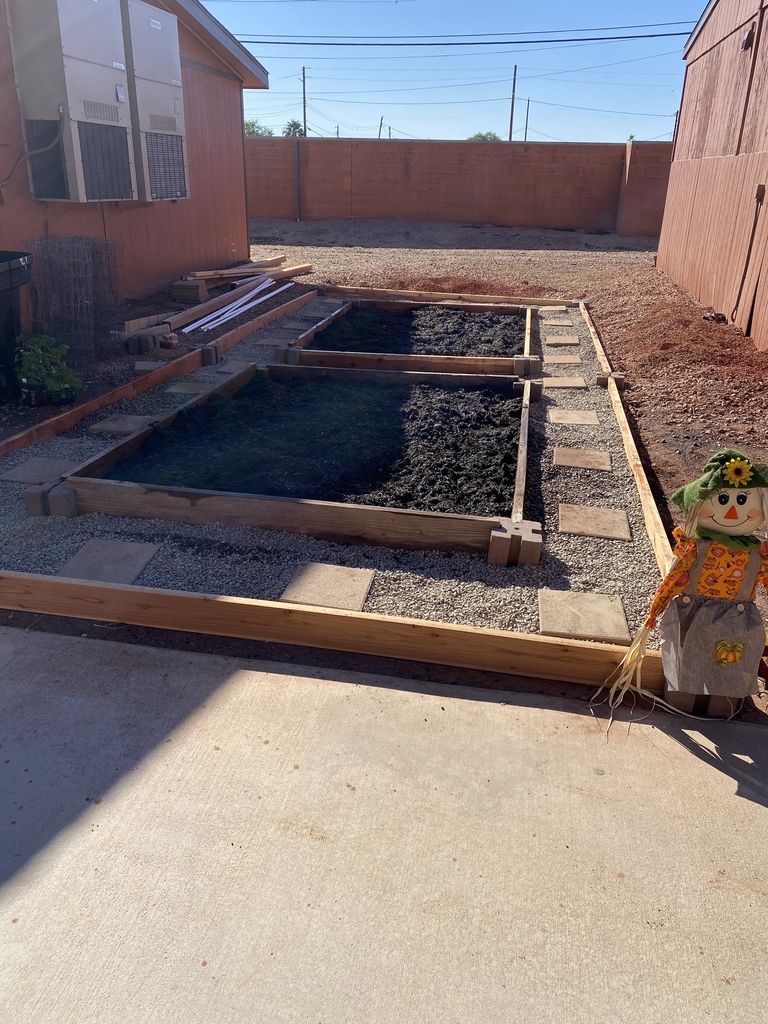 Please see the attached flyer for a parent event happening tomorrow at the preschool, put on by our parent coordinator, Maria Zarate.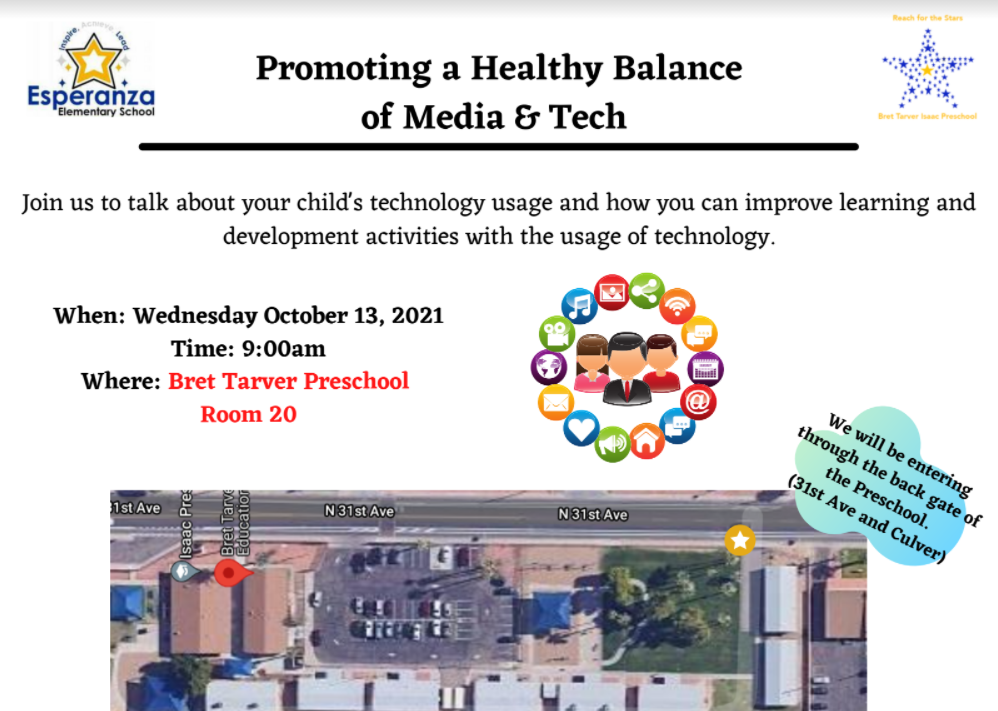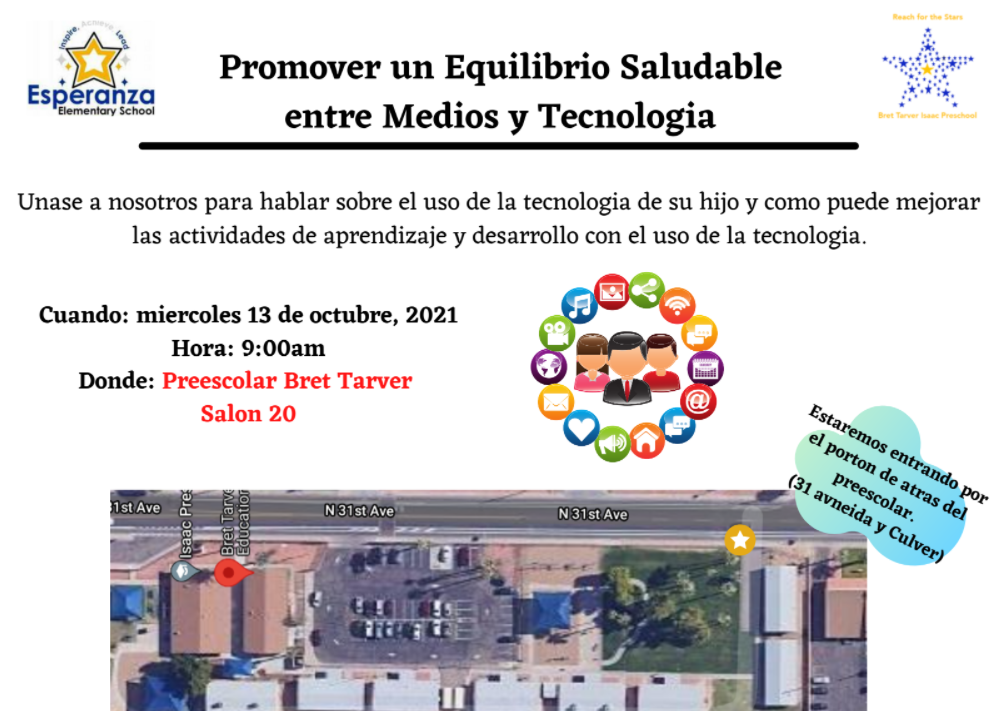 The Bret Tarver Students returned from fall break today to find that construction had finished on our south playground, and decided to break in their new playground!

Please see the attached flyer for information about upcoming events for parents, put together by our Parent Coordinator, Maria Zarate.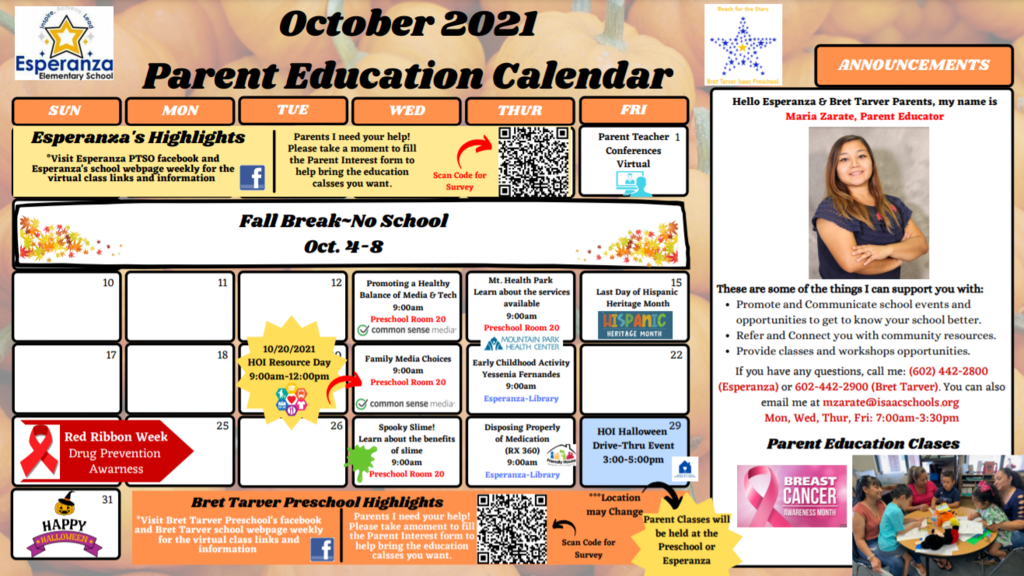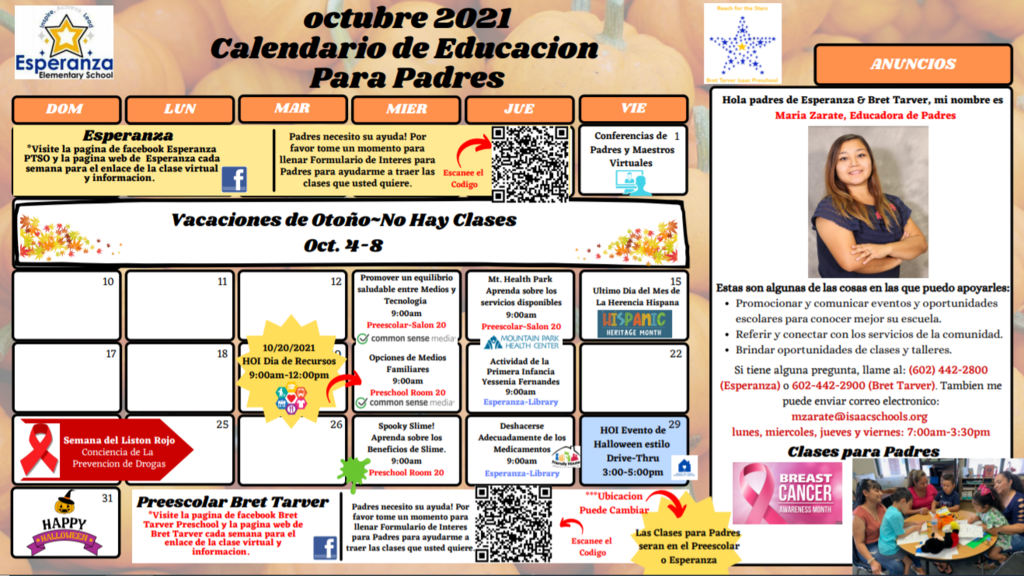 Important Message from ISD: It was just announced today that judge Katherine Cooper issued an injunction blocking the state's ban on the face-mask mandate from taking effect in two days. Isaac Elementary School District will continue to require staff, students and visitors to wear masks on all school campuses, following our health mitigation plan . The plan takes a multi-tiered approach to minimize health risks related to COVID-19. Mask wearing, handwashing, social distancing and staying home when experiencing COVID like symptoms are the recommendations provided by the CDC and county health leaders and followed in our plan. While navigating the pandemic, it is important that we make changes and adjust to the conditions and needs of our community quickly. Please continue to look for information regarding updates to our health and safety procedures. We ask that you work collaboratively with staff and students to promote effective health mitigation practices, so that we may continue to deliver on the promise to provide a quality education in the safest environment possible.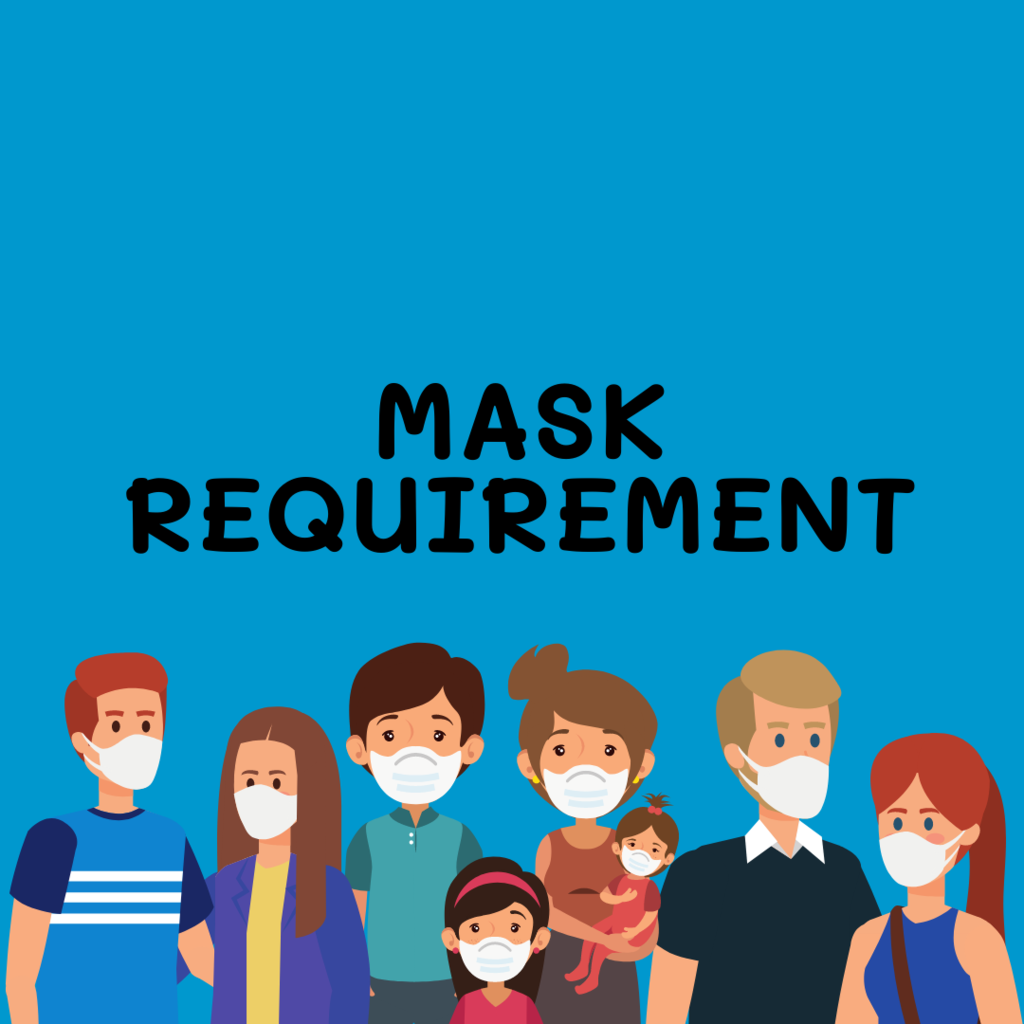 If you have not been to campus recently, we have exciting news to share. Bret Tarver Isaac Preschool is in the process of receiving a brand new playground. Construction began last week and should be finished in the next two weeks. In the meantime, please allow extra time to park and navigate through the parking lot as construction vehicles and equipment are currently being housed in the parking lot. The students have loved watching the process, and we cannot wait to show you the finished product!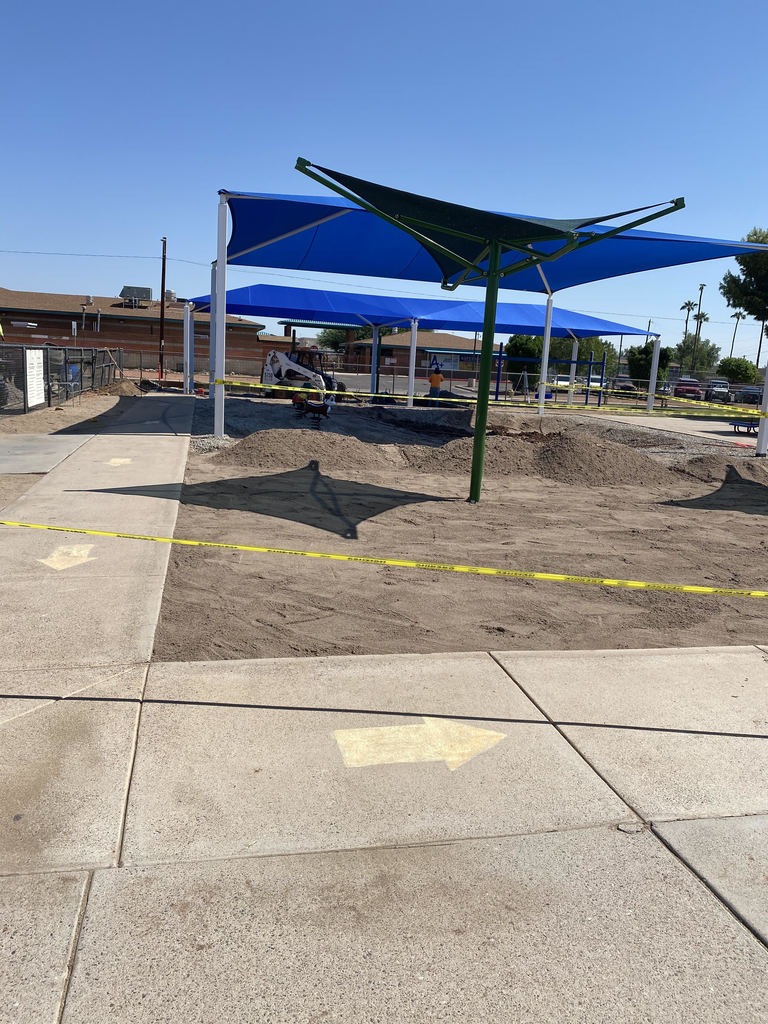 FREE Flu Shots for the community Thursday, September 23, 2021 3:00pm -6:00pm (while supplies last) 1403 N. 43rd Ave. Phoenix, AZ 85009 Heart of Isaac has partnered with Walgreens to provide flu shots for anyone 3 years & older. Walk-ins welcome! Health Insurance is not required. If you are insured, please bring your insurance card. Covid vaccines will also be available for ages 12 +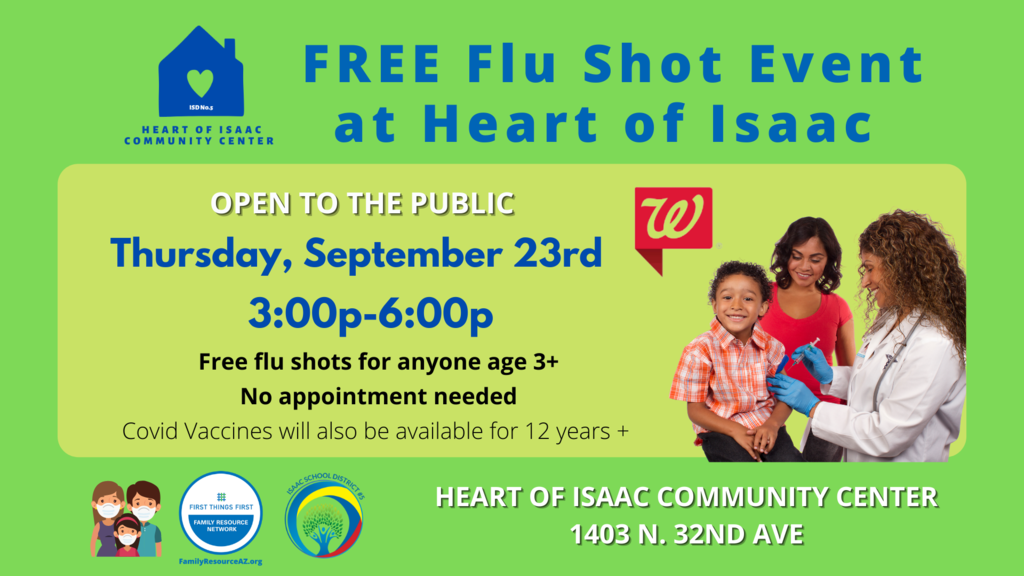 Isaac Families & Community Join us for a COVID-19 Testing & Vaccination Event Monday, September 20th, 7:15AM - 1:15 PM at Isaac Middle School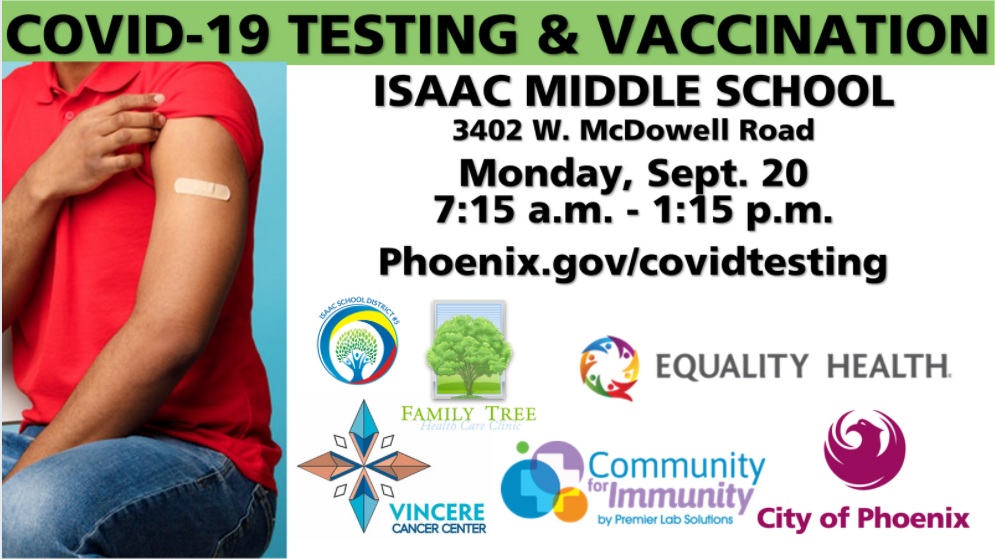 Please see the attached flier for the latest class opportunity for Bret Tarver Preschool parents. Come learn about your child's school!