Our students had an absolute blast today, and we can't wait for our next event!! We would like to extend a huge shoutout and thank you to all of our amazing therapists who made this happen!! ¡Nuestros estudiantes se divirtieron mucho hoy, y estamos ansiosos por nuestro próximo evento! ¡Nos gustaría extender un gran saludo y gracias a todos nuestros increíbles terapeutas que hicieron que esto sucediera!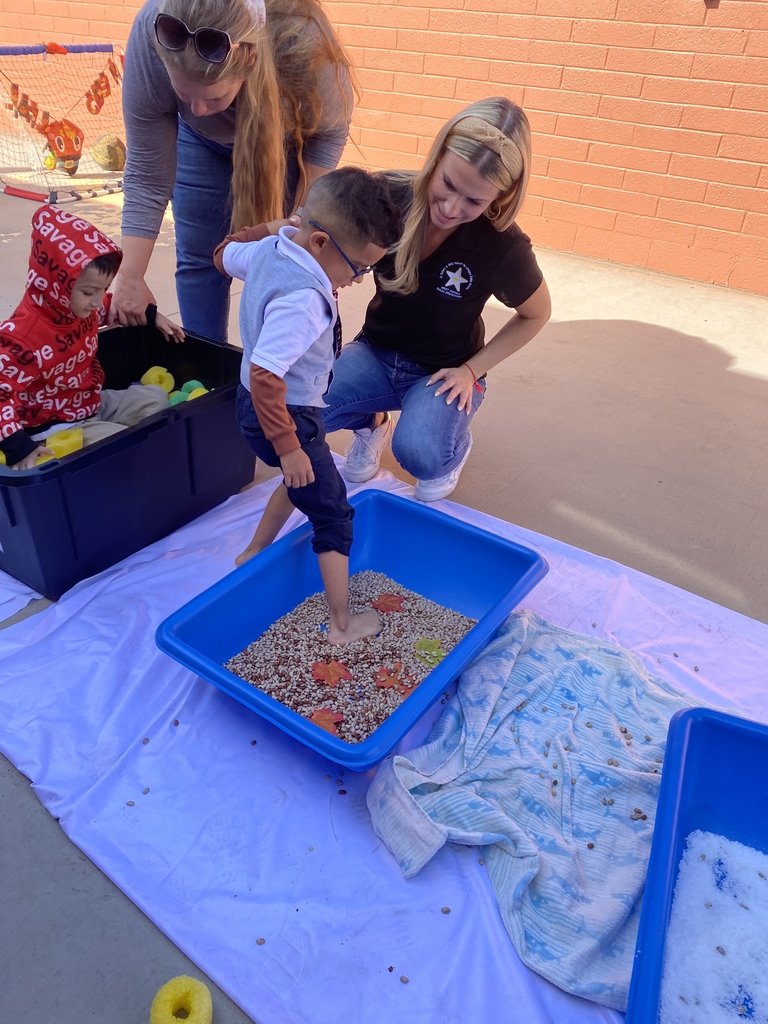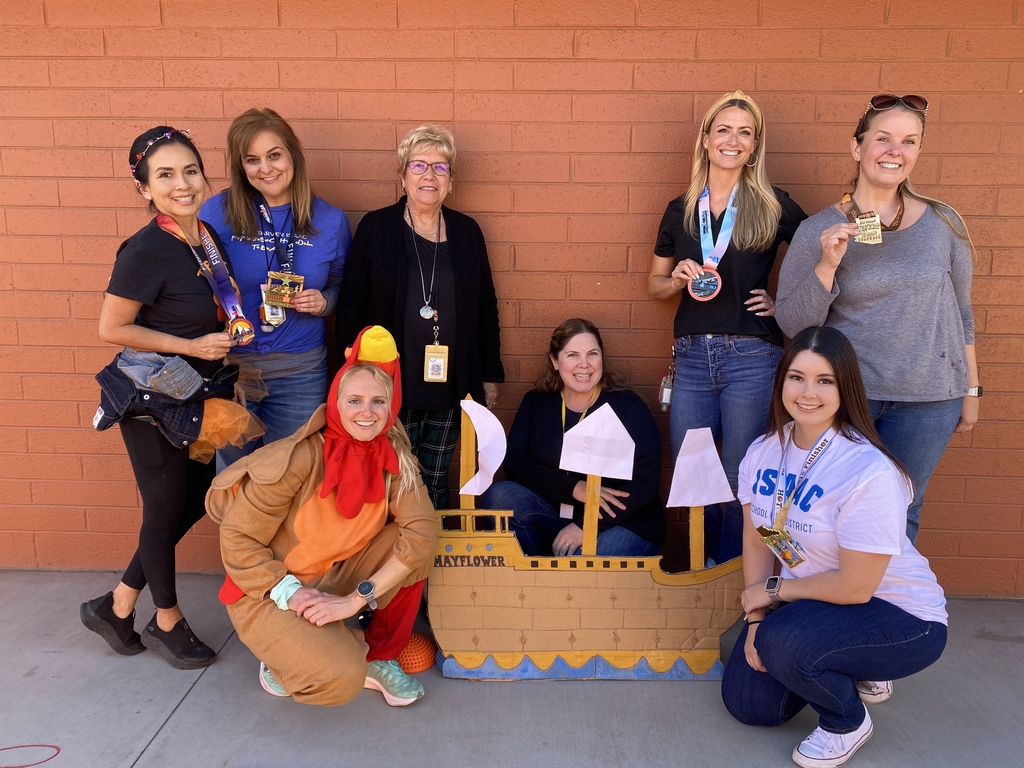 Bret Tarver Isaac Preschool does our turkey trot differently from the elementary schools. Our turkey trot is a sensory obstacle course that allows all of our students to explore different modes of movement and balance while receiving some bursts of sensory as well. Bret Tarver Isaac Preschool hace nuestro trote de pavo de manera diferente a las escuelas primarias. Nuestro trote de pavo es una carrera de obstáculos sensoriales que permite a todos nuestros estudiantes explorar diferentes modos de movimiento y equilibrio mientras reciben también algunos estallidos sensoriales.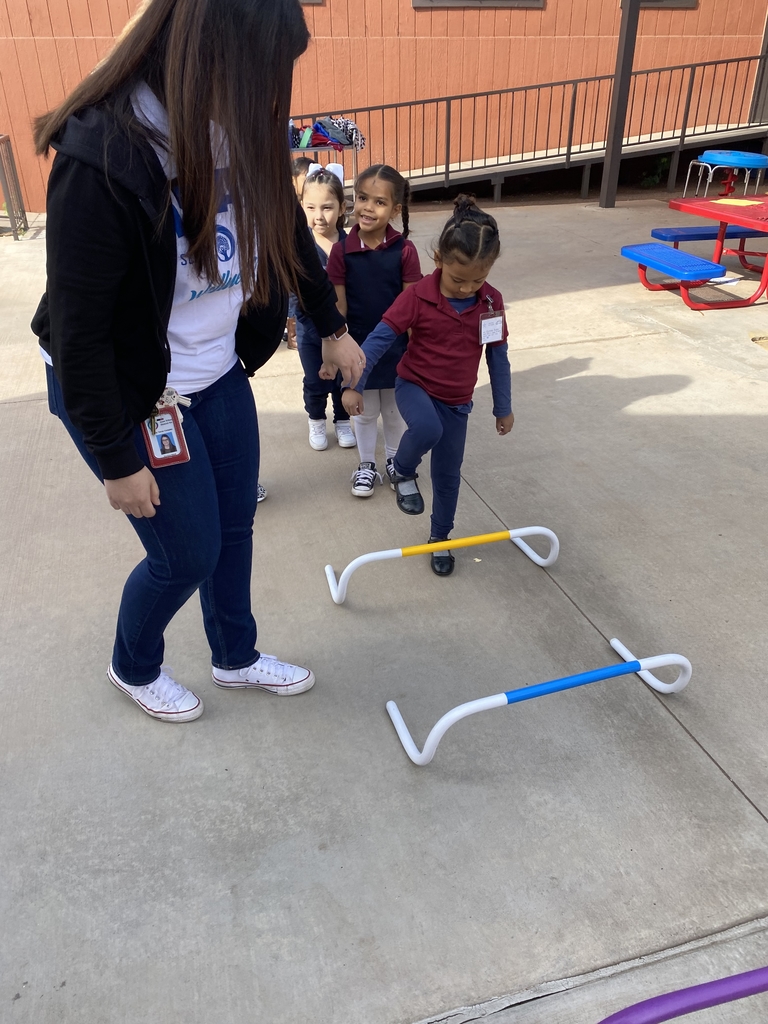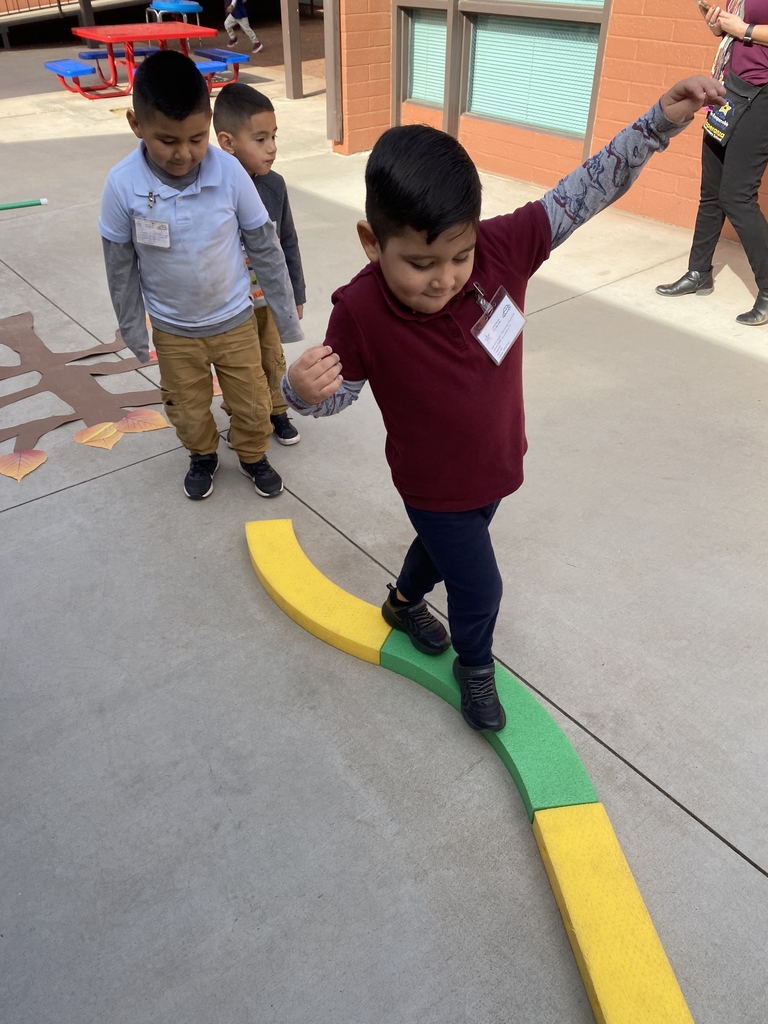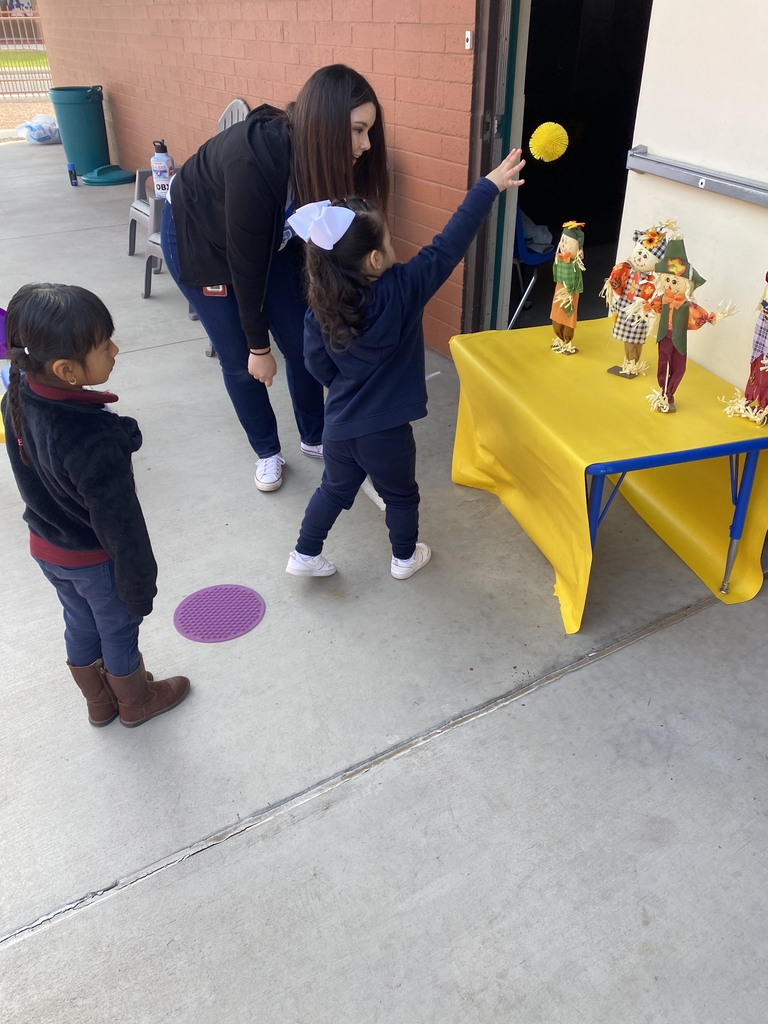 Good Afternoon Bret Tarver Families!! Just a friendly reminder that picture day proofs have gone home, and the deadline to order photos is this Wednesday 11/23. If you would like to order photos, you can bring your order form and money into the school office by tomorrow (11/22) or you can visit the website at the top of your order form and use the code underneath to order your photos online. Please call the office with any questions!! ¡Buenas tardes, familias de Bret Tarver! Solo un recordatorio amistoso de que las pruebas del día de la fotografía se han ido a casa, y la fecha límite para ordenar fotos es este miércoles 23/11. Si desea ordenar fotos, puede traer su formulario de pedido y dinero a la oficina de la escuela mañana (22/11) o puede visitar el sitio web en la parte superior de su formulario de pedido y usar el código debajo para ordenar sus fotos en línea . ¡Llame a la oficina si tiene alguna pregunta!

Here at Bret Tarver Isaac Preschool we are extremely thankful for our beautiful garden, and being able to provide fresh produce to the families we serve. Some of our veggies began to sneak off, so we made a sign as a friendly reminder to everyone on campus. (Can you blame them?? The veggies look great!!) One lucky class will be getting Mexican squash next week! Aquí en el preescolar Bret Tarver Isaac estamos muy agradecidos por nuestro hermoso jardín y por poder proporcionar productos frescos a las familias a las que servimos. Algunas de nuestras verduras comenzaron a escaparse, por lo que hicimos un letrero como recordatorio amistoso para todos en el campus. (¿Puedes culparlos? ¡Las verduras se ven geniales!) ¡Una clase afortunada recibirá calabaza mexicana la próxima semana!

The leaves are falling, the breeze is beginning, and the weather is starting to cool down. Our daily schedule here at the Preschool does not change when the weather does. All of our students here at Bret Tarver will be playing outside each day throughout the year. Please keep this in mind when dressing your child each morning. Uniforms are still required; however it is the perfect time for layering. Place a long sleeve shirt of your choice under a uniform shirt, or leggings under a skirt or dress. Jackets are perfect to send to school, but please write your child's name on the inside of the jacket or tag in case it gets misplaced or forgotten. If your family is in need of assistance in gathering some appropriate cold weather clothing, please see the front office and ask for our Parent Coordinator, Lupita. Las hojas están cayendo, la brisa está comenzando y el clima está comenzando a refrescarse. Nuestro horario diario aquí en el preescolar no cambia cuando lo hace el clima. Todos nuestros estudiantes aquí en Bret Tarver jugarán afuera todos los días durante todo el año. Tenga esto en cuenta cuando vista a su hijo todas las mañanas. Todavía se requieren uniformes; sin embargo, es el momento perfecto para las capas. Coloque una camisa de manga larga de su elección debajo de una camisa de uniforme o calzas debajo de una falda o un vestido. Las chaquetas son perfectas para enviar a la escuela, pero escriba el nombre de su hijo en el interior de la chaqueta o la etiqueta en caso de que se pierda o se olvide. Si su familia necesita ayuda para reunir ropa adecuada para el clima frío, visite la oficina principal y pregunte por nuestra coordinadora de padres, Lupita.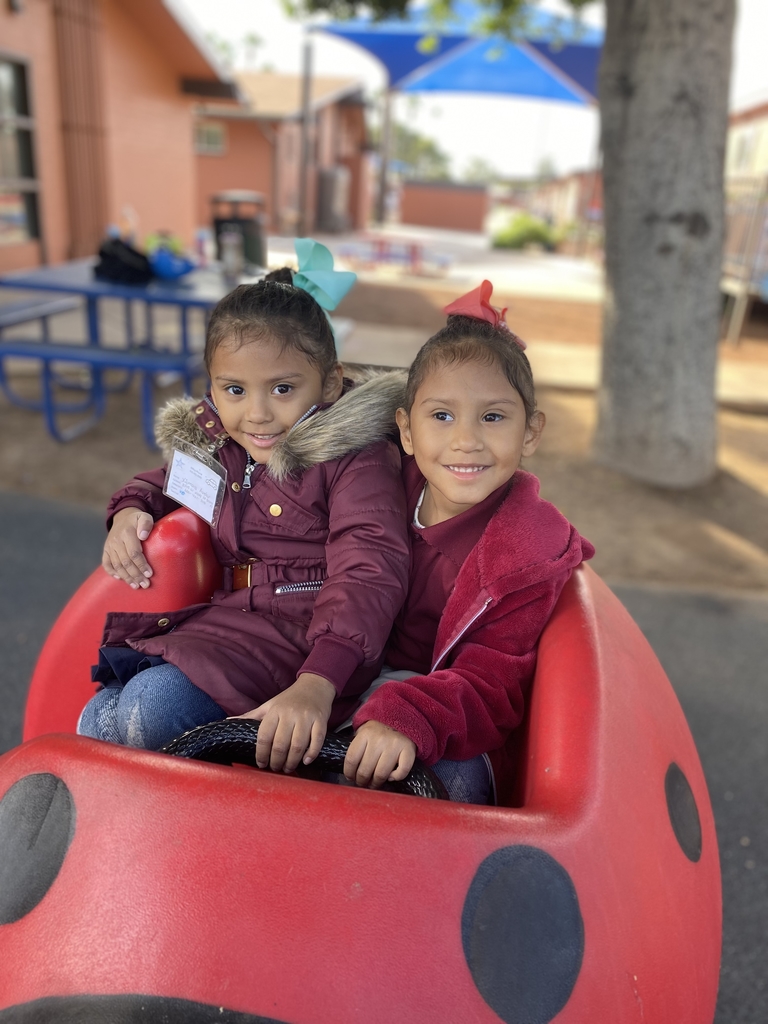 Picture Day is split up into two days this year. Please see the attached flyers to see when your child's class will be taking photos.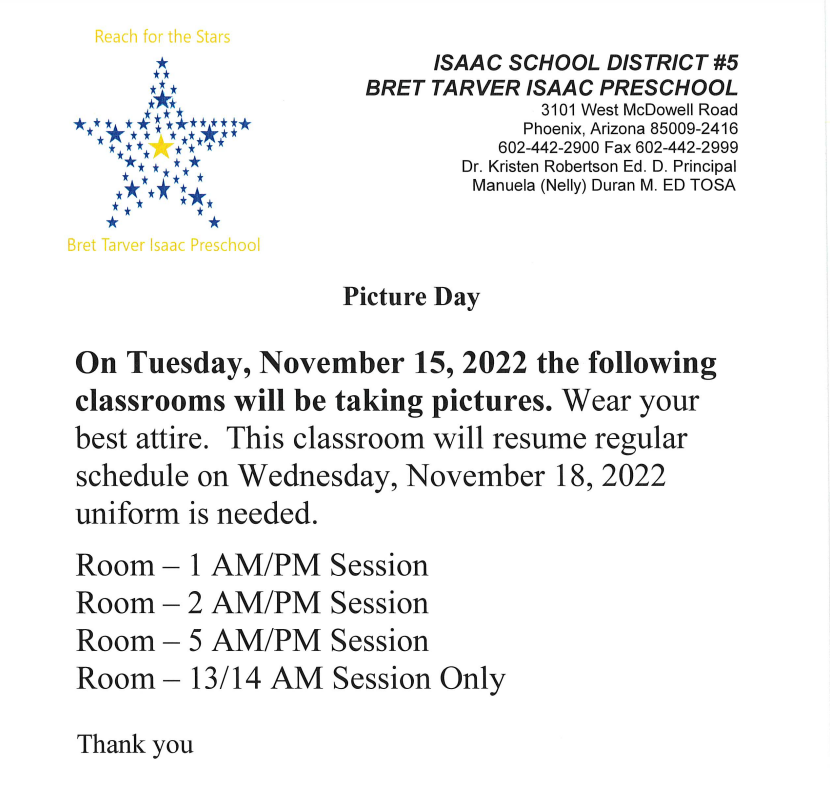 Picture day is coming!!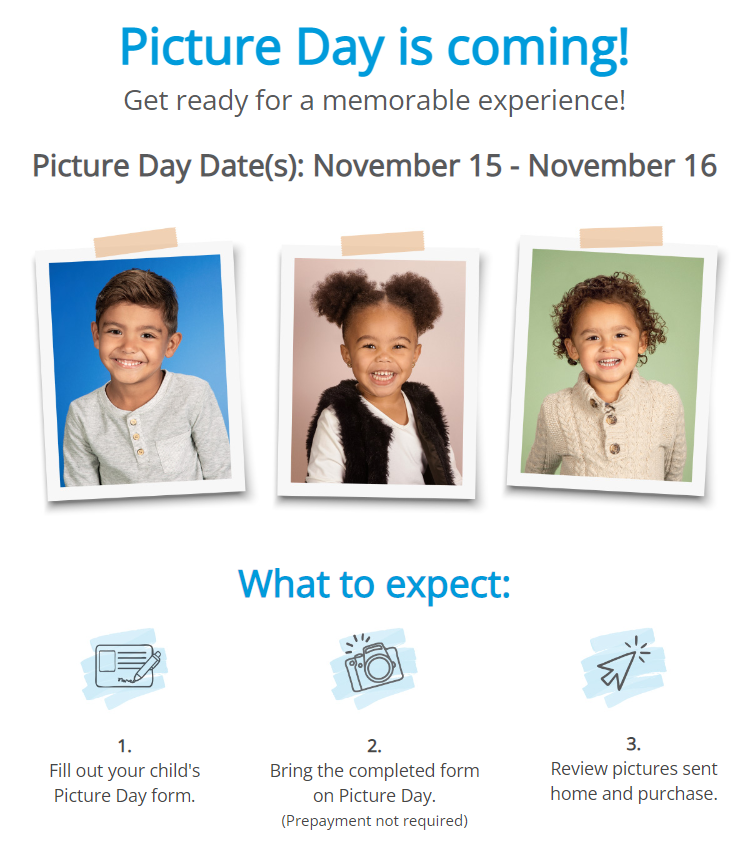 November 7-11, 2022 is National School Psychology Week. This year's theme is, "Together We Shine" as a way of seeing hope after several challenging years we have faced. Finding light is critical to building resilience and hope. Our school psychologist team including Mrs. Doris Alarcon, Ms. Arlene Soto, and Dr. Dalia Rostenberg works together with our staff, students, and their families to promote a sense of well-being, foster resilience, and advocate for individual needs. Del 7 al 11 de noviembre de 2022 es la Semana Nacional de la Psicología Escolar. El tema de este año es "Juntos brillamos" como una forma de ver la esperanza después de varios años difíciles que hemos enfrentado. Encontrar la luz es fundamental para generar resiliencia y esperanza. Nuestro equipo de psicólogos escolares, que incluye a la Sra. Doris Alarcón, la Sra. Arlene Soto y la Dra. Dalia Rostenberg, trabaja junto con nuestro personal, los estudiantes y sus familias para promover una sensación de bienestar, fomentar la resiliencia y defender las necesidades individuales.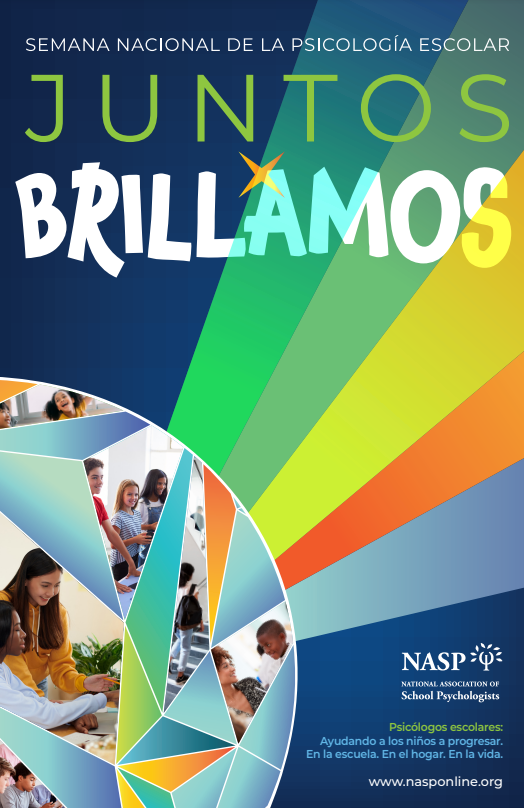 Please see the attached flier for events for the month of November, hosted by our Parent Coordinator, Lupita.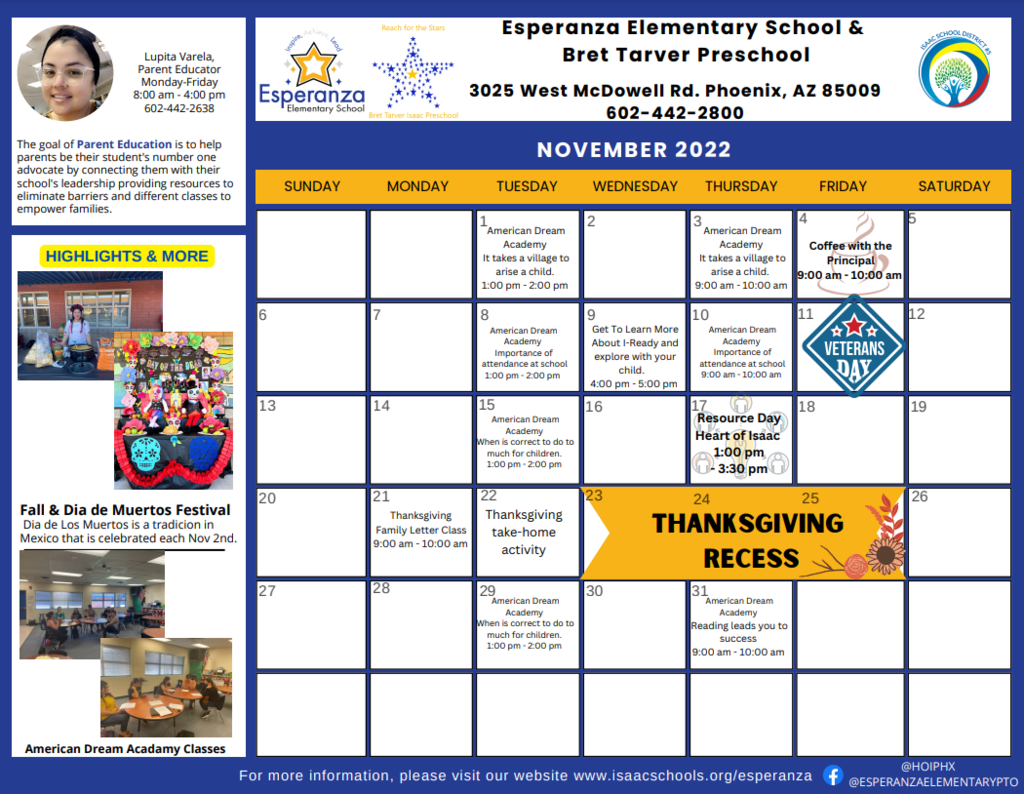 Our garden at Bret Tarver is absolutely loving the change in the weather! We are finally starting to get some veggies! This week, our eggplant harvest went to one of classrooms. Each child actually got to take one home to show their parents and cook to eat! We can't wait to share more of our produce with all of our families!! ¡A nuestro jardín en Bret Tarver le encanta el cambio de clima! ¡Finalmente estamos empezando a conseguir algunas verduras! Esta semana, nuestra cosecha de berenjenas fue repartida a una de las clases. ¡Cada niño pudo llevarse uno a casa para mostrárselo a sus padres y cocinar para comer! ¡Estamos ansiosos por compartir más de nuestros productos con todas nuestras familias!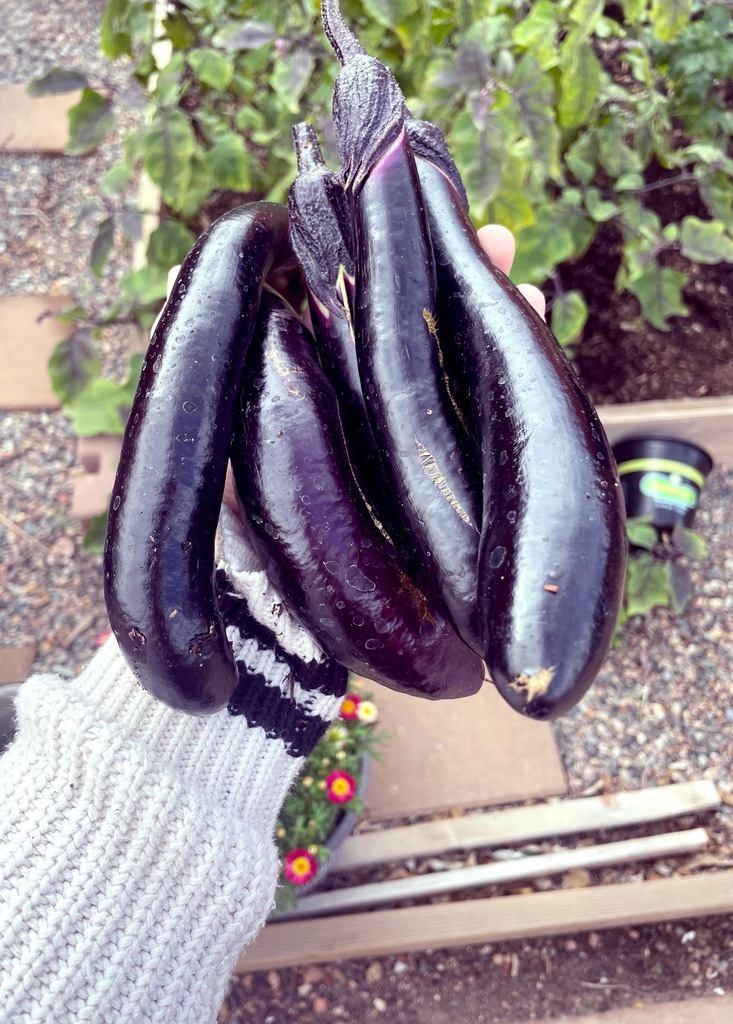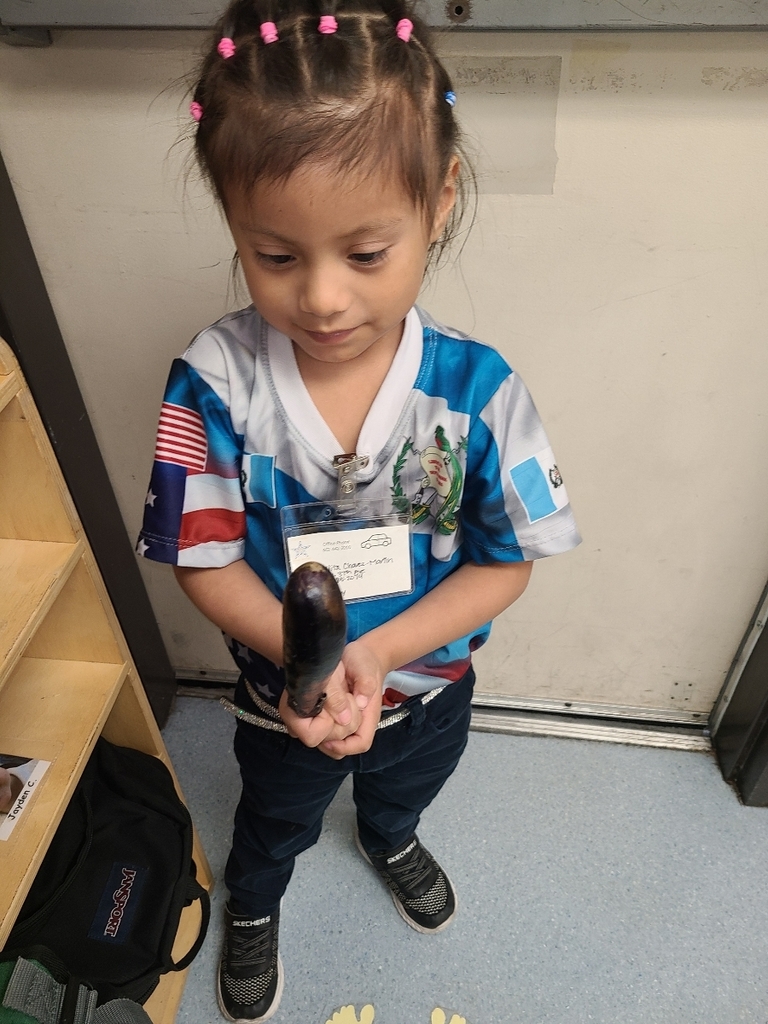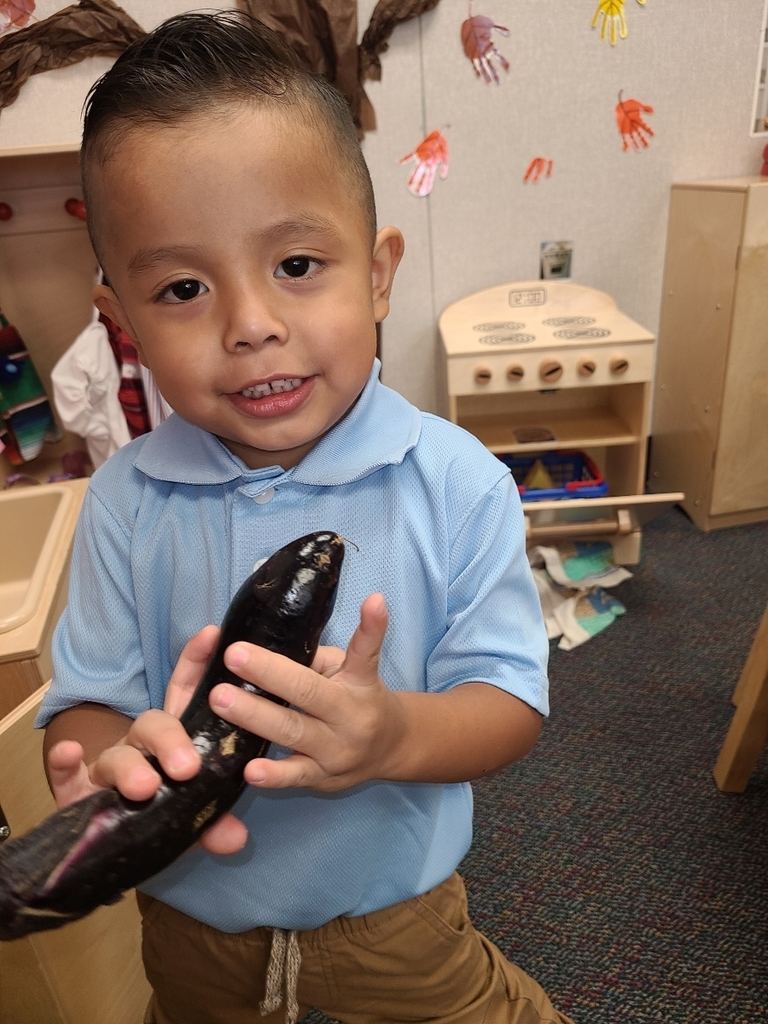 Please see the attached fliers for all of the events happening in the month of November at the Heart of Isaac.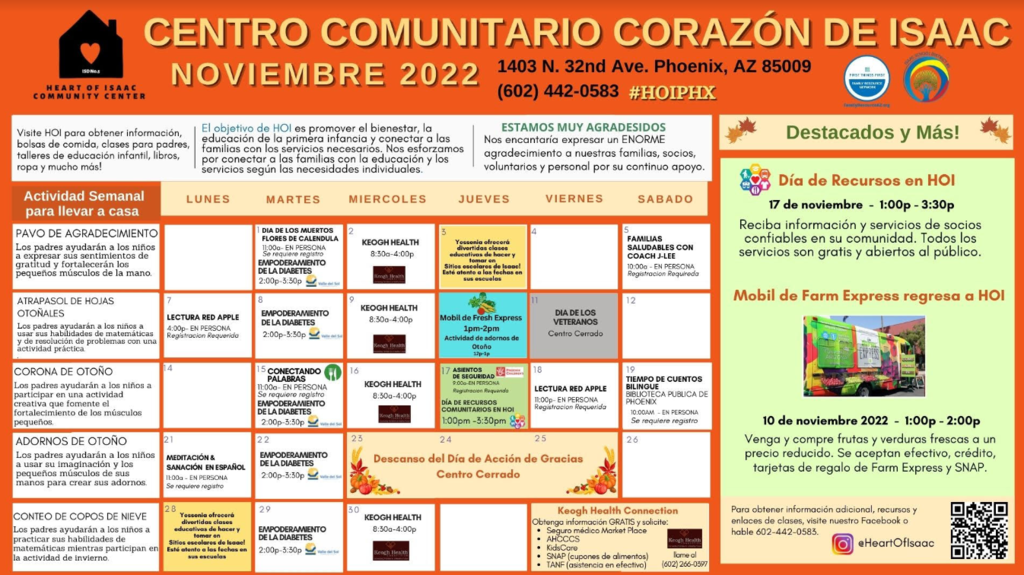 Bret Tarver had an absolute blast at our please and thank you parade yesterday! The perfect chance to practice our manners! ¡Bret Tarver se divirtió mucho en nuestro desfile de por favor y gracias ayer! ¡¡La oportunidad perfecta para practicar nuestros modales!!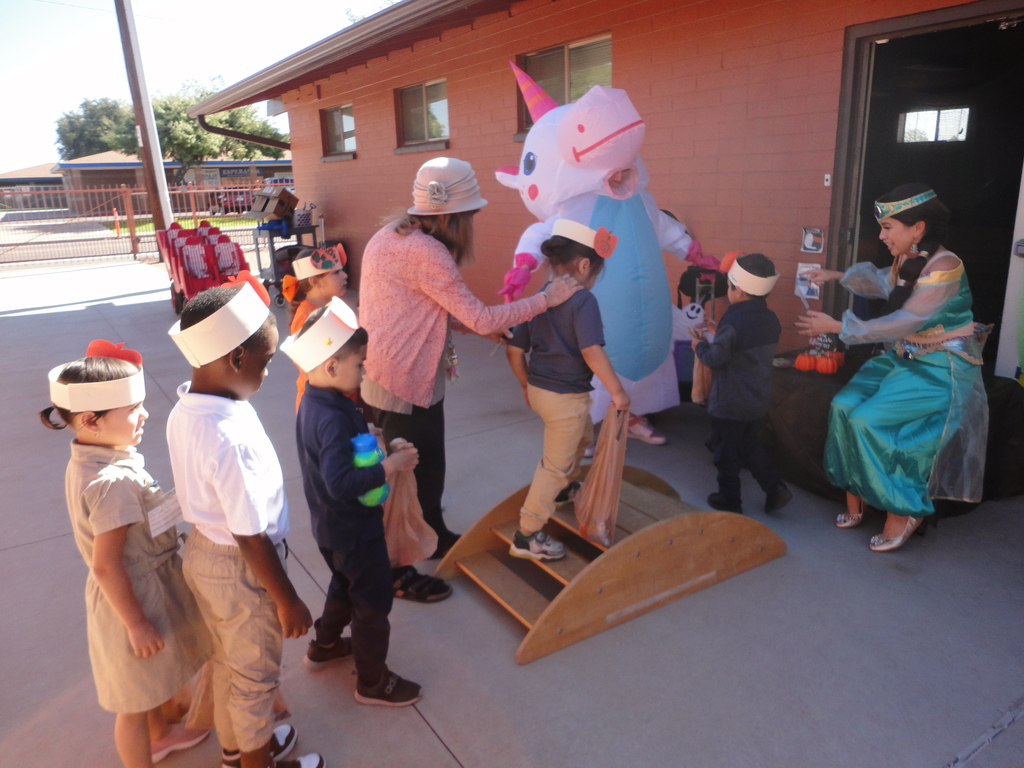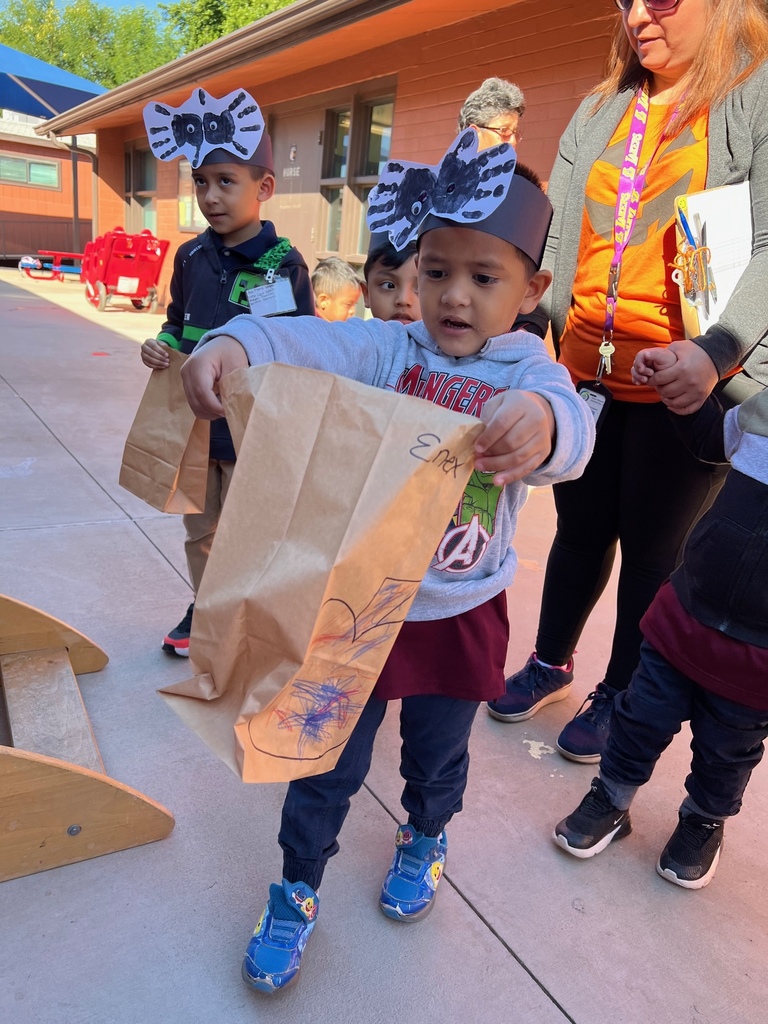 The students and staff at Bret Tarver Preschool had a perfectly playful pumpkin day!!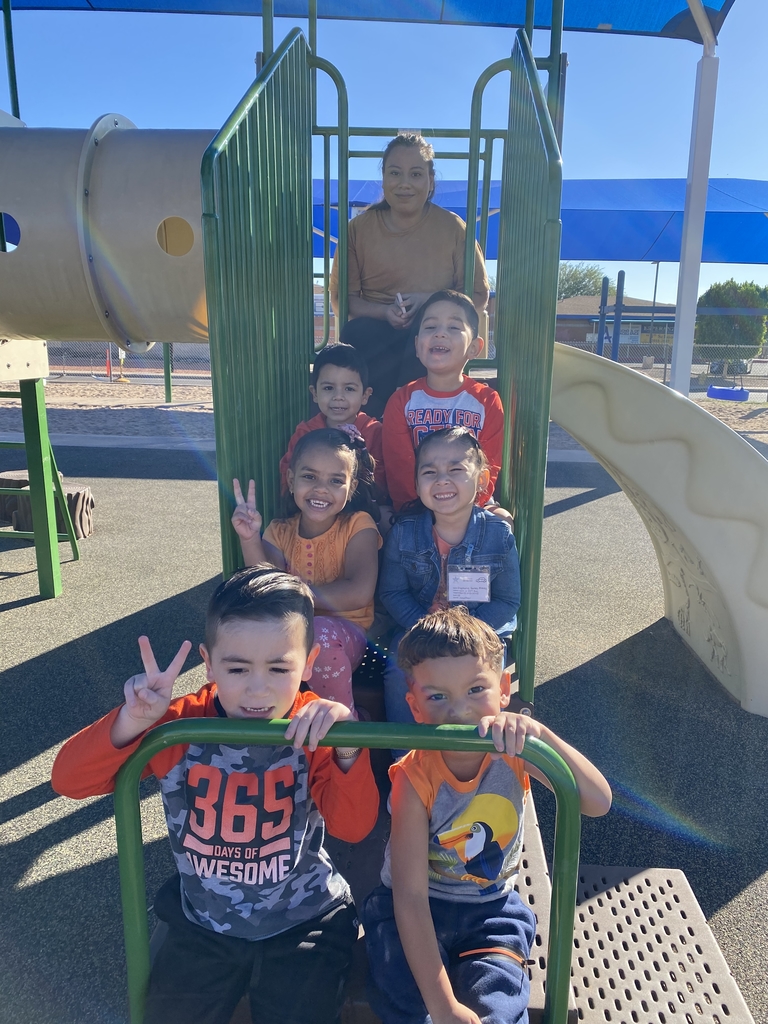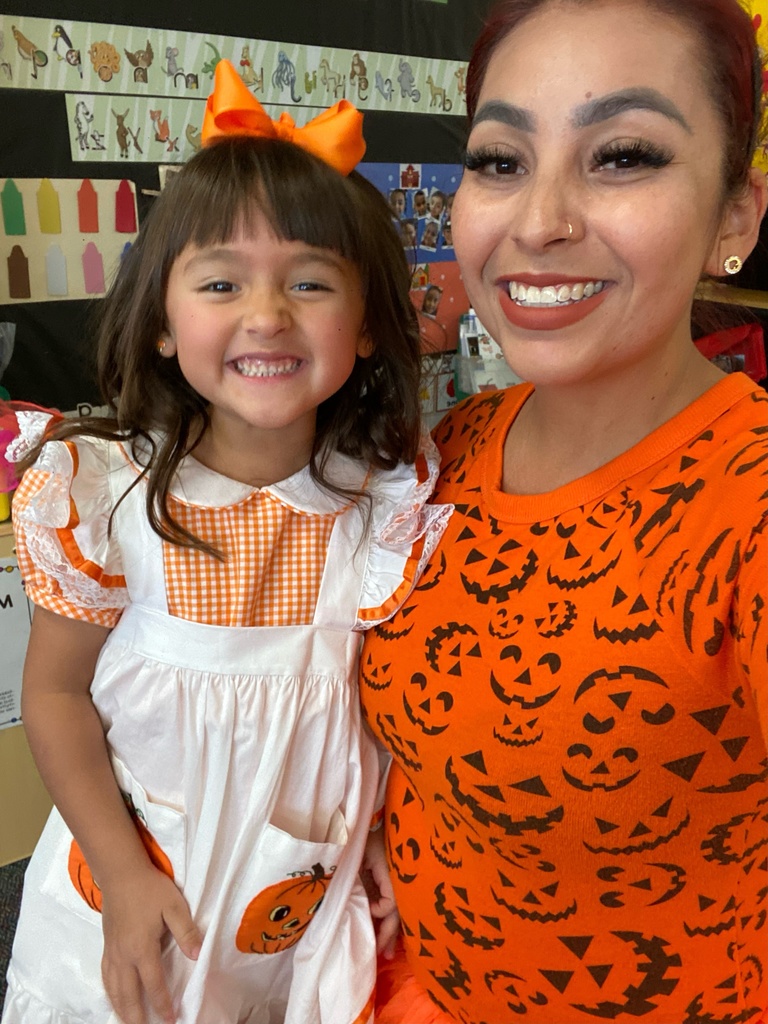 The students and staff at Bret Tarver Preschool had a fantastically fun flannel day!!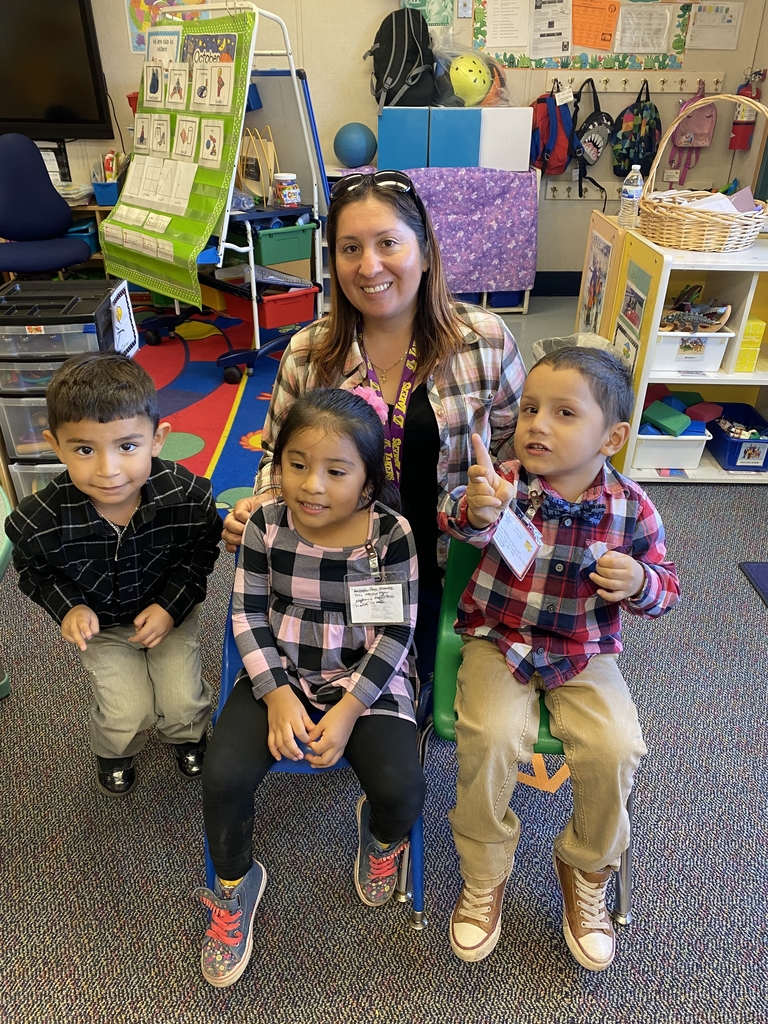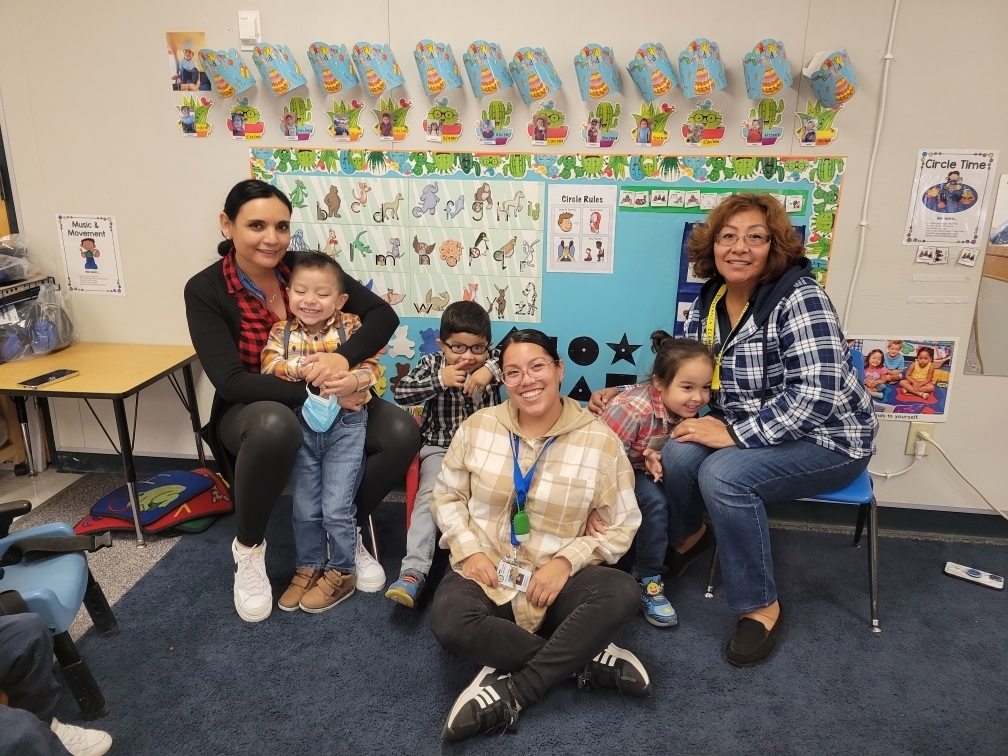 Our students and Staff at Bret Tarver had so much fun on Mismatch Monday!!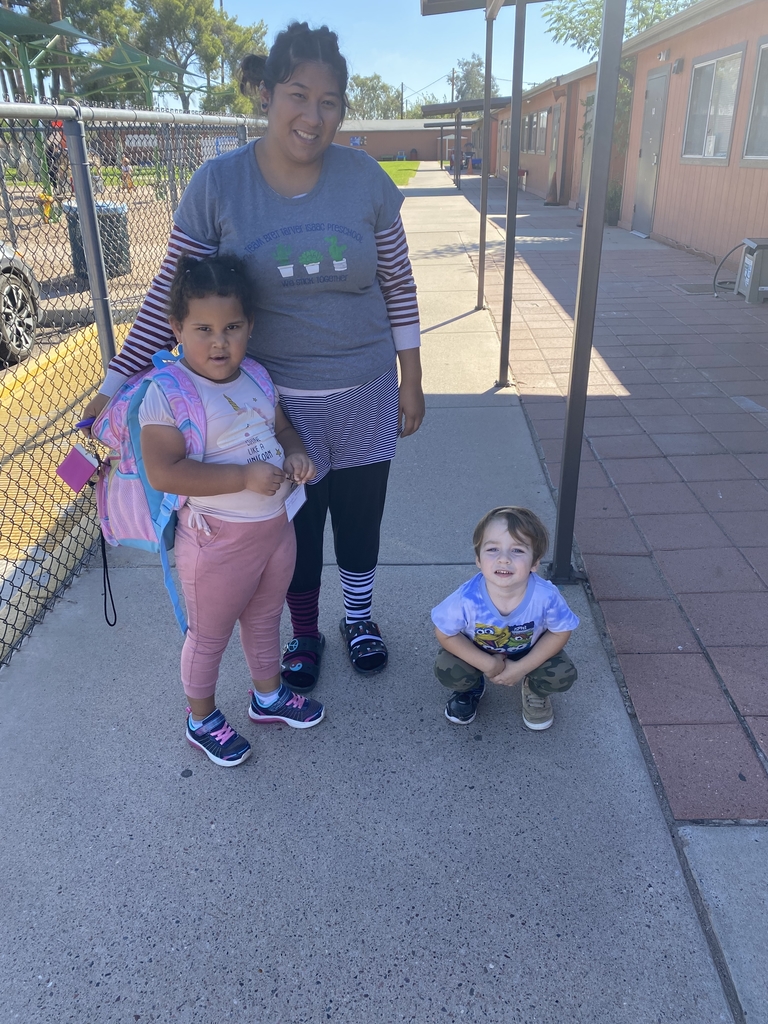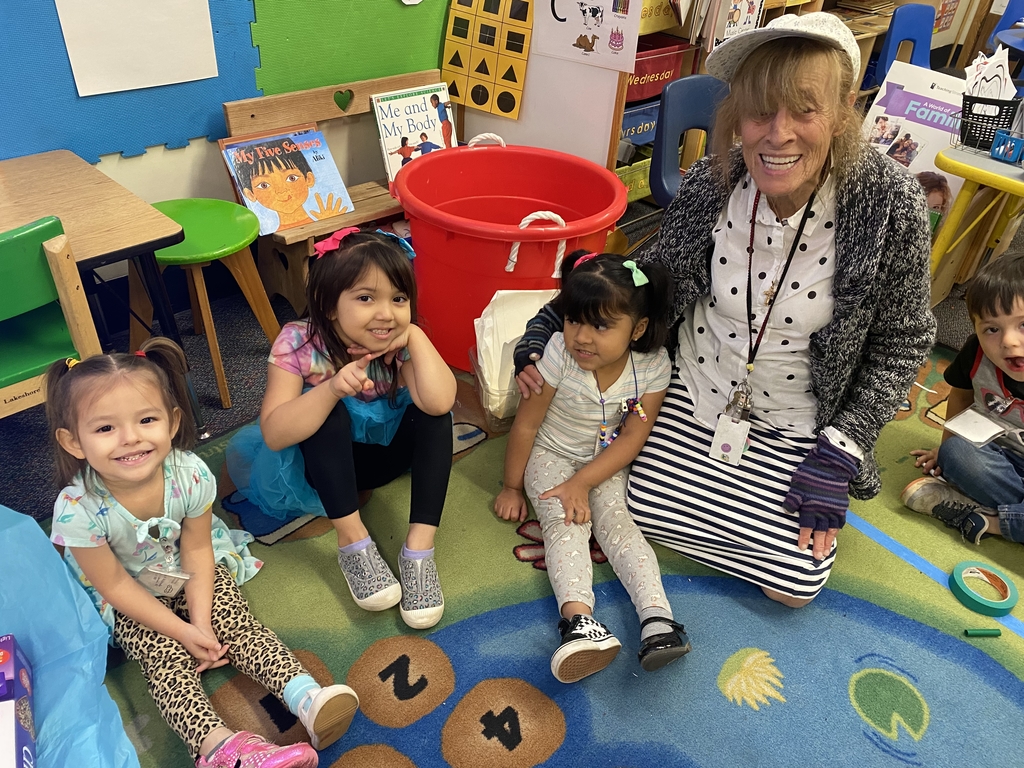 Next week is Red Ribbon Week, which means it's time to get a little festive for Fall! Please see the attached flyer for a description of each day.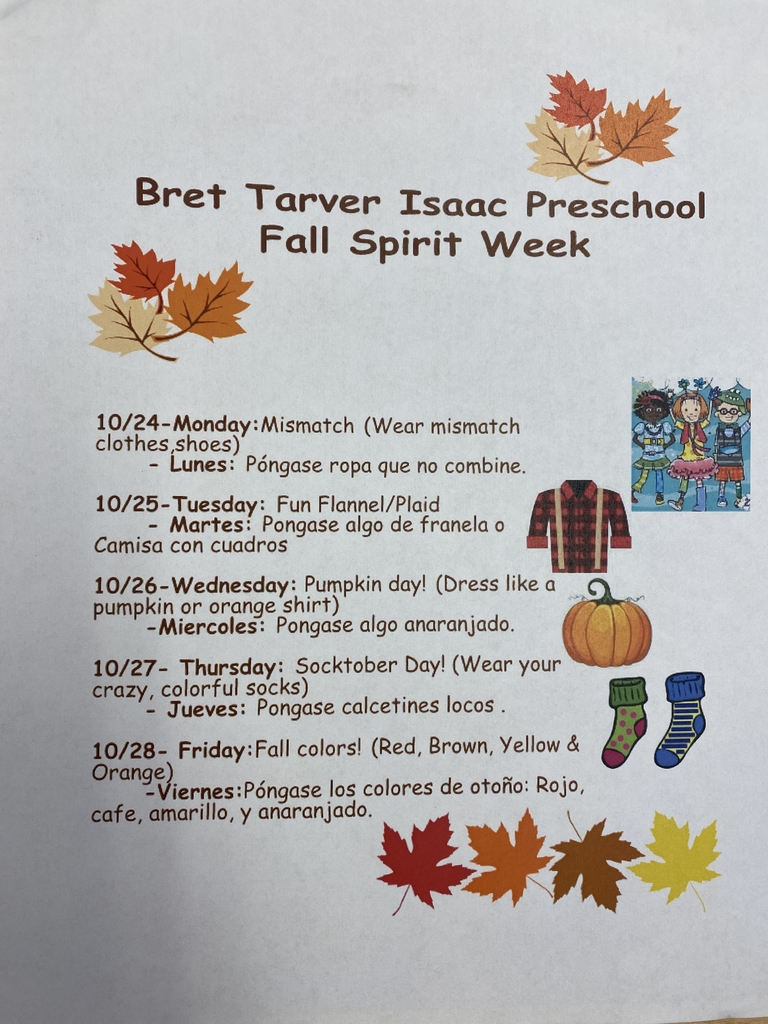 The weather is finally starting to cool down, and being outdoors is now so much more enjoyable! Here at the Bret Tarver Preschool, cooler weather means more time spent in our beautiful garden!! Oh, you thought we forgot about it?? There's no way to miss this fantastic feature that we added to our campus last year. We cannot wait until we have have regular harvests, to begin sharing all of the fresh produce we grow with all of you!! This is also the perfect time of year for you to start a small garden or some potted plants at home!! Your children can learn so many practical things about the environment and life cycle, all while learning the responsibility of taking care of living plants! Spending time as a family taking care of a garden or plants also provides the perfect opportunity for bonding. Plus, being outside in the fresh air and sunshine will brighten any day!! Need some tips on how to get started? Start with one pot, inside or outside. Get a small bag of soil and some seeds. Once you get the hang of the watering and pruning schedule with your first plant, add in one or two more. Eventually your yard or balcony will be full of beautiful plants pumping oxygen into the environment! In our garden, we currently have Mexican squash, Eggplant, Lettuce, Mixed Greens, and Cauliflower. If you have any extra, and would like to donate seeds or plantling transplants for our garden, we would graciously accept! In October in Arizona, the recommended produce to plant are: squash, greens, cauliflower, broccoli, hibiscus, beets, carrots, brussels sprouts, celery, garlic, strawberries, and peas. We can't wait to post update pictures of our garden throughout the year!! ¡El clima finalmente está comenzando a enfriarse y estar al aire libre ahora es mucho más agradable! ¡Aquí en el Preescolar Bret Tarver, el clima más fresco significa pasar más tiempo en nuestro hermoso jardín! Oh, ¿pensaste que lo olvidamos? No hay forma de perderse esta fantástica característica que agregamos a nuestro campus el año pasado. ¡No podemos esperar hasta que tengamos cosechas regulares, para comenzar a compartir todos los productos frescos que cultivamos con todos ustedes! ¡Esta también es la época perfecta del año para comenzar un pequeño jardín o algunas plantas en macetas en casa! Sus hijos pueden aprender muchas cosas prácticas sobre el medio ambiente y el ciclo de vida, ¡todo mientras aprenden la responsabilidad de cuidar las plantas vivas! Pasar tiempo en familia cuidando un jardín o plantas también brinda la oportunidad perfecta para establecer vínculos. Además, ¡estar afuera al aire libre y la luz del sol alegrará cualquier día! ¿Necesita algunos consejos sobre cómo empezar? Comience con una olla, adentro o afuera. Consigue una pequeña bolsa de tierra y algunas semillas. Una vez que te hayas acostumbrado al programa de riego y poda con tu primera planta, agrega una o dos más. Eventualmente, su jardín o balcón estará lleno de hermosas plantas que bombean oxígeno al medio ambiente. En nuestro jardín, actualmente tenemos calabaza mexicana, berenjena, lechuga, verduras mixtas y coliflor. Si tiene algo extra y le gustaría donar semillas o trasplantes de plantas para nuestro jardín, ¡lo aceptaríamos amablemente! En octubre en Arizona, los productos recomendados para plantar son: calabaza, verduras, coliflor, brócoli, hibisco, remolacha, zanahoria, coles de Bruselas, apio, ajo, fresas y guisantes. ¡Estamos ansiosos por publicar fotos actualizadas de nuestro jardín durante todo el año!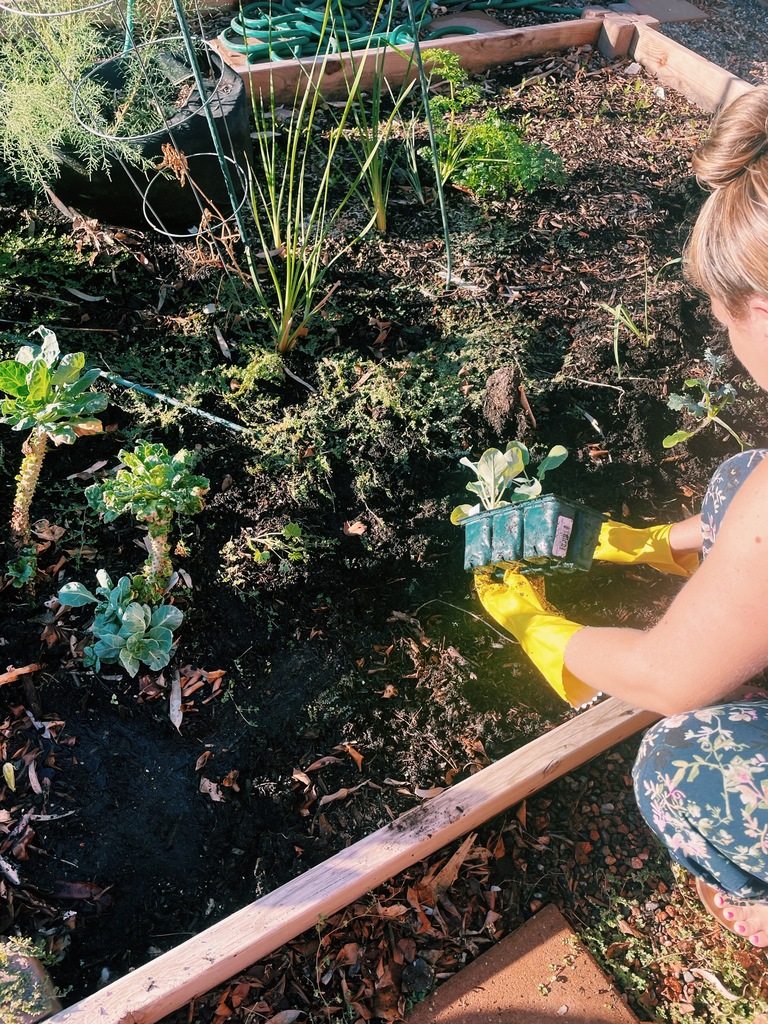 SAVE THE DATE!! Join Heart of Isaac for our first Community Resource Day of the year! Come and visit with 15+ community agencies and organizations. Wednesday, October 26th 8am-11am. This event is FREE and open to the public! --- ¡AGENDAR LA FECHA!¡ Acompañe a Heart of Isaac en nuestro primer Día de Recursos Comunitarios del año! Venga y visite más de 15 agencias y organizaciones comunitarias. Miércoles 26 de octubre 8am-11am. ¡Este evento es gratis y abierto al publico! ---- Heart of Isaac Community Center 1403 N. 32nd Ave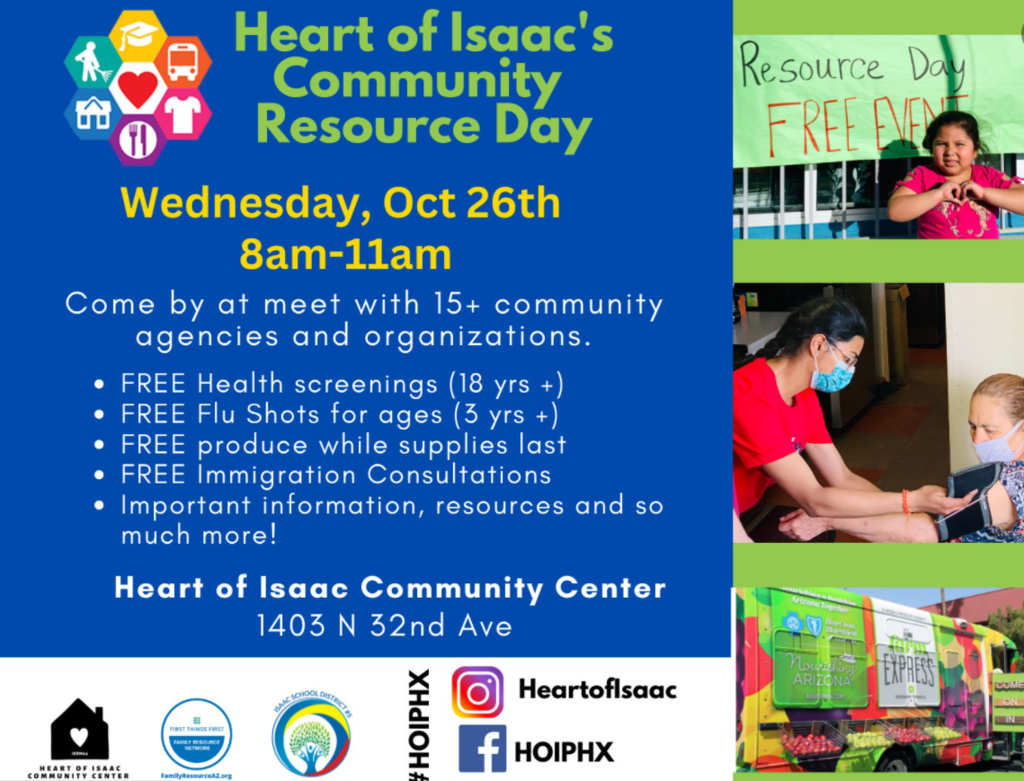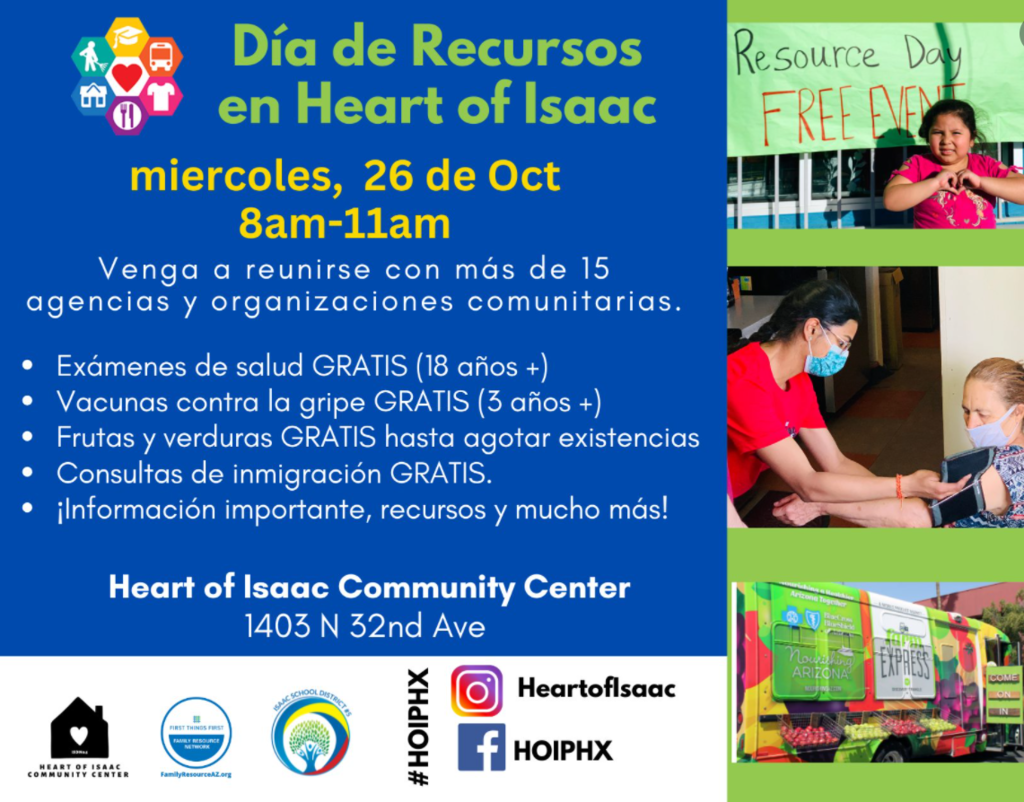 There are still spots open for Friday's Pumpkin Carving event at Heart of Isaac! Call or scan the code to reserve a spot!! ¡Todavía hay lugares abiertos para el evento de tallado de calabazas del viernes en Heart of Isaac! ¡Llama o escanea el código para reservar un lugar!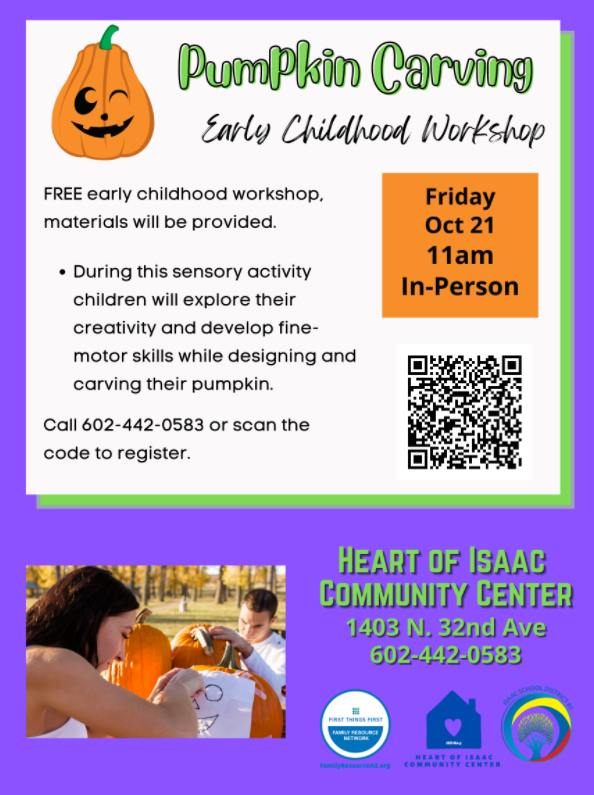 Please see the attached flier for more details on this wonderful event happening at Esperanza this month. Consulte el folleto adjunto para obtener más detalles sobre este maravilloso evento que tendrá lugar en Esperanza este mes.