Upcoming event: See flyer for more information. ISD Arts Festival: Wednesday, May 11, 2022 from 5:00-6:30 pm. Link:
www.isaacschools.org/festival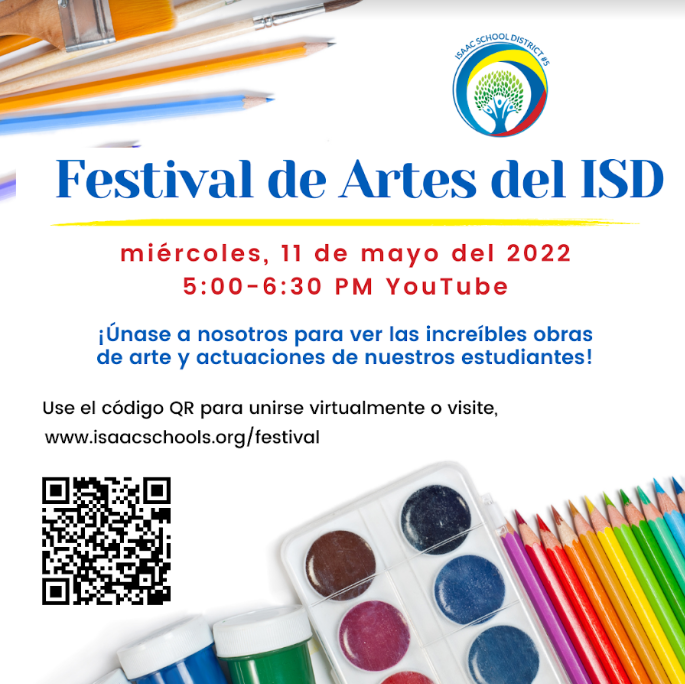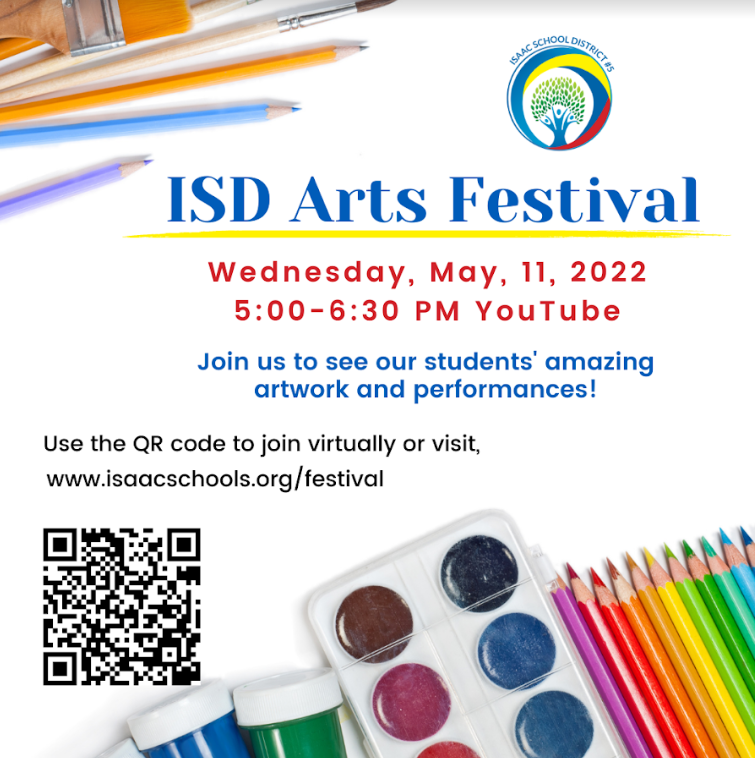 Upcoming event: See flyer for more information. :) ISD Writing Contest: Tuesday, May 10, 2022 from 9:00-10:30 am. Link:
www.isaacschools.org/writing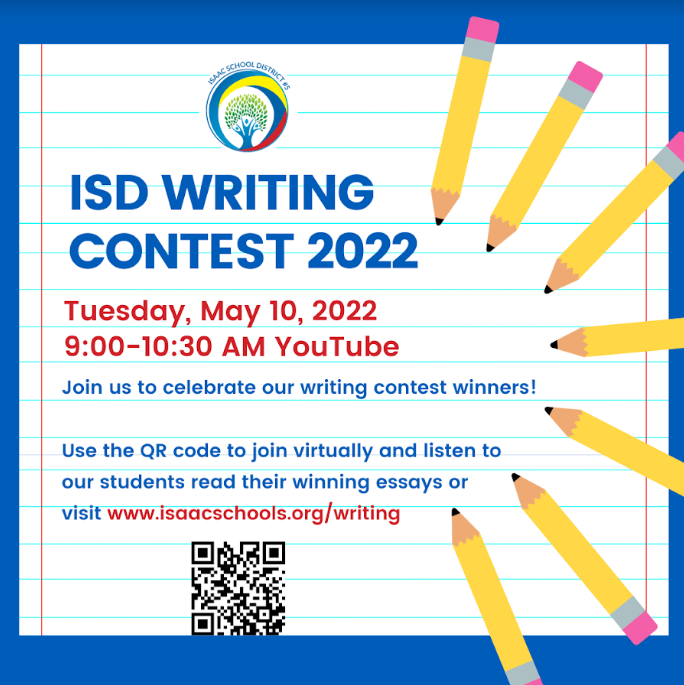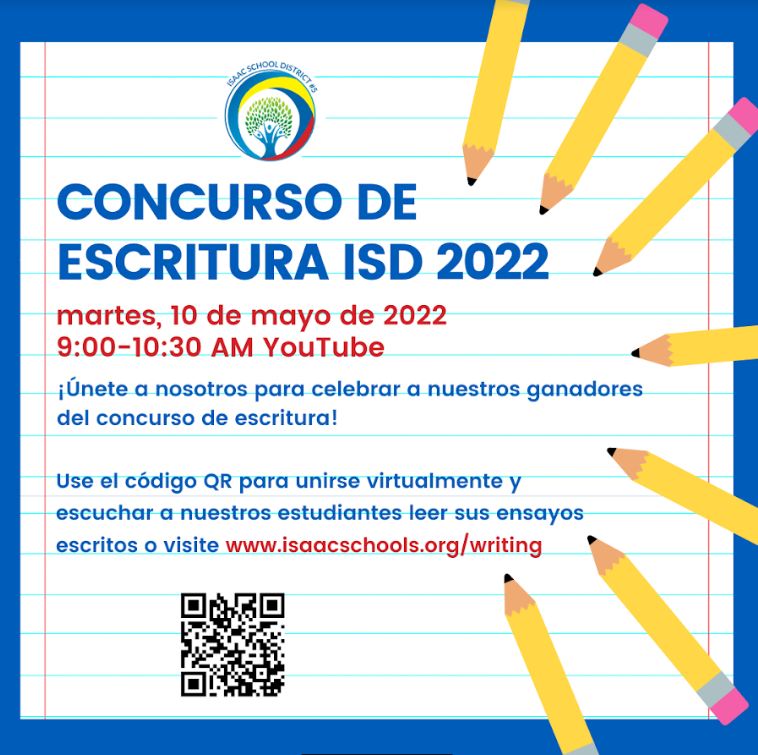 We will be having a parent education class tomorrow at 9am at Pueblo Del Sol about the expectations for the parent education program for the upcoming school year.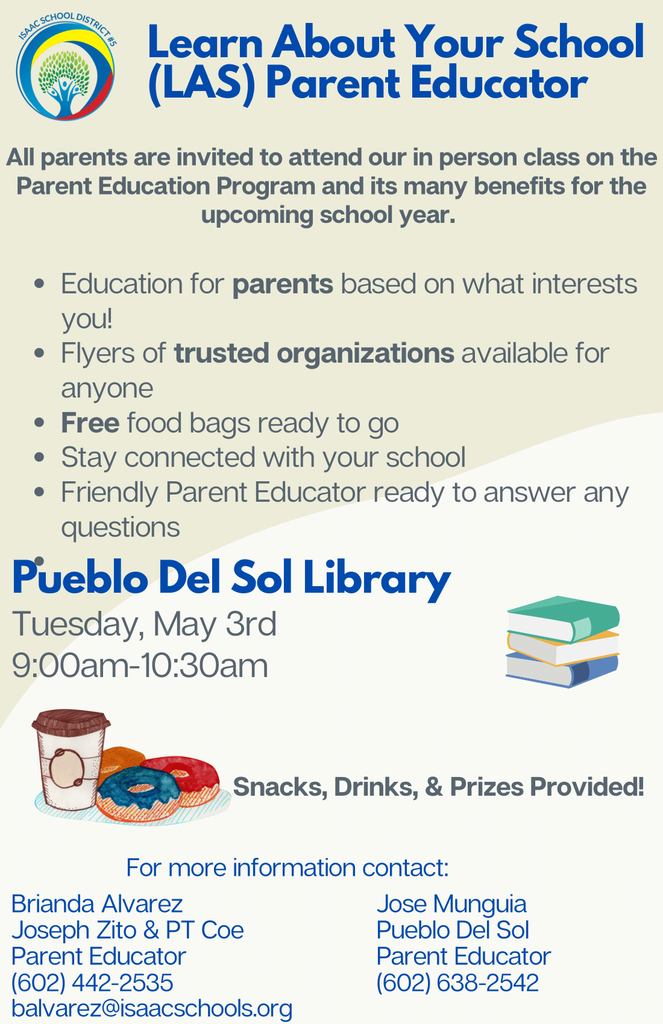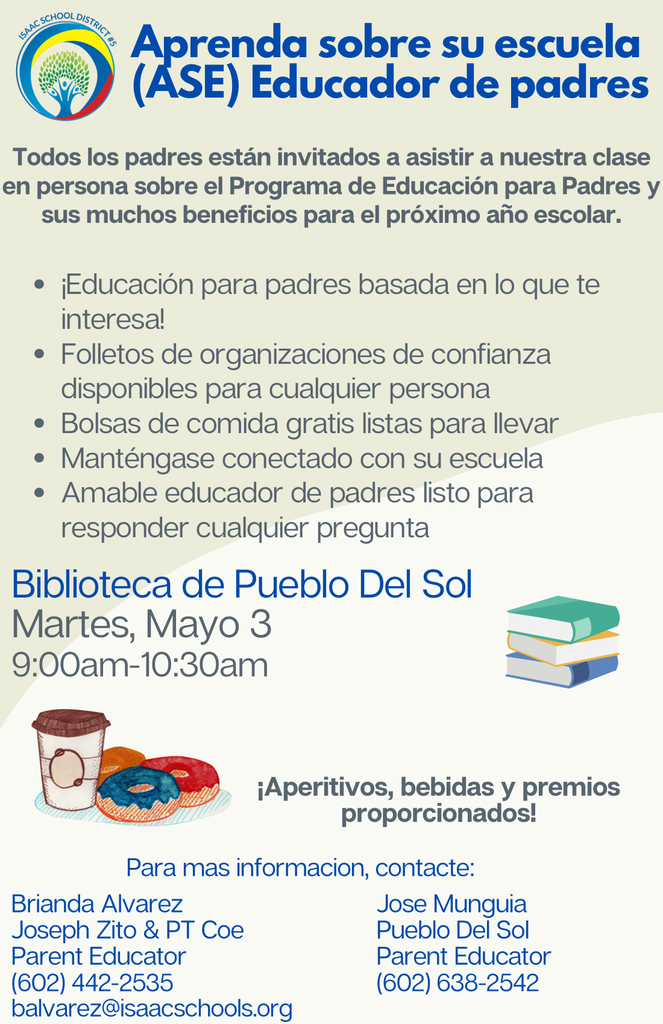 Next week we begin our End of the Year iReady diagnostics. What is i-Ready? i-Ready is an online program that will help us determine your child's strengths and areas for growth, personalize their learning, and monitor their progress throughout the school year. i-Ready allows us to meet your child where they are and provides us with data to inform instruction. The i-Ready Diagnostic is an adaptive assessment that adjusts its questions to suit your child's needs. Each item a student receives is based on their answer to the previous question. For example, a series of correct answers will result in slightly harder questions, while a series of incorrect answers will yield slightly easier ones. The purpose of this is not to give your child a score or grade but to determine how to best support their learning. What can I do to help? To help prepare your child for the i-Ready Diagnostic, encourage them to: Get a good night's sleep and eat a full breakfast the day of the assessment. Try their best on each question and try not to rush. Try not to worry about questions to which they do not know the answers—remind them that it is expected that they will only get about half of the questions correct. Be respectful of other students who take longer to finish. [If you are using i-Ready for Mathematics, include, "Use paper and pencil to show work for math questions"]. What happens next? The i-Ready Diagnostic will provide results that help me identify your child's strengths and determine next steps for instruction. I look forward to sharing these results with you throughout the year and providing a learning experience that will engage your child while teaching important skills and concepts. If you have any questions about i-Ready, please do not hesitate to contact me or the school. You can also learn more about i-Ready by visiting i-ReadyCentral.com/FamilyCenter. As always, thank you for your continued support and for being a partner in your child's learning! It is much appreciated. El Diagnóstico de i-Ready consiste en una evaluación adaptativa que elabora las preguntas para ajustarse a las necesidades del niño/a. Cada elemento que recibe el alumno se basa en la respuesta a la pregunta anterior. Por ejemplo, una serie de respuestas correctas hará que se generen preguntas un poco más difíciles y una serie de respuestas incorrectas un poco más fáciles. El objetivo de esto no es poner una nota o calificación a tu hijo/a, sino determinar la mejor forma de apoyar su aprendizaje. ¿Qué puedo hacer para ayudar? Para ayudar a preparar al alumno para el Diagnóstico de i-Ready, anímale a que: Duerma bien y desayune bien el día de la evaluación. Haga todo lo posible en cada pregunta y no tenga prisa. Trate de no preocuparse por las preguntas que no sepa: recuérdale que se espera que responda la mitad de las preguntas correctamente. Sea respetuoso con otros alumnos que tarden más en terminar. [If you are using i-Ready for Mathematics, include, "Usa papel y lápiz para mostrar el trabajo para las preguntas de matemáticas."] ¿Qué pasa después? El Diagnóstico de i-Ready proporcionará resultados que me ayudarán a identificar los puntos fuertes de tu hijo/a y a determinar los pasos siguientes para la enseñanza. Espero poder compartir esos resultados contigo durante todo el año y ofrecer una experiencia de aprendizaje en la que tu hijo/a participe mientras aprende habilidades y conceptos importantes. Si tienes alguna pregunta sobre i-Ready, no dudes en ponerte en contacto conmigo o con el colegio. También puede obtener más información sobre i-Ready en i-ReadyCentral.com/FamilyCenter. Como siempre, te damos las gracias por tu continuo apoyo y por colaborar en el aprendizaje de tu hijo/a. Lo valoramos mucho.
We will be having an end of the year celebration with pizza and games at Peter Piper Pizza on May 12th. Come join us for some fun as we celebrate our student's successes.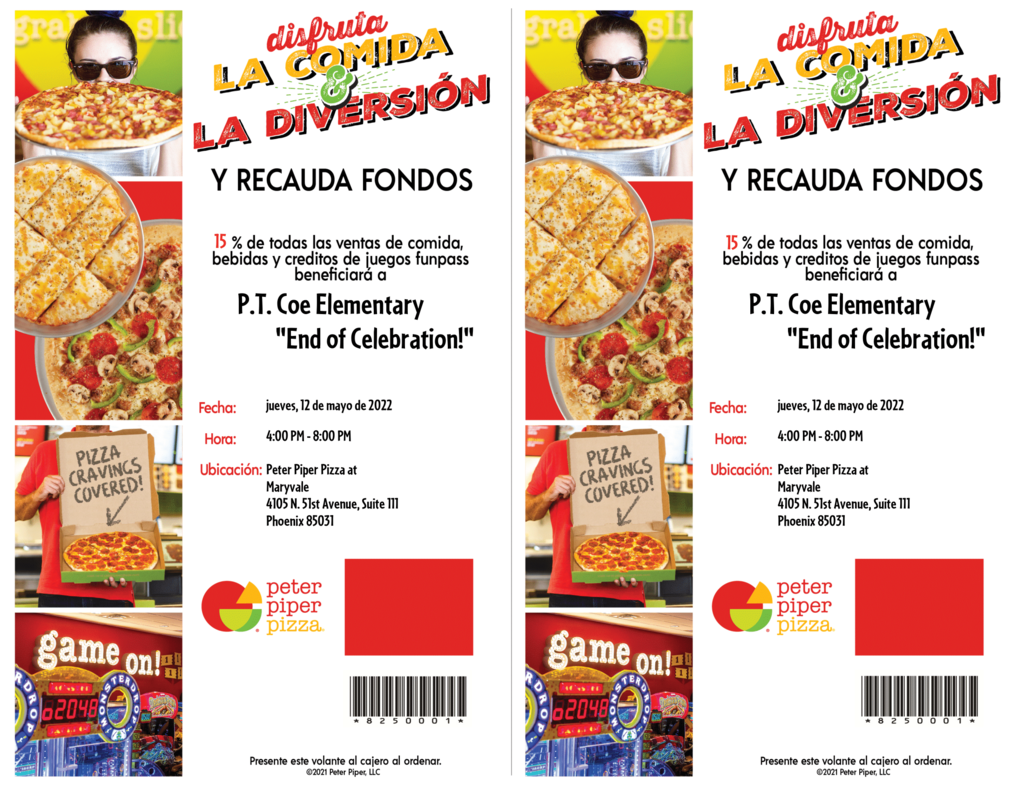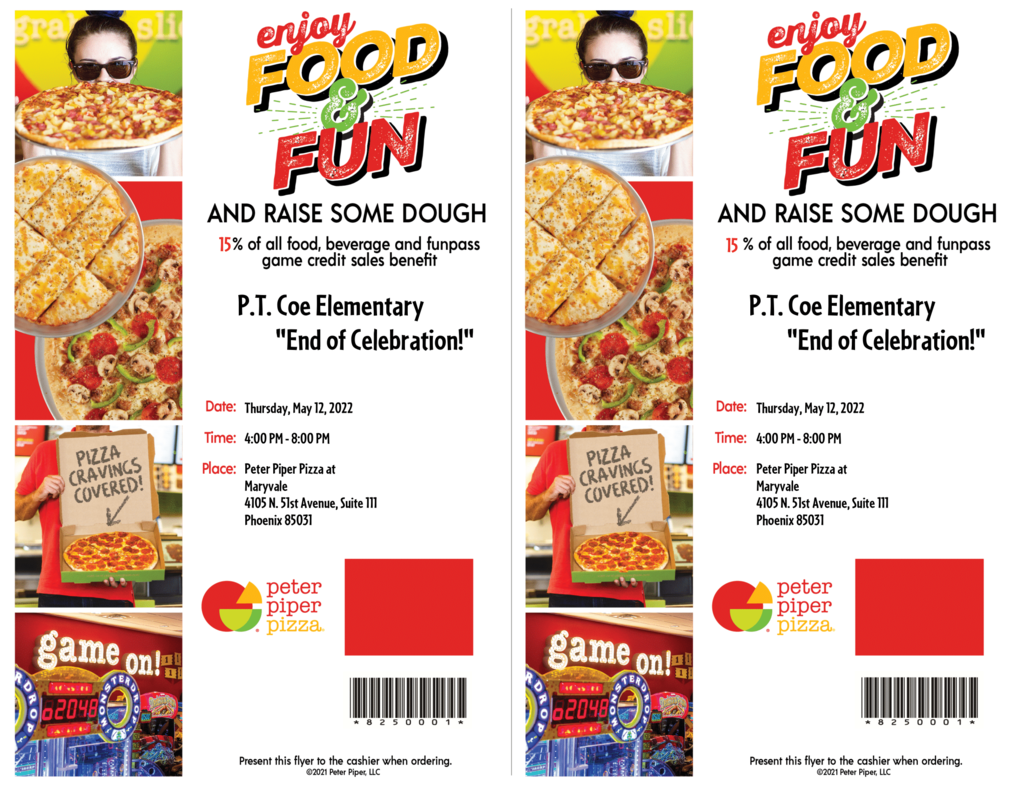 This message is to remind you about our school's Lost and Found procedures. Please check the Lost and Found Corner boxes next to the nurses office as soon as possible to see if your child may be missing a jacket, sweater or even a lunch box. The school is not responsible for any lost items. We have put all lost and found jackets out for pickup and will leave them out until the last week of school (May 16-20). Any items that are not being claimed by Friday, May 20, will be donated to a local charity. Thank you in advance for your cooperation.
Hope everyone had a great weekend! We will be having Virtual Coffee with the Principal this Thursday 4/21/22 at 8:30am. I've attached a flyer to promote. Everyone who participates will be receiving a gift card.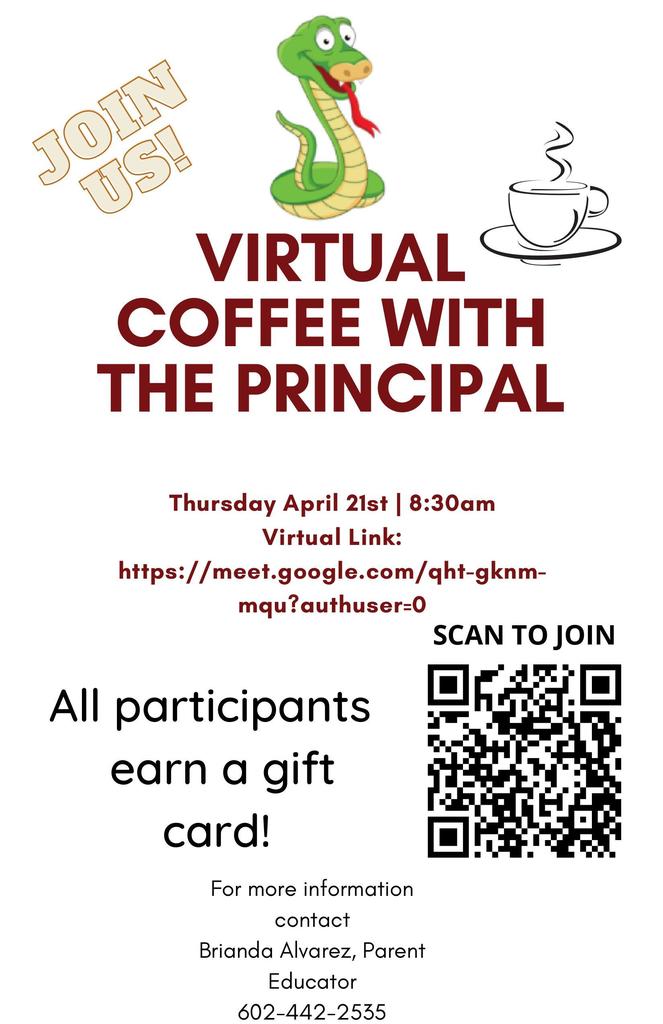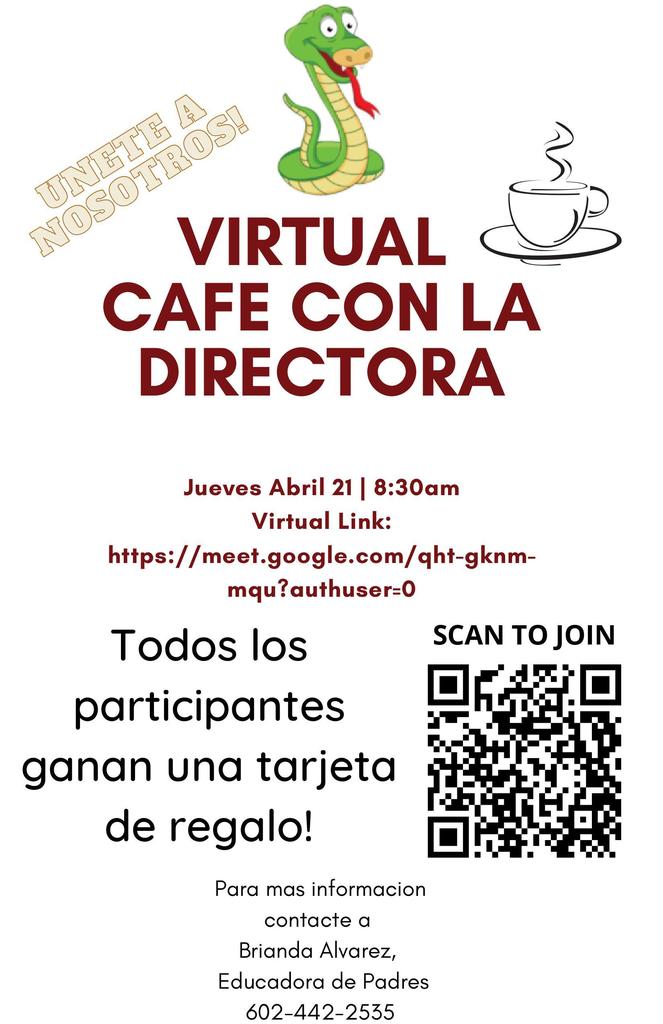 Just a quick reminder. Tomorrow there will be no school. Students will have the day to relax and release some stress from testing and come back next Monday fully energized. Enjoy the three day weekend.
A new day brings us to day 3 of AASA testing. Get a healthy breakfast and bring your "A" game to school as we move into math testing. Here are todays test taking tips: 1. Eliminate negative thoughts or self-talk by replacing them with a positive affirmation, like "I am prepared for the test and I will do well" or "I am smart – I can do this." 2. Ask your teacher if you can use a blank piece of paper during the test (be sure to ask or it may look like you are cheating). Use the paper for "brain dumping" or "mind mapping" during the exam. 3. Make a decision to ignore students who finish the test before you. Research shows that students who leave early usually don't score as well as those who take more time. Good luck and remember "You Got This"
Today we continue with the second day of ELA testing for the AASA. Today's test taking tips are: 1. Get a good night's sleep and eat a high protein breakfast. Drink plenty of water. 2. Practice guided imagery, visualizations of succeeding on the test, mentally "going where the information is stored in your brain", or breathing techniques. 3. Don't study right before the test. Concentrate on being calm and mentally accessing the information you have already studied. 4. Get to the test a little early. 5. Don't engage in negative talk with other students before the test, such as "I'm so nervous – I don't know if I studied enough." Good luck and remember "You Got This"
Friendly House is having a Community Festival this Saturday April 9th from 10am-1pm at Grant Park Youth Project located at 701 S 3rd Ave, Phoenix, AZ 85003. There will be free food distribution, produce, package goods, snacks, games, giveaways, door prizes and much more!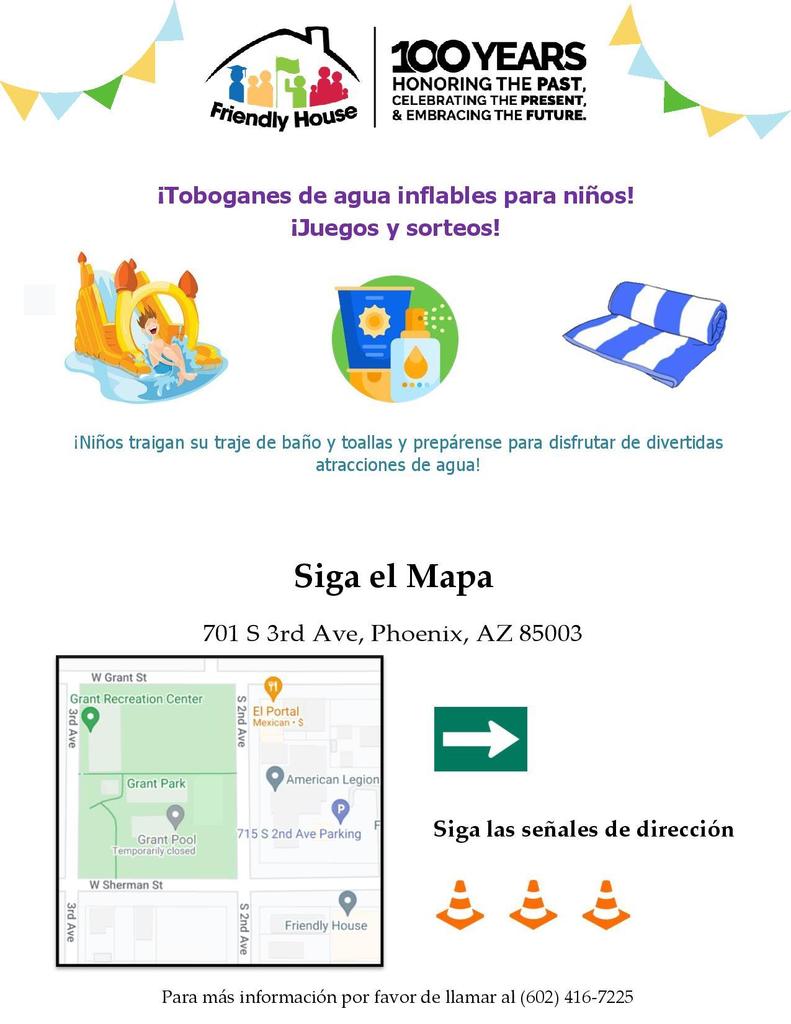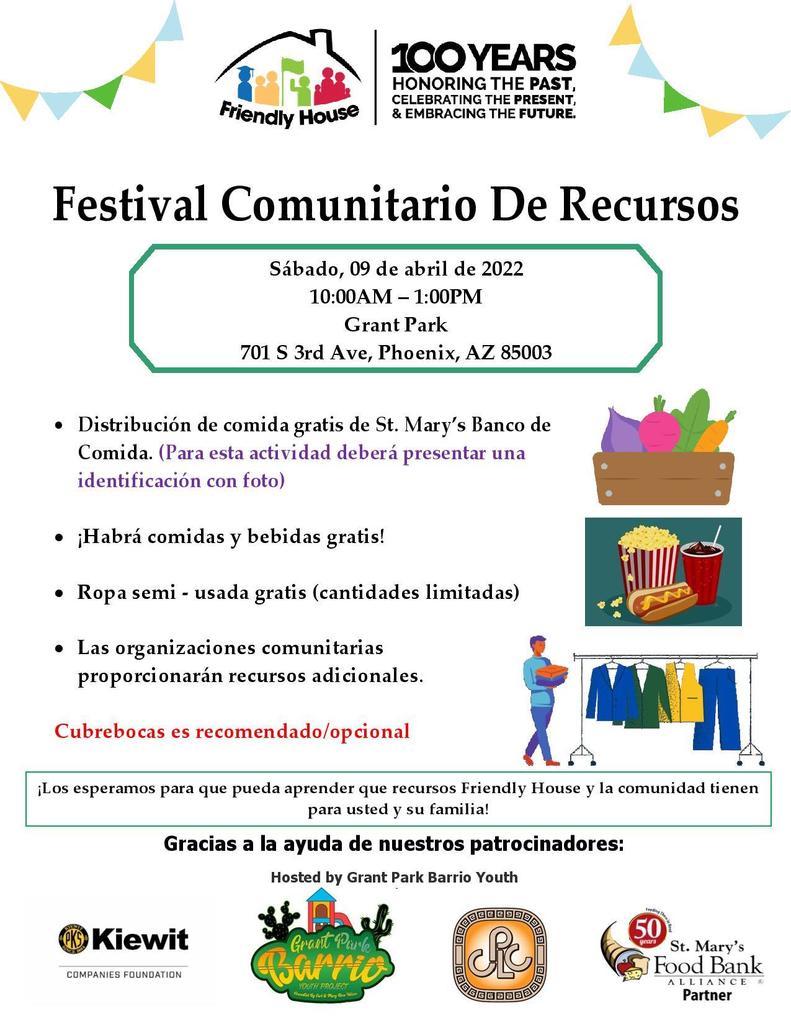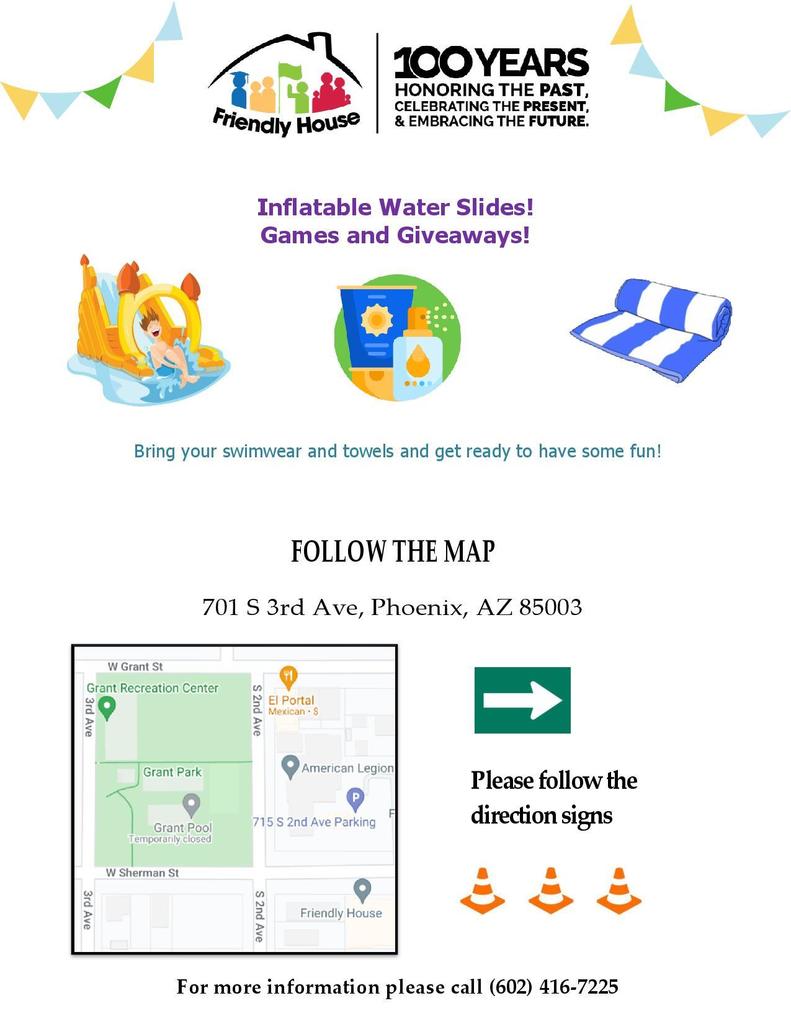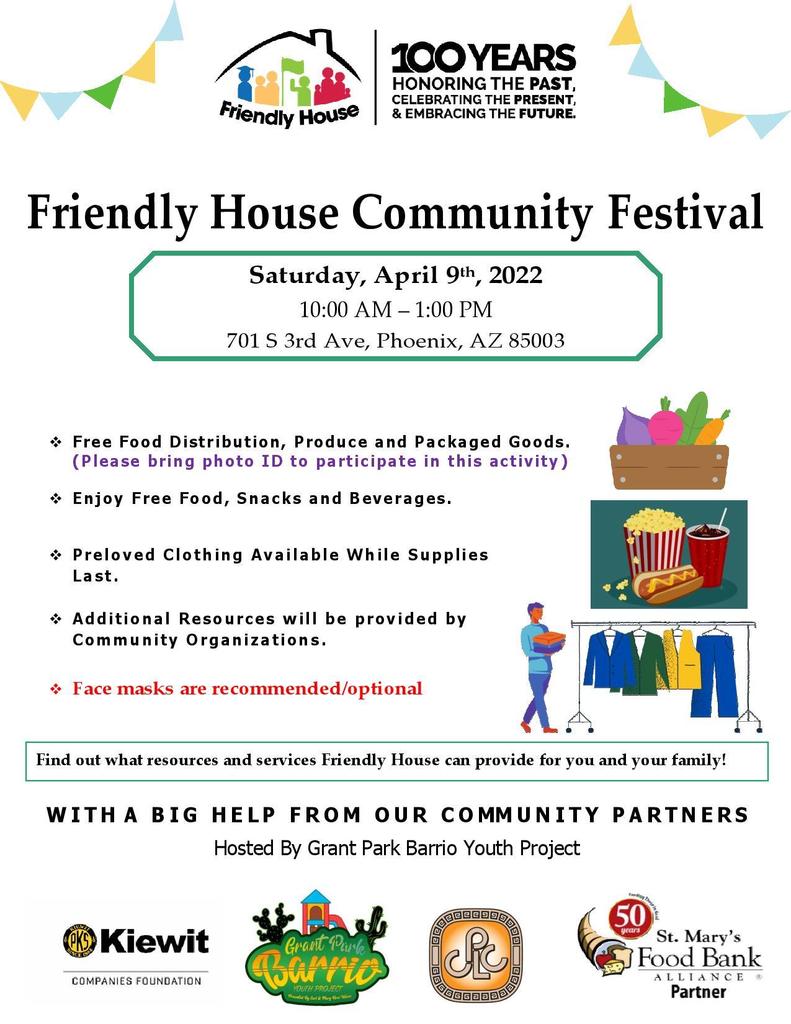 Here are the Parent Education Calendars for the month of April. There a lot of opportunities to get involved with the school and district. Hope to see you there.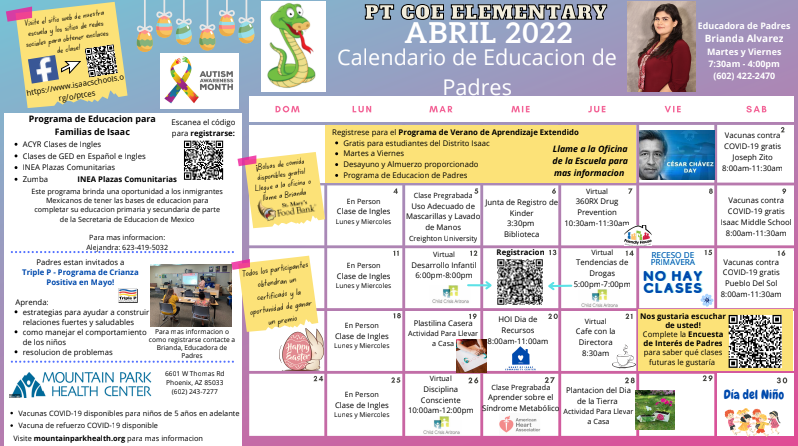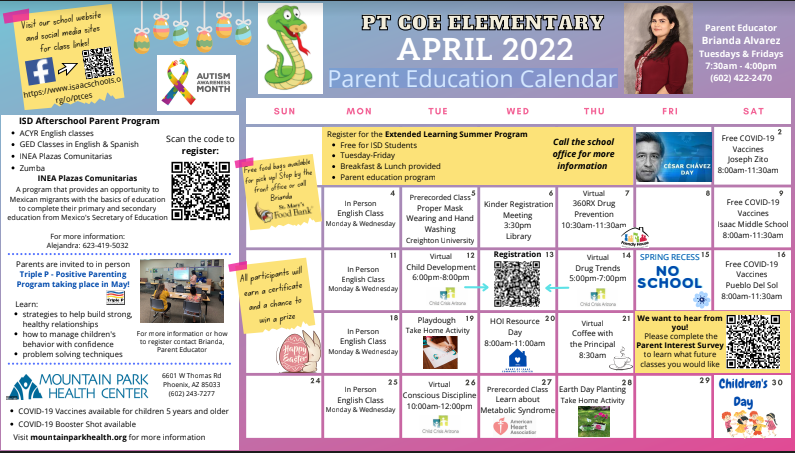 Just a reminder, there is no school tomorrow in celebration of Cesar Chavez Day. Enjoy the three day weekend everyone :)
The ISD Extended Learning Program is a great way to continue learning. Free for ISD students - Tuesday—Friday - Breakfast & lunch provided - Targeted educational programs in English, Language Arts and Math Register by April 22, 2022 Session A: May 31 -June 24 (in person) Session B:June 27 -July 15 (online) El Programa de Aprendizaje Extendido de ISD es una excelente manera de continuar aprendiendo. - Gratis para estudiantes de ISD - Martes- Viernes - Desayuno y almuerzo proporcionados - Programas con enfoques educativos en Artes del Lenguaje inglés y mateméticas iRegistrese antes del 22 de abril del 2022! Sesién A: 31 de mayo - 24 dejunio (en persona) Sesién B: 27 de junio - 15 dejulio (en linea)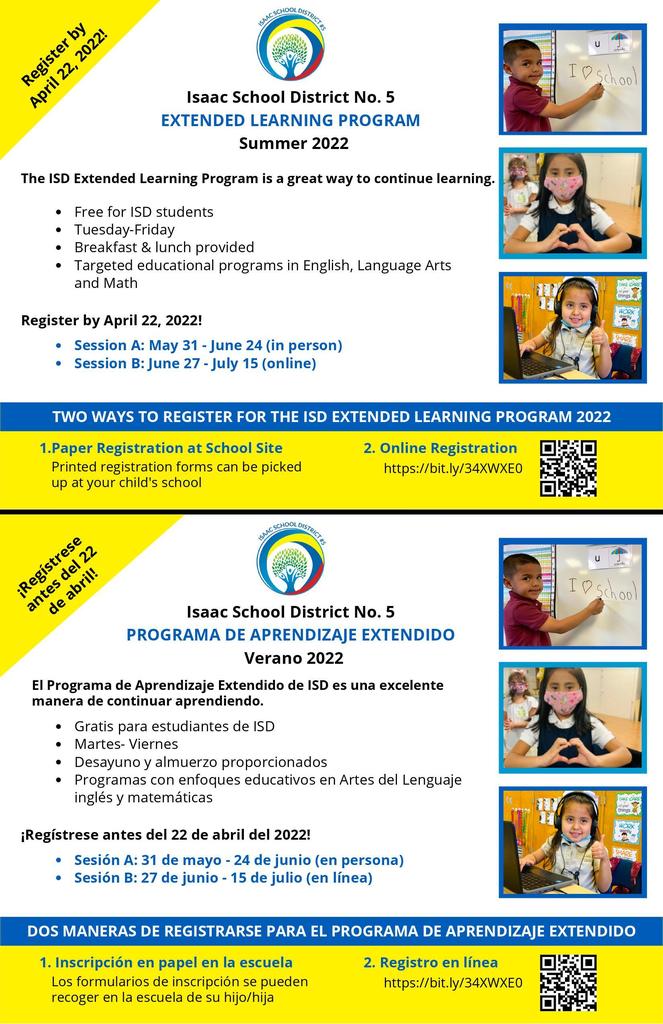 DATES For Summer School Extended (ELA & Math, Specials class) Session I - May 31 - June 24: Four days per week (Tuesday - Friday) In-School on campus Session II: June 27-July 15 Session II will be online only, and online sessions will be offered to students through an online learning provider. Every Isaac school campus will offer an Extended Learning Program this summer. Start and End times to be determined. ** Students will be maintained in their current grade level and not looped up as previous years.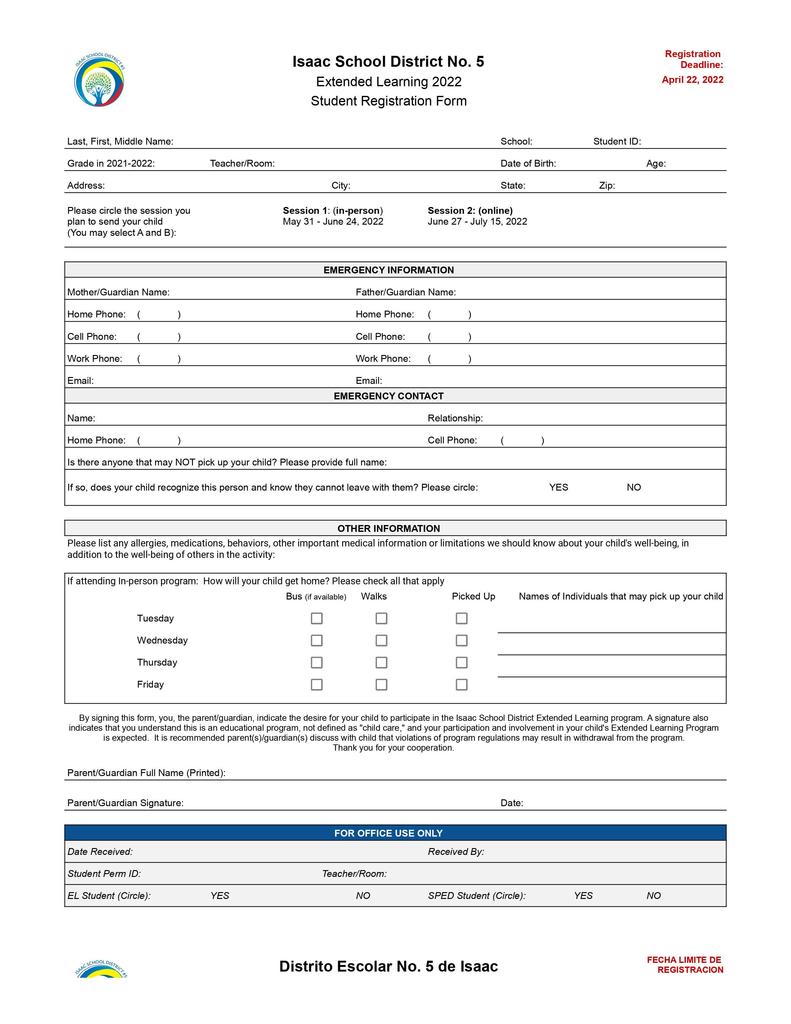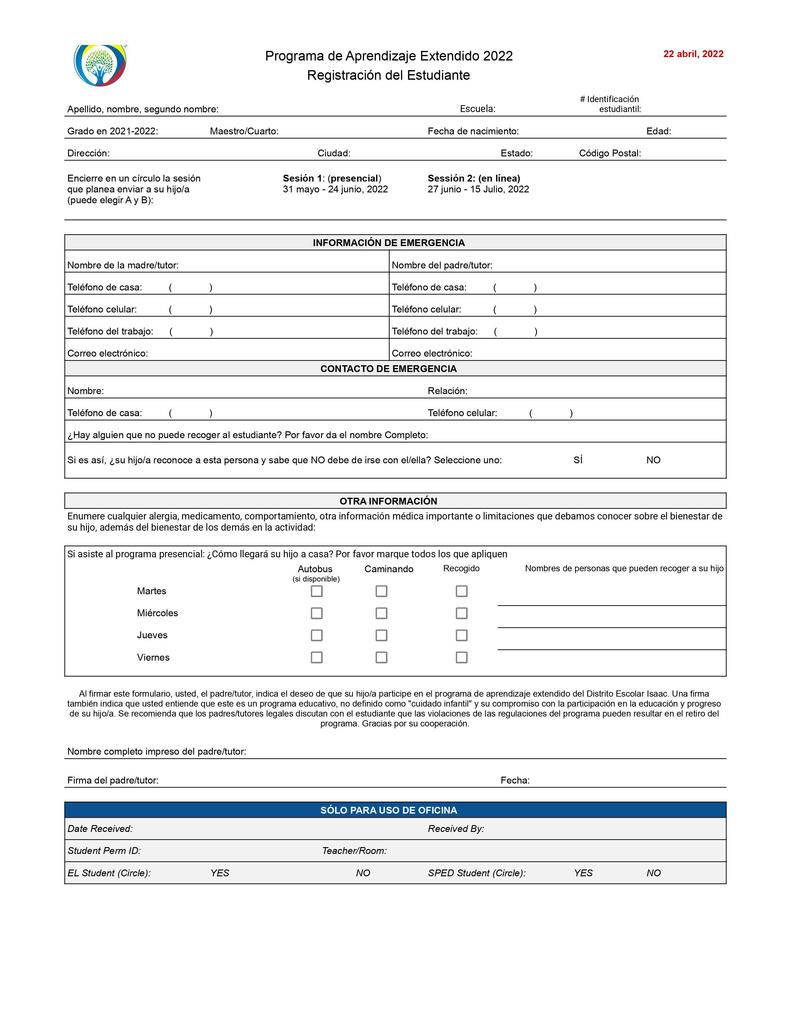 Just a reminder, the 5K Run & Wellness Day event scheduled for Saturday, March 26th has been postponed. Once the new date is determined we will update you. We look forward to having this event at a later date this year to celebrate wellness with our community!
The 5K Run & Wellness Day event scheduled for Saturday, March 26th has been postponed. We will keep you informed on the new date coming up in the future.
Virtual Coffee with the Principal coming March 24th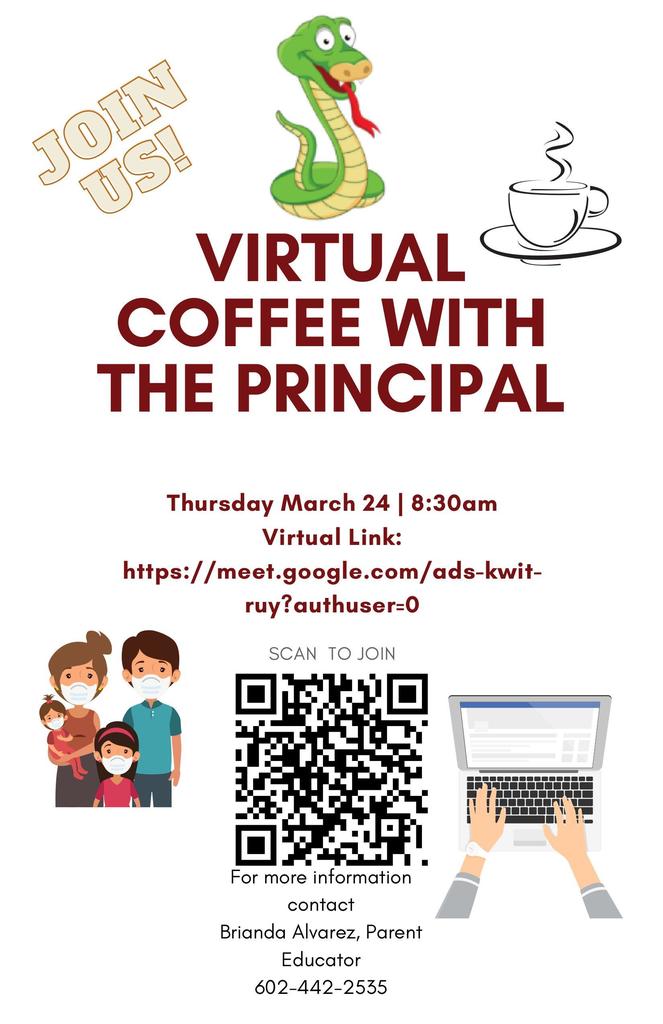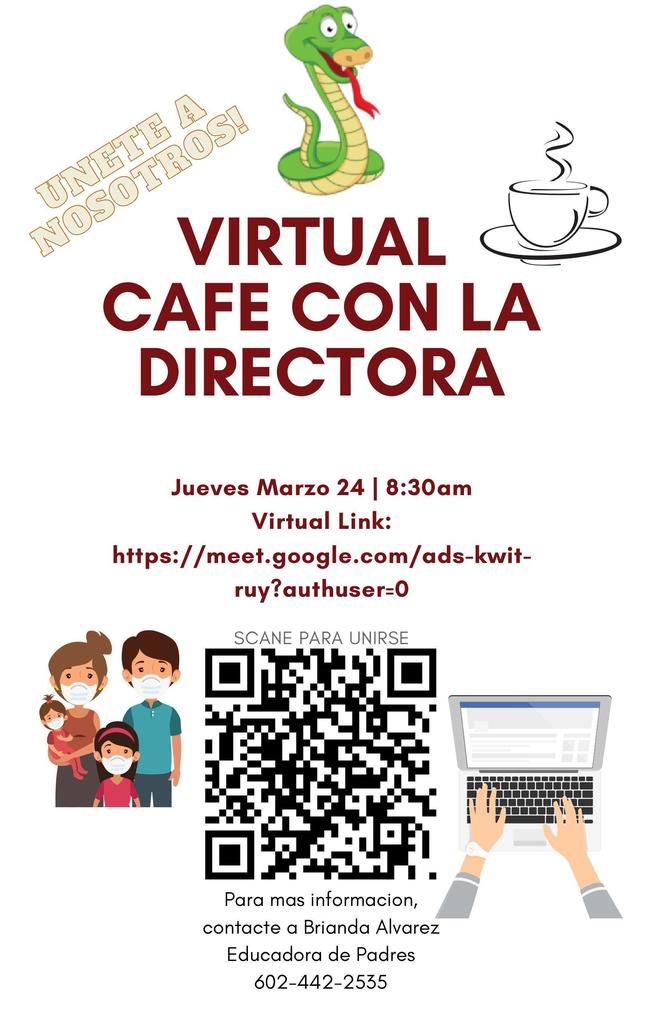 Boys Hope Girls Hope is hosting a community resource fair next Wednesday, March 23rd from 4-5:30 pm at their office on Central and Osborn. There will be at least 18 organizations in attendance that span from food boxes to college access resources - something for everyone!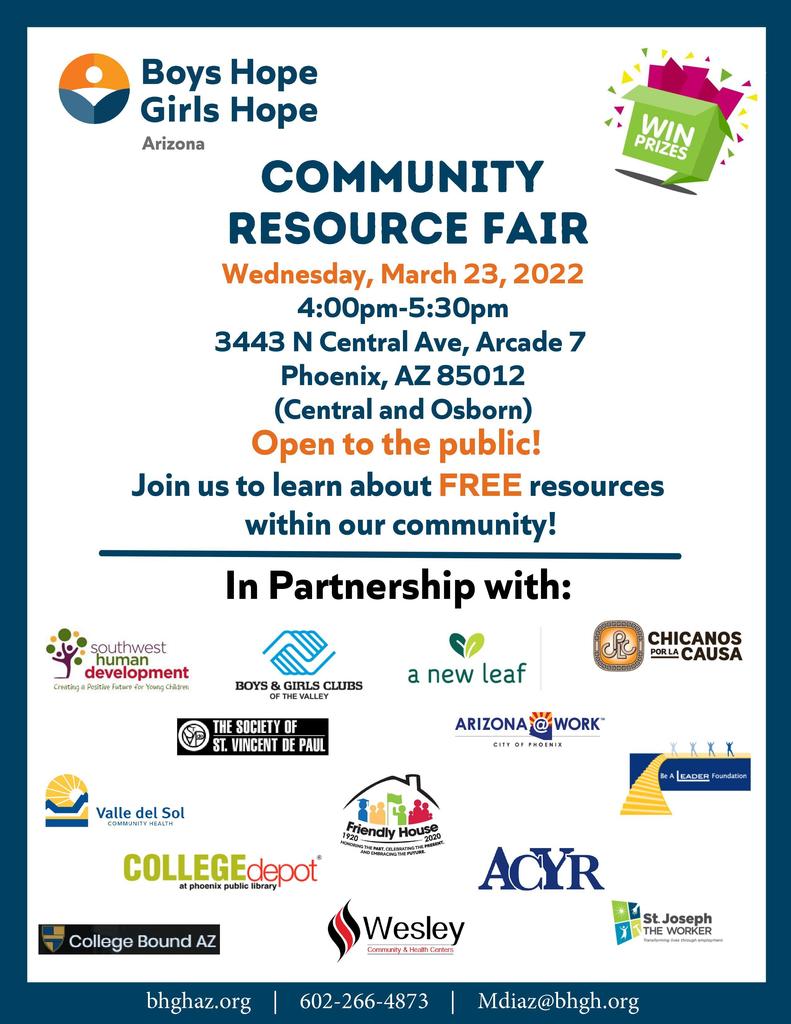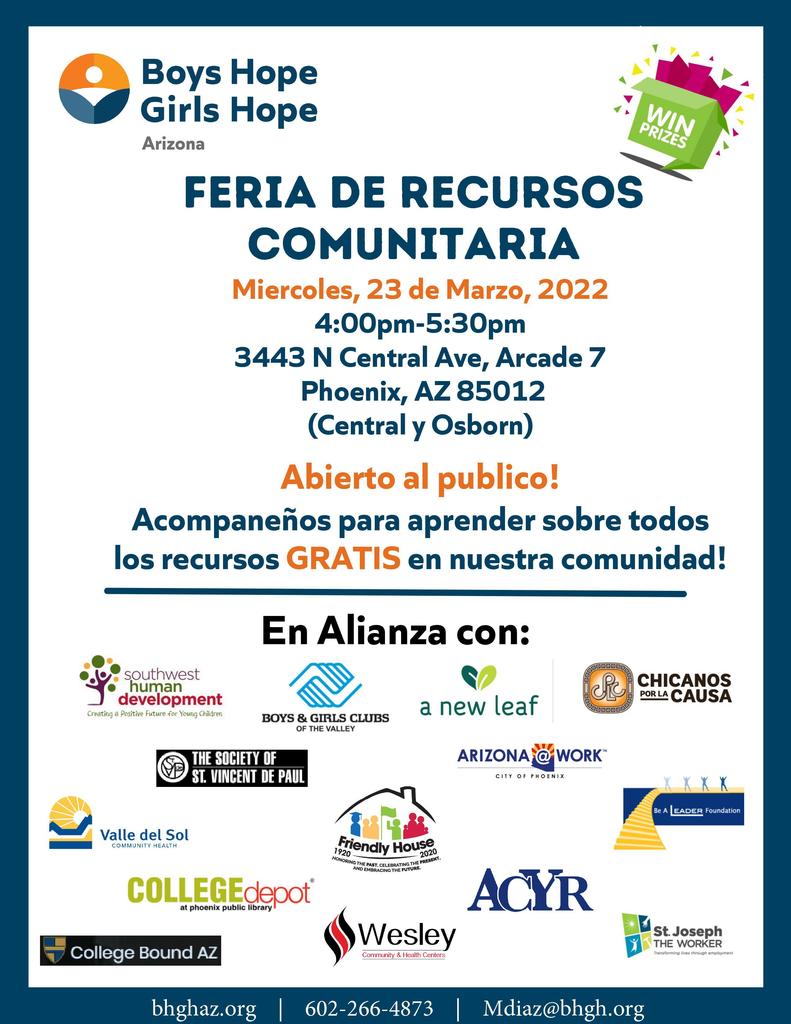 Happy St. Patrick's Day. Go Green