Learn more about the Covid-19 vaccine for children.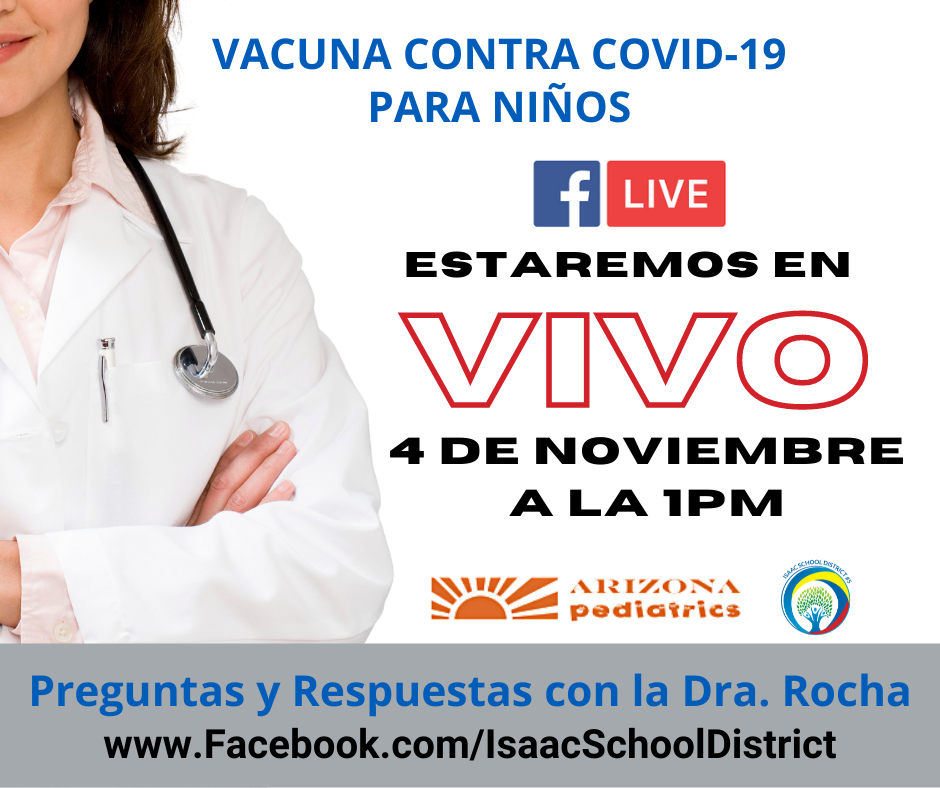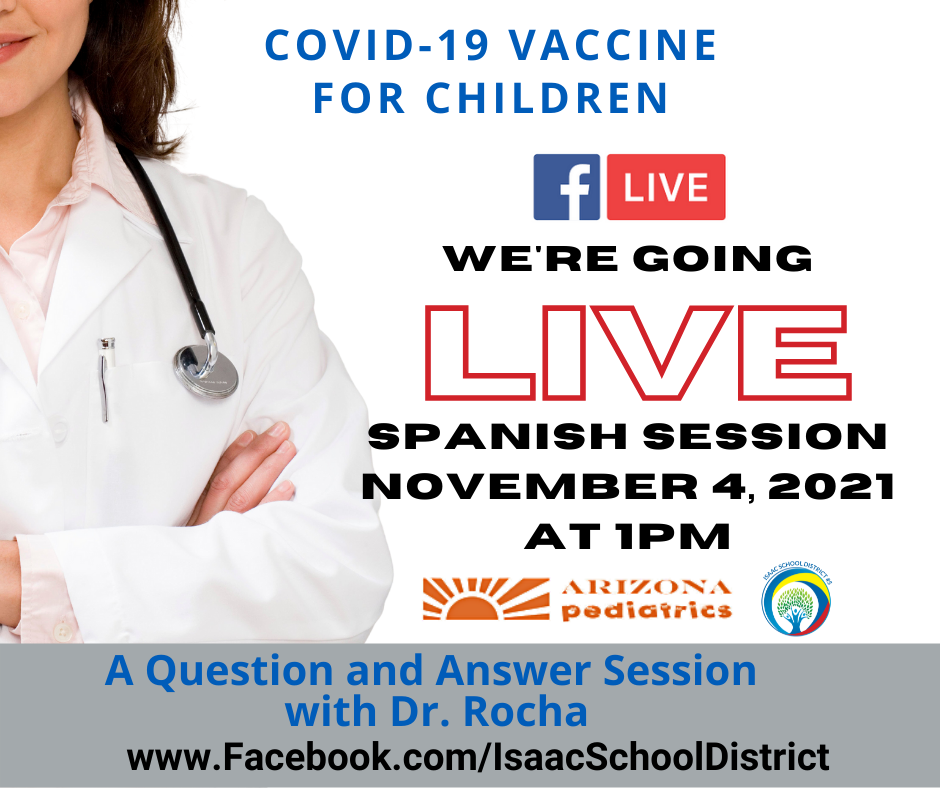 Dear Isaac Families and Staff, Due to a lack of quorum, tonight's (Oct 28, 2021) Regular Governing Board Meeting and Study Session have been cancelled. Thank you,

HOI Halloween Drive-Thru event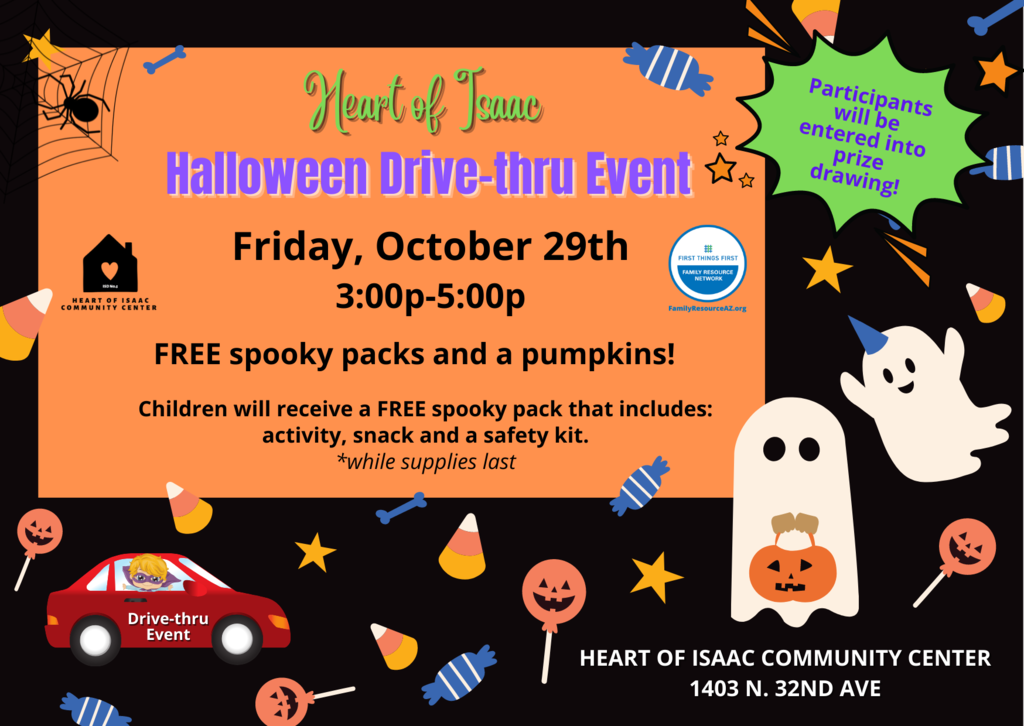 Students are creating beautiful works of art.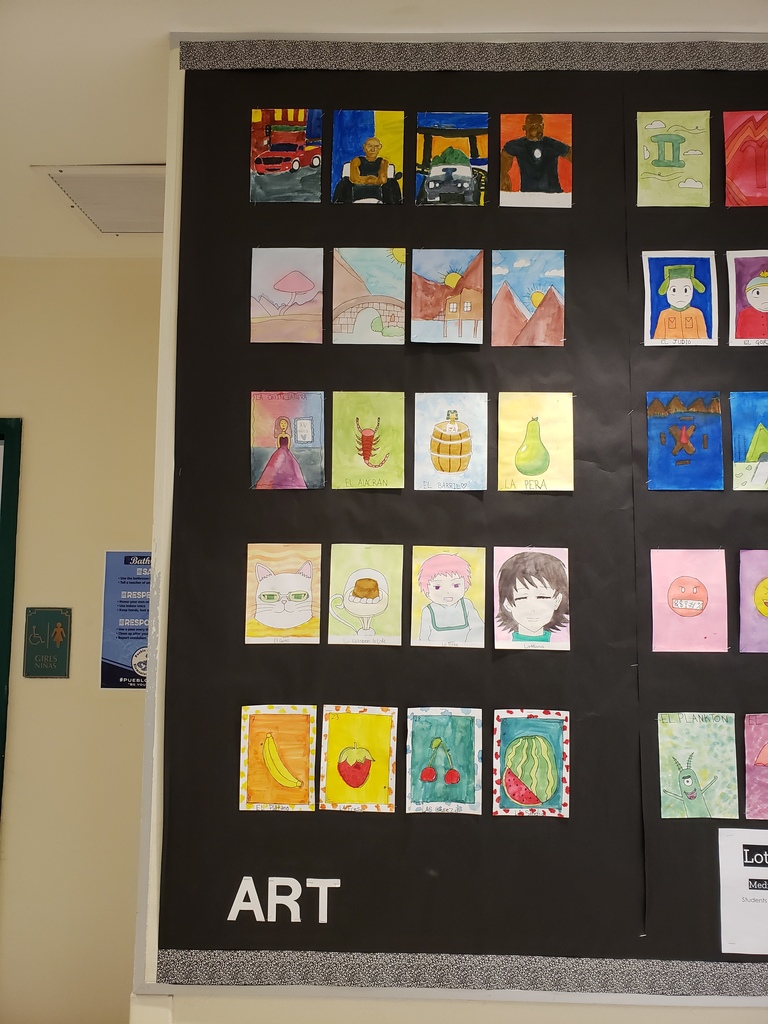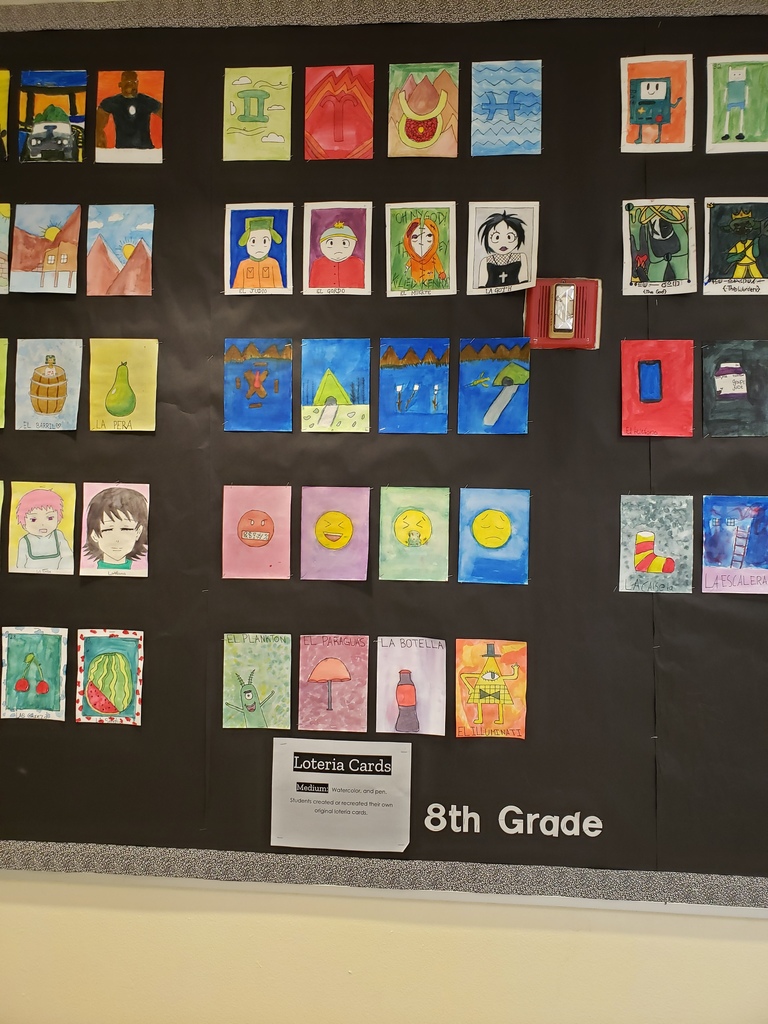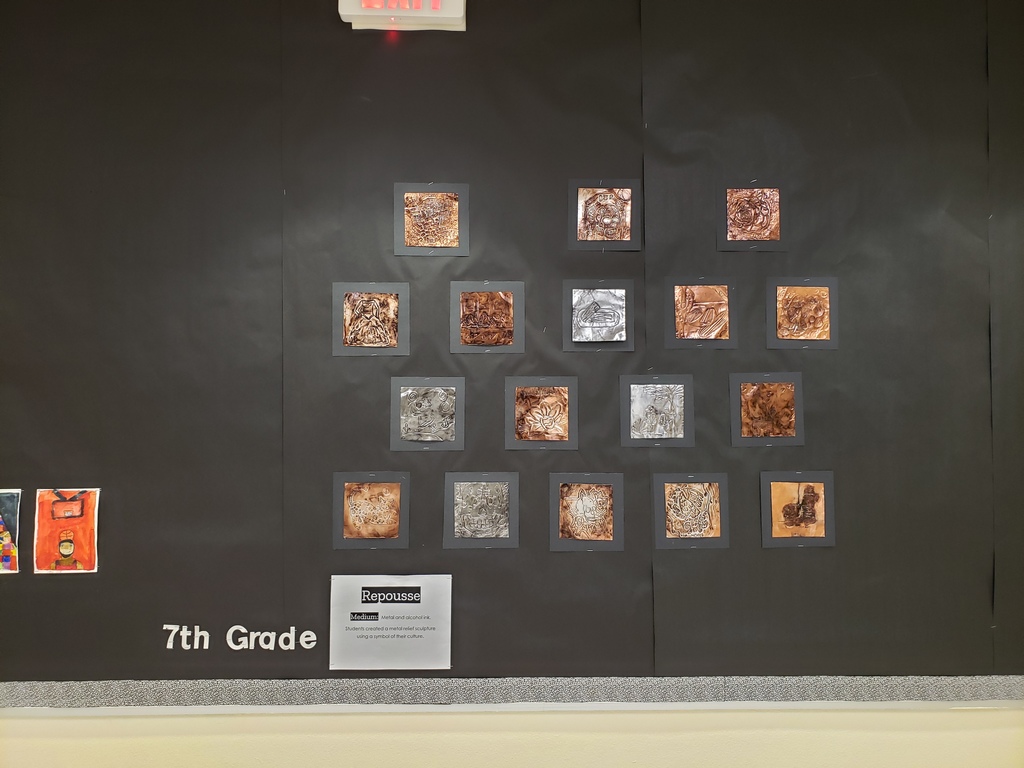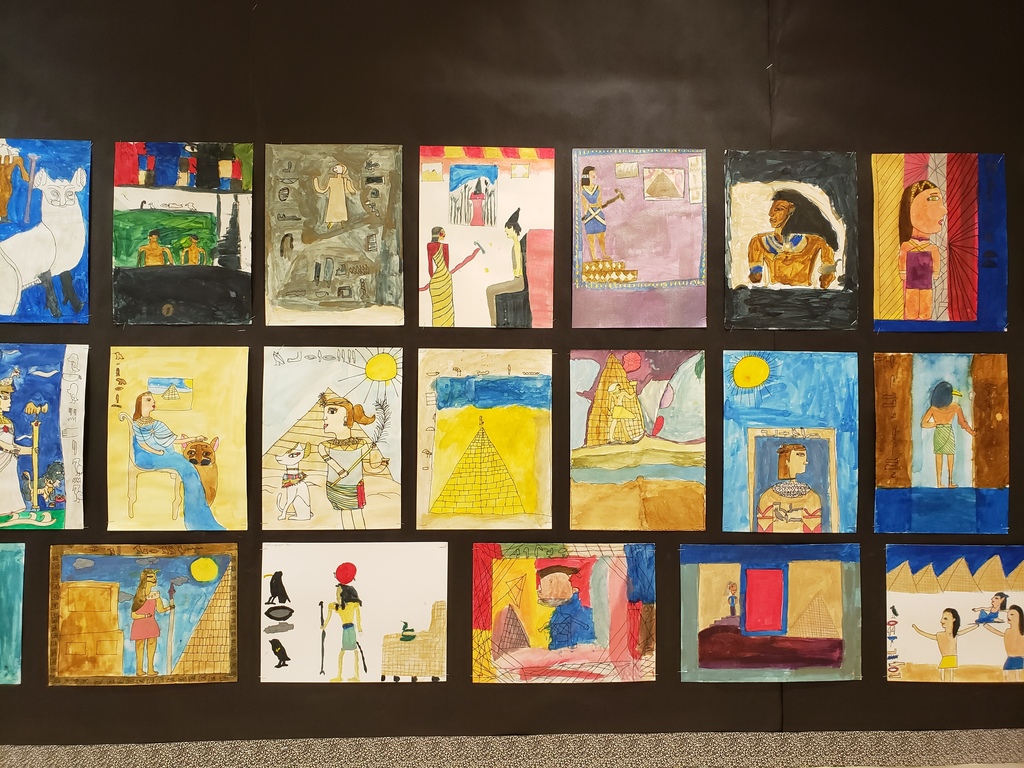 Egyptian Art by PDS students


Boo Bash at Peter Piper Pizza on Friday, October 29th, 4 pm - 8 pm Wear your costume! 15% of proceeds benefit Pueblo del Sol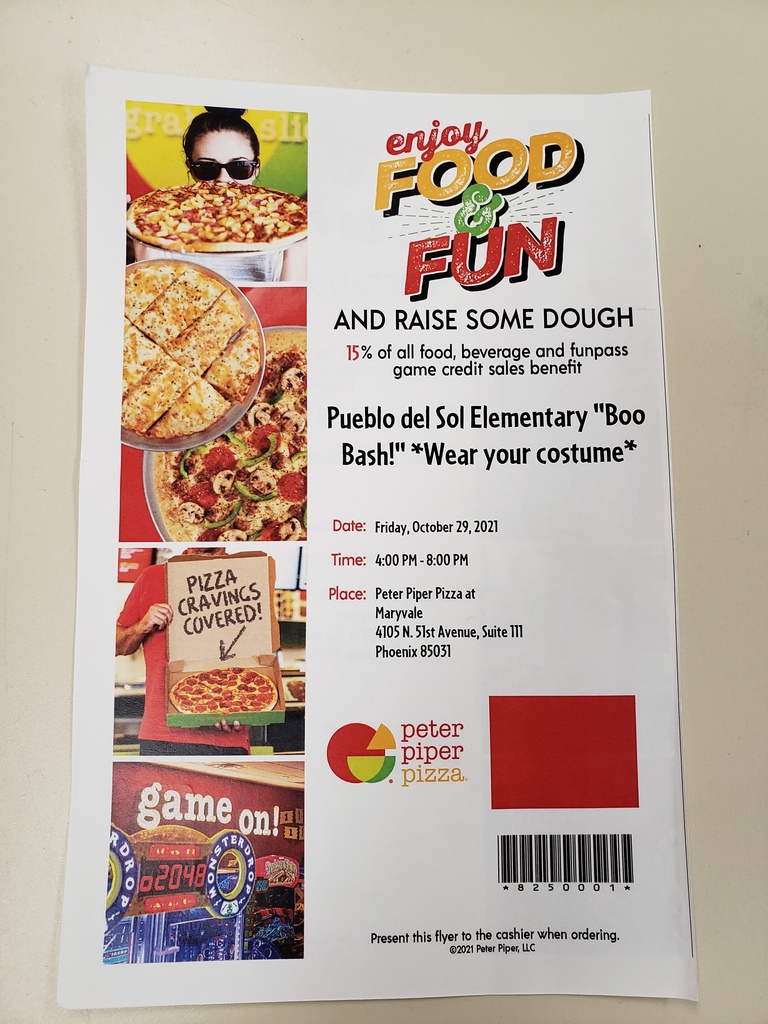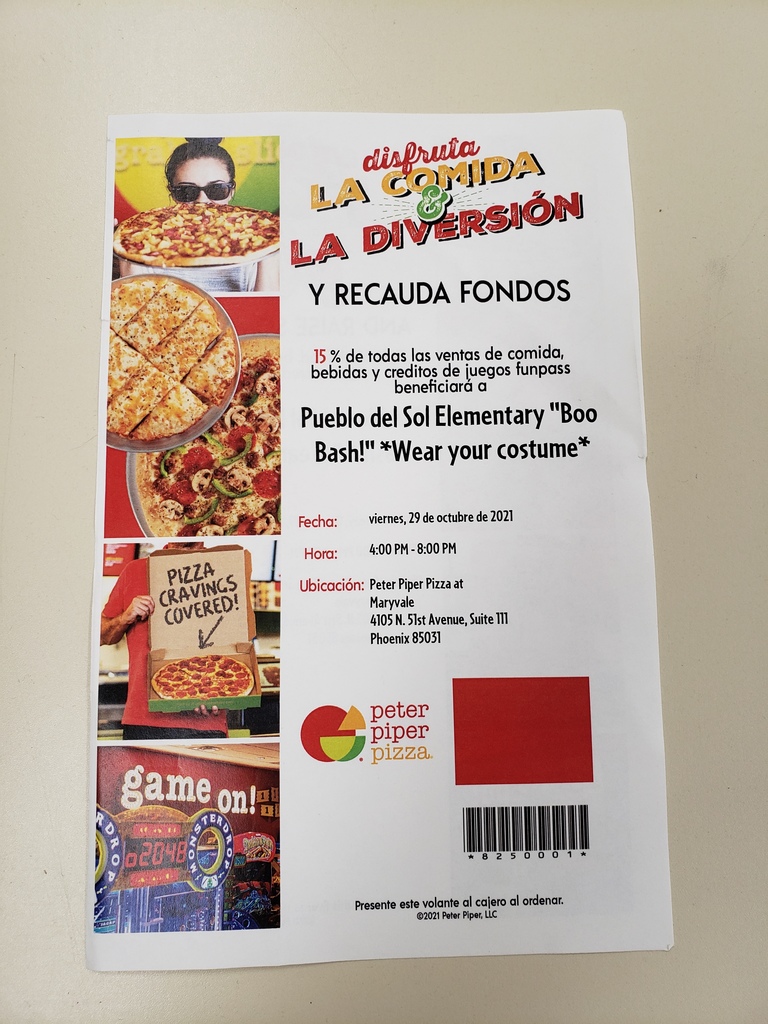 Red Ribbon Week is from 10/25 - 10/29. Monday: Mismatch Day Tuesday: Team Up Day Wednesday: Wear Red Day Thursday: Theme Day Friday: Fun Day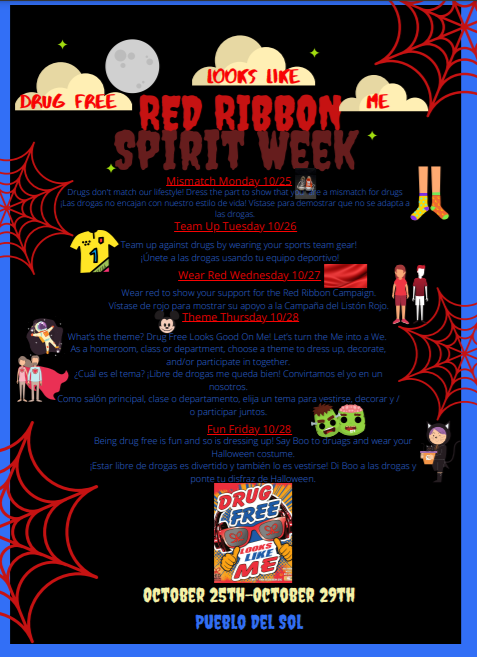 Picture Day October 12, 2021 8:30 AM to 9:30 AM MST UNIFORMS MUST BE WORN for fall pictures please. If you would like to order please send exact amount in the envelope provided or you may place your order online at mylifetouch.com with your Student's School ID (lunch number) or picture day ID (EVTMBZ8WH).

Salvation Army Christmas Angels is now open to ALL families to apply! Registration will be open until December 1st or until 7,000 families are registered, whichever comes first. You can find specifics of the program on their website. saangeltree.org Please keep in mind: Eligibility is based on income guidelines Live within the approved zip codes For children 0-12 years of age Will need to have an active email

Important Message from ISD: It was just announced today that judge Katherine Cooper issued an injunction blocking the state's ban on the face-mask mandate from taking effect in two days. Isaac Elementary School District will continue to require staff, students and visitors to wear masks on all school campuses, following our health mitigation plan . The plan takes a multi-tiered approach to minimize health risks related to COVID-19. Mask wearing, handwashing, social distancing and staying home when experiencing COVID like symptoms are the recommendations provided by the CDC and county health leaders and followed in our plan. While navigating the pandemic, it is important that we make changes and adjust to the conditions and needs of our community quickly. Please continue to look for information regarding updates to our health and safety procedures. We ask that you work collaboratively with staff and students to promote effective health mitigation practices, so that we may continue to deliver on the promise to provide a quality education in the safest environment possible.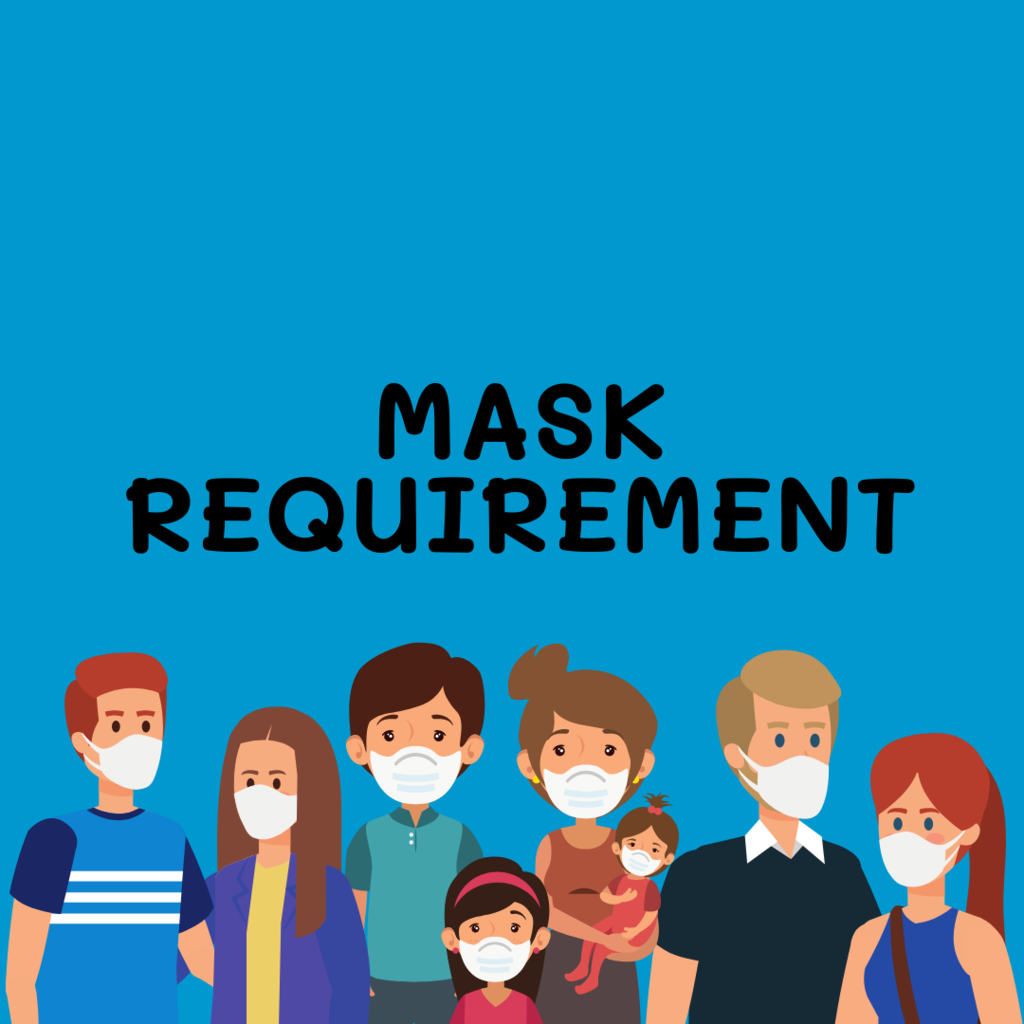 FREE Flu Shots for the community Thursday, September 23, 2021 3:00pm -6:00pm (while supplies last) 1403 N. 43rd Ave. Phoenix, AZ 85009 Heart of Isaac has partnered with Walgreens to provide flu shots for anyone 3 years & older. Walk-ins welcome! Health Insurance is not required. If you are insured, please bring your insurance card. Covid vaccines will also be available for ages 12 +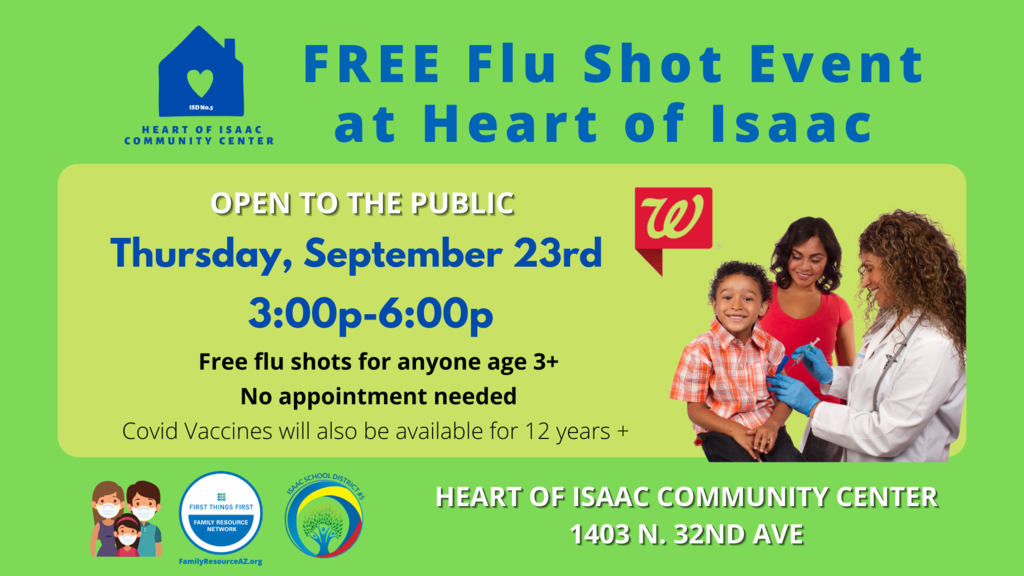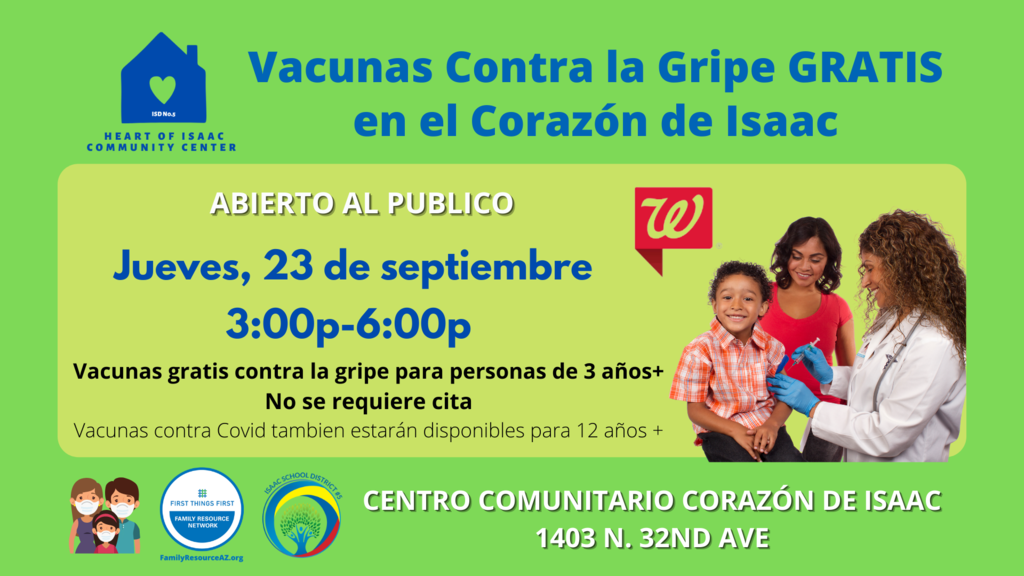 Call the school at (602) 455-6900 for more information. Sign-up forms are available in the office. Llame a la escuela al (602) 455-6900 para obtener más información. Los formularios de inscripción están disponibles en la oficina.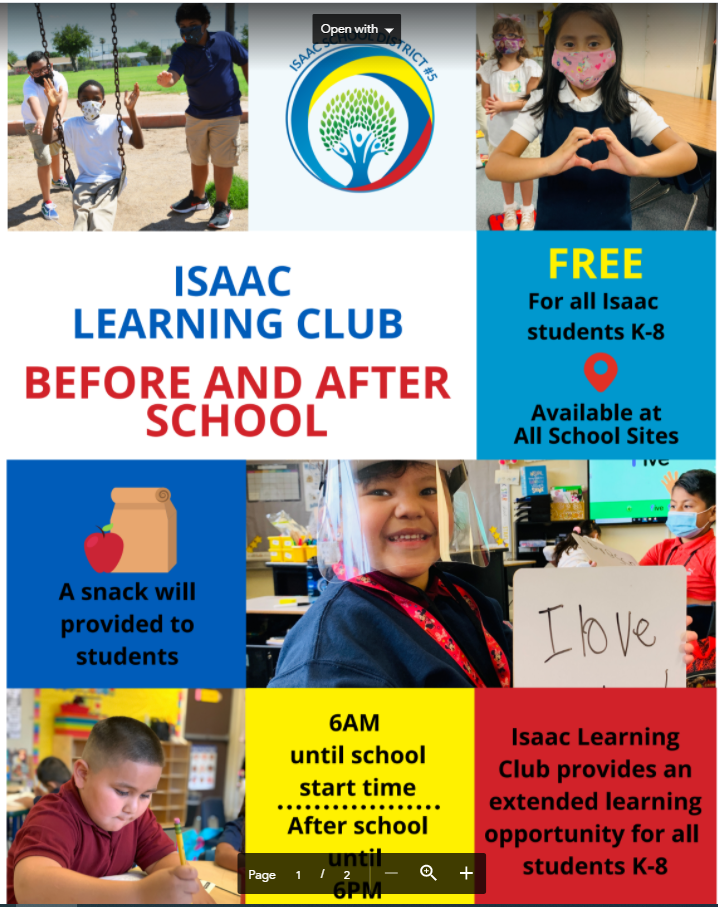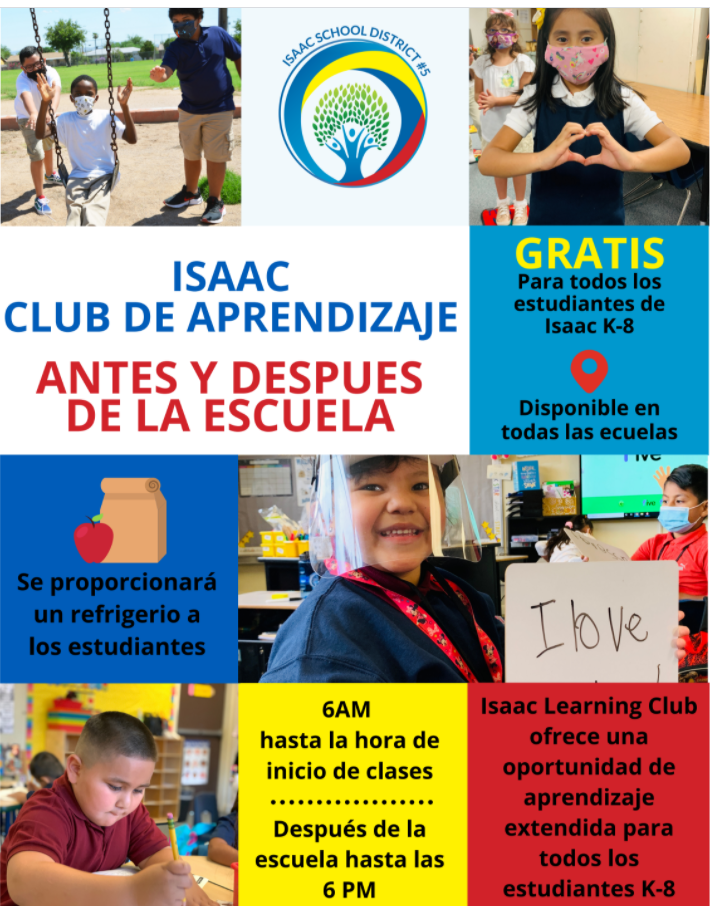 Latino's In Action is selling nachos, Gatorade, and water afterschool on Thursdays and Fridays in the ramada area. They are raising funds for their Annual Conference. Their goal is $10,000.

On Monday, our girls soccer team had a huge victory with a 13-1 win against Madison Park. America Salinas made six goals and is a candidate for the Golden Boot Award. Congratulations to our athletes.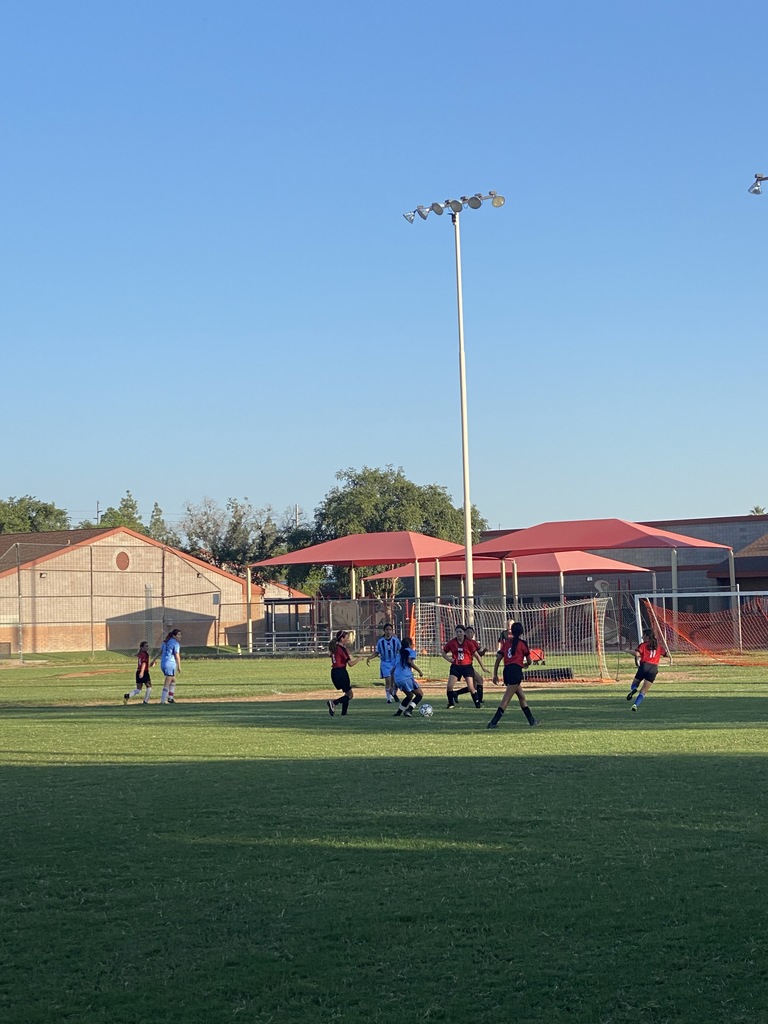 Isaac Families & Community Join us for a COVID-19 Testing & Vaccination Event Monday, September 20th, 7:15AM - 1:15 PM at Isaac Middle School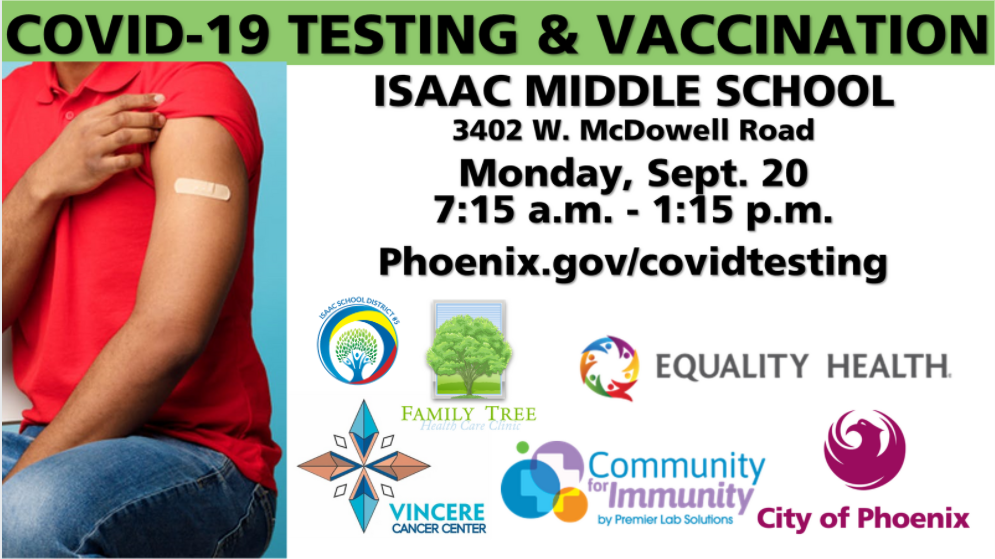 Thank you for your support with our new mask policy to ensure the health and well being of our students. We are asking for your input regarding our new mask policy. Please take some time to share your thoughts here:
http://isaacschools.org/thoughtexchange

English: Effective August 18, 2021, Isaac School District will require face coverings indoors at all sites district-wide for all students, staff, and visitors. Please visit isaacschools.org for more information. Spanish: A partir del 18 de agosto de 2021, el Distrito Escolar Isaac va a requerir el uso de máscaras, mascarillas, artículos relacionados para la cara, en el interior de todas las escuelas y edificios administrativos del distrito para todos los estudiantes, personal y visitantes. Por favor, visite isaacschools.org para mayor información.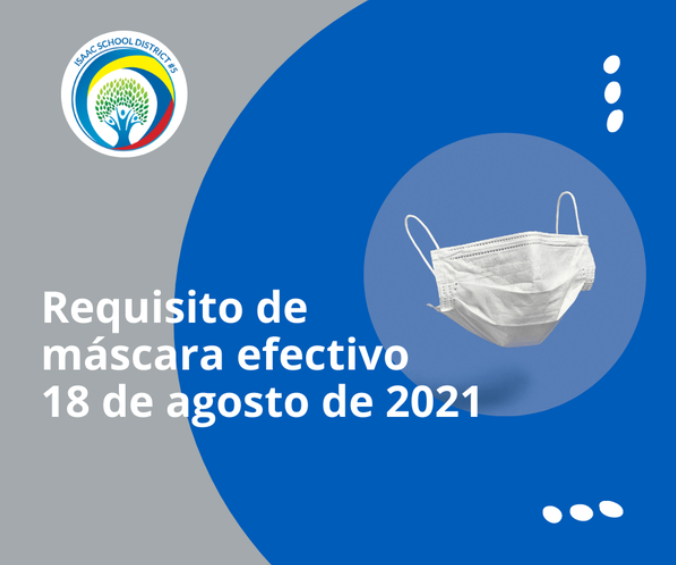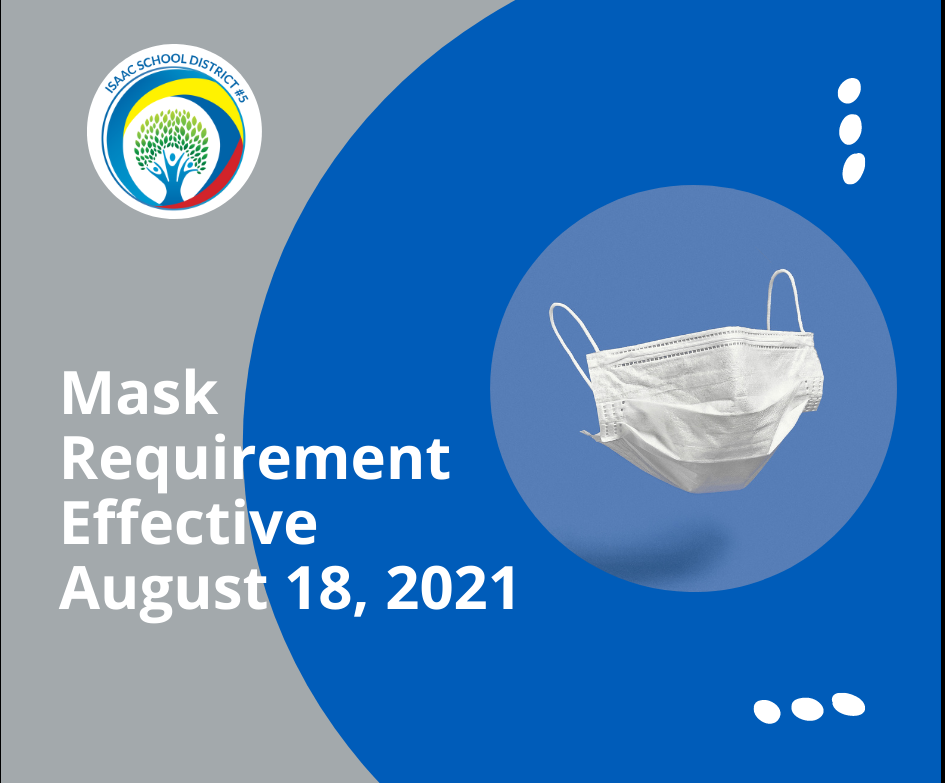 Isaac Families & Community please make plans to attend this Back-to-School Immunization Event. Wednesday, August 18th 4-7PM at Isaac Middle School.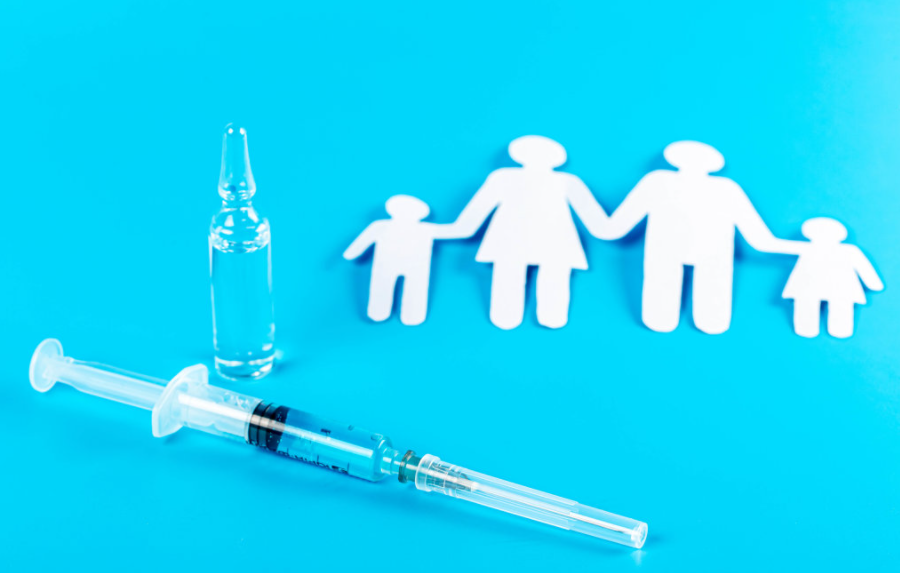 Hello Isaac Families, On August 14, 2021 from 9am to 5pm, Metro Tech High School will be having COVID-19 vaccines available to anyone 12 years and older. Please visit our website for more information.