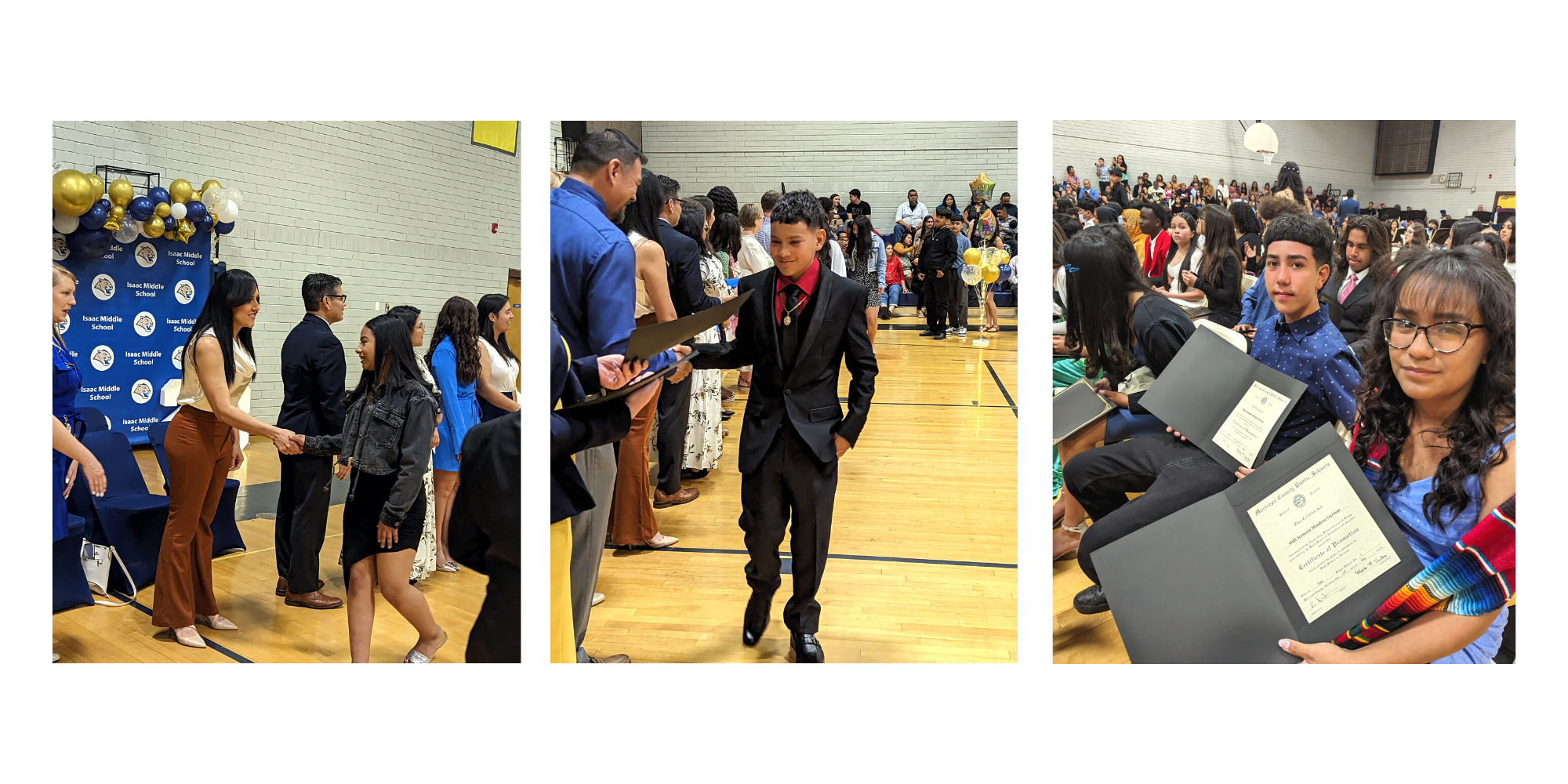 Isaac Middle School 8th Grade Promotion
Now Enrolling K- 8th Grade for the 2023-2024 school year. There are in-person and online learning opportunities, free before & after school programs, technology devices available for all students, and free breakfast and lunch daily. We look forward to having you join the Isaac Family! For more information visit: www.isaacschools.org/enroll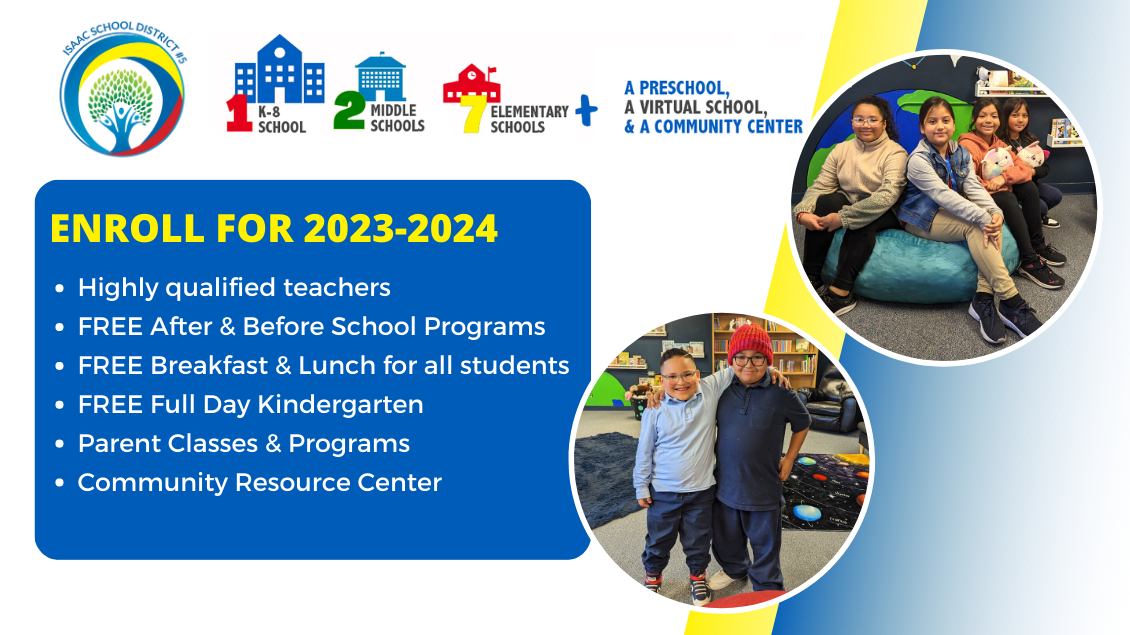 Now Enrolling K- 8th Grade for the 2023-2024 school year. There are in-person and online learning opportunities, free before & after school programs, technology devices available for all students, and free breakfast and lunch daily. We look forward to having you join the Isaac Family! For more information visit: www.isaacschools.org/enroll

We are now enrolling for our future kindergarten students. There is free all-day kindergarten for our students. There is also free breakfast and lunch provided, highly qualified and experienced teachers, standards-based academic curriculum, social and emotional development, and a low teacher-to-student ratio. Please visit your nearest school site or visit www.isaacschools.org/enroll for more information. We look forward to serving your child!

Enroll your child into the Kinder Jumpstart Program. The benefits students receive are: small class sizes with a certified teacher, hands-on learning activities, building early language, math, & literacy skills, developing social & emotional skills, supporting a smooth transition for the first day of kindergarten, and a free breakfast & lunch daily. Visit www.isaacschools.org/jumpstart to enroll your child today.

The Summer School Program is a great way for students to continue learning and developing academic skills. The Summer School Program is free for all Isaac School District students and in person Monday through Friday. There is also free breakfast & lunch is provided daily, targeted educational programs in English Language Arts, Math and Civics, free before and after care available from 6 AM-6 PM, and afternoon enrichment opportunities available. Please visit your nearest school site or register online at www.isaacschools.org/summerschool.

The Isaac School District Strategic Plan guides our collective efforts to ensure we meet the established goals and continue to track our progress. We are committed to continuous improvement as we have embarked on the revision process of the ISD Strategic Plan that was created by input from all stakeholders to provide clarity and focus to our work for 2019-2023. The revision process includes once again, the involvement of all stakeholders to provide input that allows for reflection and refinement of the goals. We look forward to receiving your feedback as we value input. You may view our current ISD Strategic Plan.

The Isaac School District offers before and after school programs to all grade levels. The FREE program provides homework help, hands-on activities, healthy snacks, and a safe environment. Please contact your child's school for more information or stop by your school site to register your student in-person or online by using the following link www.isaacschools.org/IsaacLearningClub

Join the Isaac Team! If you have a passion for teaching, desire to learn, and are dedicated to student success we encourage you to apply and work alongside our amazing Isaac Team. www.isaacschools.org/joinourteam

Download the ISD App!

We are thrilled to announce our new app for mobile phones! Stay up-to date with access to events, documents, news, student stories, and even notifications. You can download the app for free on both Google Play or the Apple App Store. Search "Isaac School District AZ" in the App Store and download on any Android or iPhone.